A slow cooker hot chocolate is the perfect way to warm yourself up on a cold winter's day.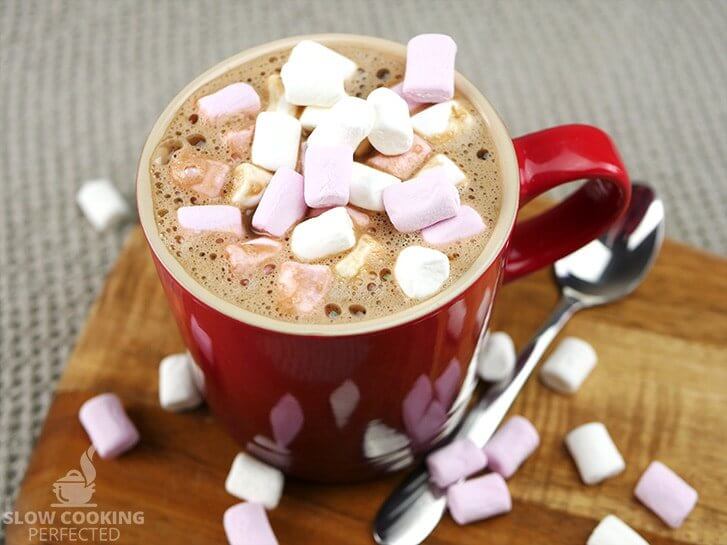 You will find this drink is deliciously creamy and rich in chocolate. It's perfect for anyone who has a bit of a sweet tooth or if you have kids that just love a good sweet drink.
Using a slow cooker is a great way to make some hot chocolate in bulk and is perfect if you need to cater for a crowd.
This recipe is a great way to avoid using powdered hot chocolate mixes while still having a great tasting drink. Depending on the powder you usually use, you might save money by making it from scratch.
Extras to have with Hot Chocolate
There are a ton of toppings that you can use to finish this drink off. For example, some fluffy marshmallows work great as they always do in a good hot chocolate.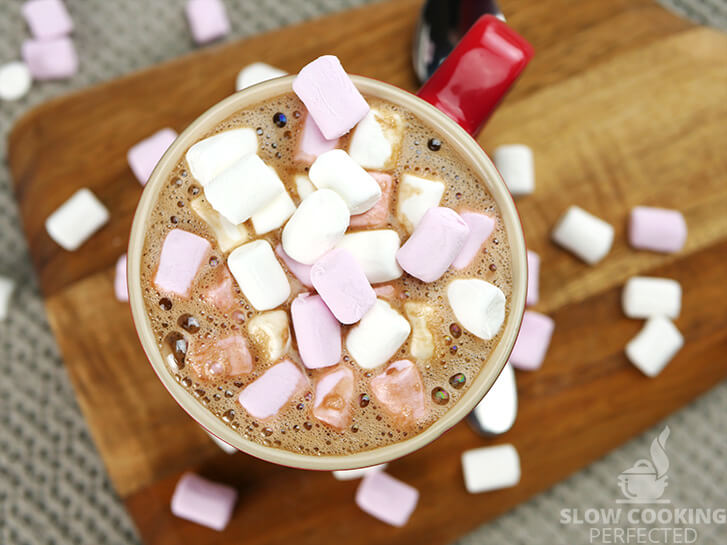 Lots of different types of sweets go great with hot chocolate such as whipped cream, toffee bits, peppermints, candy canes, fudge, and so much more.
If you have a combination that you think works well, then be sure to let us know by leaving a comment at the bottom of this page.
Tweaking the Recipe
There are lots of little things that you can do to tweak the recipe more to your liking. I will just quickly go through some of my suggestions.
You can try replacing the vanilla essence for a different flavoring. For example, if you want a mint hot chocolate, then you can add some mint extract instead of the vanilla. Be sure to taste as you go and only slowly add the flavoring.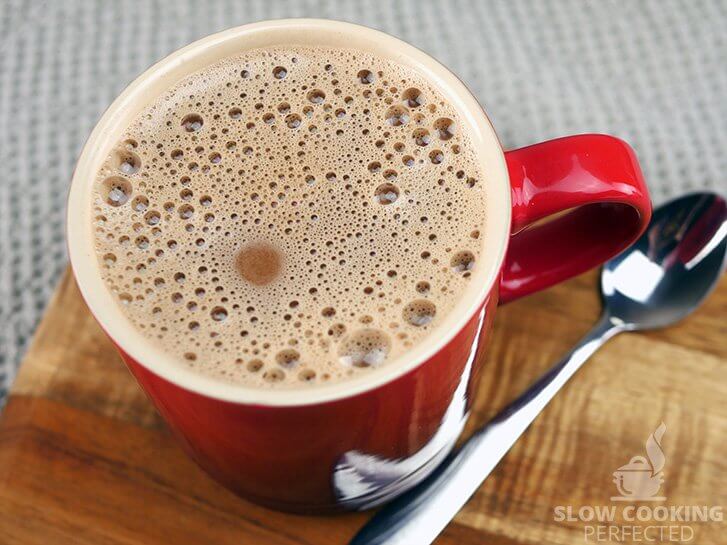 To make things a little healthier, you can replace the sweetened condensed milk with some more cream or milk. However, it might not end up as delicious.
Please don't hesitate to share with us some of your tweaks to this recipe. We always love to hear how people have improved on the recipe.
What to do with any Leftover Hot Chocolate
Leftovers can be kept in the fridge for the next day and are great cold. You can also reheat any leftover chocolate drink in the microwave or over the stove.
I should mention that the chocolate will set when you put it in the fridge. This means you will get some hard chocolate floaties, but they will easily mix back in once the drink has been reheated.
You're able to see how to make this hot chocolate in the slow cooker by checking out the video right below.
The video will take you through the very few steps to making this tasty drink. Alternatively, you can find the full written recipe right underneath the video.
Slow Cooker Hot Chocolate Recipe
Ingredients
2 cups milk chocolate chips
395 g (13.9 oz) sweetened condensed milk
6 cups milk
1 & ½ cup heavy cream
1 tsp vanilla essence
Instructions
Add all the ingredients to the slow cooker and mix.
Cook on low for 2 hours, whisking every 30 minutes.
Serve & Enjoy
Recipe Tips
The type of chocolate chips that you use in this recipe will heavily impact the outcome of this drink. For example, if you add dark chocolate, you will have more of a bitter drink, but milk chocolate will give you a richer sweet drink.
I highly recommend that you whisk the hot chocolate mix every 30 minutes so that it melts and combines evenly.
Note: I use a 5.5L (6 Quart) slow cooker for all the recipes that I have on this website unless specified. If you have a smaller or larger slow cooker, then you might need to adjust the ingredients.
Nutrition Information
Serving Size: 288g (10.2 oz)
Servings Per Recipe: 8
Calories Per Serving: 561
Saturated Fat: 22g
Trans Fat: 0g
Dietary Fiber: 6g
Sugars: 37g
Cholesterol: 67mg
Sodium: 158mg
Protein: 15g
The information above is an estimate generated by an online nutrition calculator.
More Delicious Chocolate Recipes
There are lots more chocolate recipes that you can do in the slow cooker. They're perfect if you're a chocoholic and can never get enough chocolate.
Assuming you have condensed milk that you're looking to use, then you should take a look at the chocolate fudge recipe for the slow cooker. The fudge is delicious and perfect if you love chocolate.
If you're looking for some food to go with this tasty drink, then there is a ton that you're able to do in the slow cooker. If you just can't get enough chocolate, then you need to try out the rich and gooey chocolate pudding.
This slow cooker hot chocolate is delicious, so be sure to give it a try and let me know what you think. You're able to leave feedback, tips, or variations right below.