Slow Cooker Ground Beef Recipes
These tasty slow cooker ground beef recipes are perfect for anyone looking to make a super affordable meal in the slow cooker.
One great thing about ground beef is how versatile it is. For example, there are just so many different types of recipes that you're able to make with it such as meatloaf, meatballs, pasta, lasagna and so much more.
You will find that ground beef is often called different names depending on where you live. For example, here in Australia it is commonly referred to beef mice or minced meat.
One of the best things about this type of meat is that it's able to be cooked for extended amount of times without losing flavor or becoming a horrible texture. This makes it great for slow cooking especially when it comes to making delicious pasta sauces.
You're able to find the latest slow cooker ground beef recipes below. Keep in mind I am constantly adding more and more so be sure to check back in the near future. Alternatively, you can follow me on any of the major social networks or sign up to the mailing list. I'll keep you up to date on all the latest.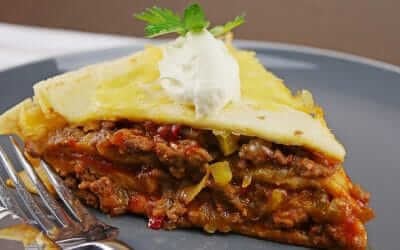 One thing that you must try is some layered slow cooker beef enchiladas, it's a bit different to the real thing but it's certainly worth a try. Since we want this to be as easy as possible we will be layering the tortillas instead of rolling them like you would...
Check it out »