This slow cooker ground beef pie recipe recreates that lovely hearty pie that every Australian knows and loves. It has a rich flavor-packed gravy that will have you drooling for more.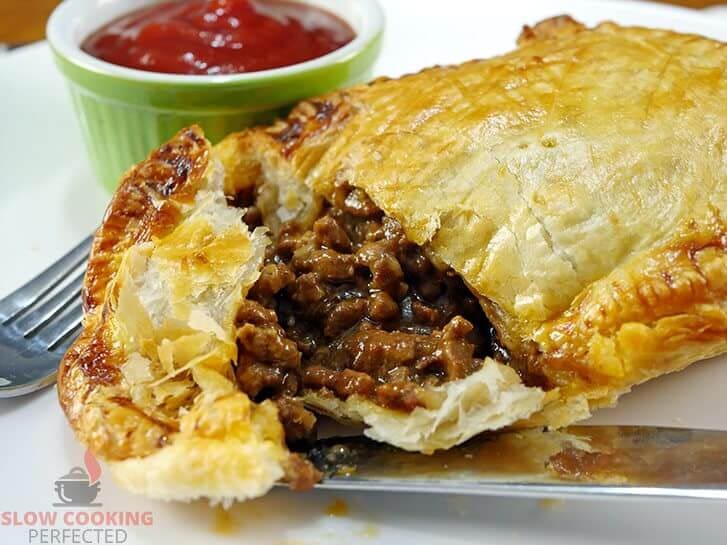 The pie filling is simple and will not take long to prepare and have cooking in the slow cooker. The sauce is made up of a combination of ketchup, Worcestershire sauce, mustard, and a bit of beef stock. The result is a sauce that has a strong flavor that compliments the ground beef.
You can cook this ground beef pie filling a day or two ahead of when you need it. Simply scoop into the pie cases when you are ready then bake in the oven. The filling will be just as delicious as it was fresh.
Depending on who you are feeding, you should be able to get at least six servings out of a single batch of this recipe. If you need to feed more, you might want to consider doubling the recipe or making more side dishes.
We have even more delicious slow cooker pie recipes that you might be interested in. There are so many different fillings that you can do in the slow cooker, even something like beef and mushroom.
How to Make the Pies
To easily make these pies, you can make use of a pie maker. These appliances can cook up to four pies at once, but it depends on the model you buy.
If you have some pie tins lying around, then you can use them for the pies. Simply line the tin with the pastry and blind bake for ten minutes. Once the pastry is ready, fill with the pie filling and finish with a final piece of pastry. Bake in the oven until golden brown.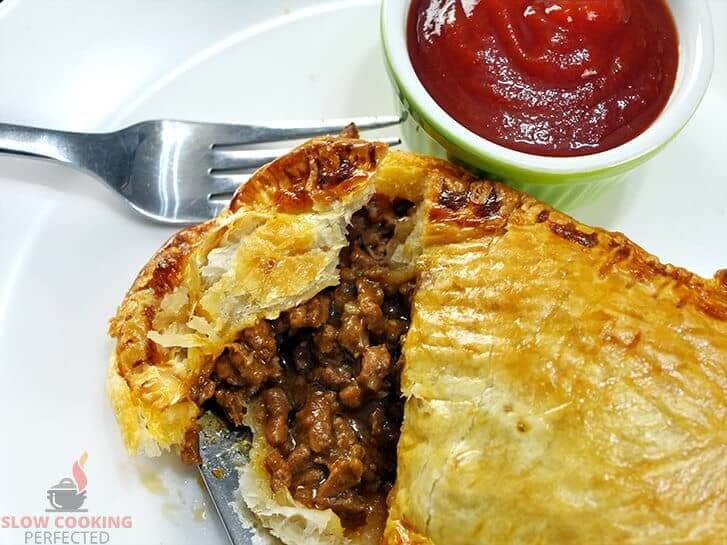 Lastly, pot pies are an excellent option if you have some ramekins. Fill the ramekin with the pie filling and finish with some pastry. Bake in the oven until golden brown.
What to Serve with Ground Beef Pies
There are lots of different side dishes that you can serve with these pies. Below are a couple of ideas on what you can do.
Steak fries and salad are an excellent combination and match perfectly with these pies. I love to make a basic salad that consists of lettuce, tomatoes, red onion, and cucumber. However, feel free to be creative.
To go one step further, you can make some cheesy potatoes in the slow cooker to go alongside the pies. They are super easy to make, but you will need a spare slow cooker to cook them.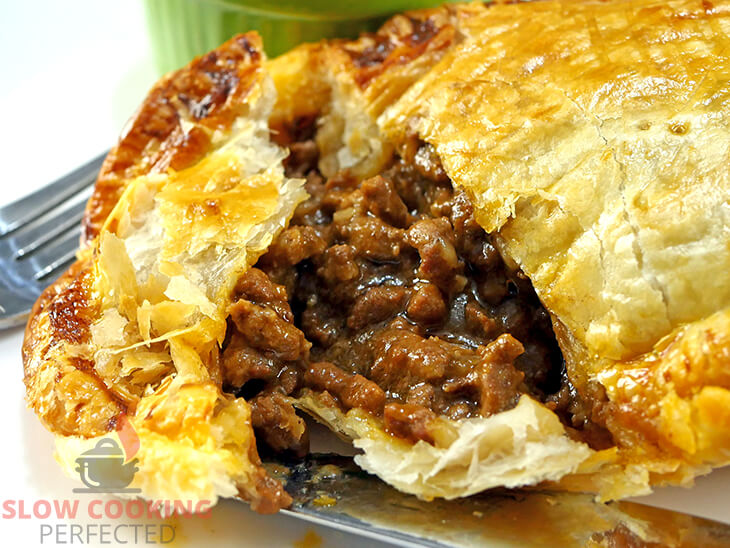 Even though this beef mixture is meant as a pie filling, it is also great on a bread roll, much like sloppy joes. Totally worth trying if you love an easy beef dish.
Another option is to not make the pies and instead pour the pie filling over the top of some homemade mashed potatoes. It is a slightly different take on this recipe but is certainly still delicious.
If you love to see how to make things, then be sure to check out the video below. It will take you through all the steps to making this delicious beef mince pie. Also, if you love the video, then be sure to subscribe to our Youtube to stay up to date.
Slow Cooker Ground Beef Pie Recipe
Ingredients
Pie Filling
1 kg (2.2 lb) ground beef
1 onion, diced
2 tsp garlic, minced
1 Tbsp Dijon mustard
1 & ½ cups beef stock
½ cup ketchup
2 Tbsp Worcestershire sauce
Thickening
2 Tbsp cornstarch
2 Tbsp water
Pie Cases
Instructions
In a frypan over high heat, quickly brown the ground beef and drain off any extra fluid.
In a slow cooker, add the ground beef, onion, garlic, Dijon mustard, beef stock, ketchup, and the Worcestershire sauce.
Cook on low for 8 hours.
Mix the cornstarch and water until it forms a paste. Pour into the slow cooker and stir until combined.
Turn the slow cooker to high and cook for 15 minutes or until thickened.
Add the ground beef pie filling to some prepared pie tins. Cover with puff pastry and brush with the egg wash.
Bake in an oven at 200°C (390°F) until golden brown.
Serve & Enjoy.
Recipe Tips
Browning the ground beef is important as it will reduce the amount of liquid it adds to the pie mixture. If you are low on time you can skip this step, there will be a slight difference but not too much.
You can add some extra vegetables if you feel that they are needed. Diced carrot and celery can be added at the start of cooking. However, peas should be added towards the end.
By the end of cooking, the mixture is likely to be a bit too fluid. The cornstarch mixture will help thicken it. You may need to thicken the mixture further.
Note: I use a 5.5L (6 Quart) slow cooker for all the recipes that I have on this website unless specified. If you have a smaller or larger slow cooker, then you might need to adjust the ingredients.
Nutrition Information
Serving Size: 282g (9.9 oz)
Servings Per Recipe: 6
Calories Per Serving: 476
Amount Per Serving
Saturated Fat: 10.3g
Trans Fat: 1.3g
Dietary Fiber: 1g
Sugars: 6g
Cholesterol: 147mg
Sodium: 497mg
Protein: 44g
The information above is an estimate generated by an online nutrition calculator.
More Slow Cooker Ground Beef Recipes
There are so many other ground beef recipes for the slow cooker that you can do.
Personally, I love making all of our ground beef recipes. Still, if I were to pick a favorite today, it would be Swedish meatballs. It features pork and beef meatballs in a deliciously creamy sauce. It is as good as it sounds.
You should also check out some of our other great pie recipes for the slow cooker. The chicken curry pie is absolutely delicious and surprisingly easy to make.
I absolutely love this slow cooker ground beef pie recipe, and I hope that you do too. If you have some feedback that you would like to share, then please don't hesitate to leave a comment below.