If you are looking for a simple slow cooker steak pie filling, you do not need to look any further.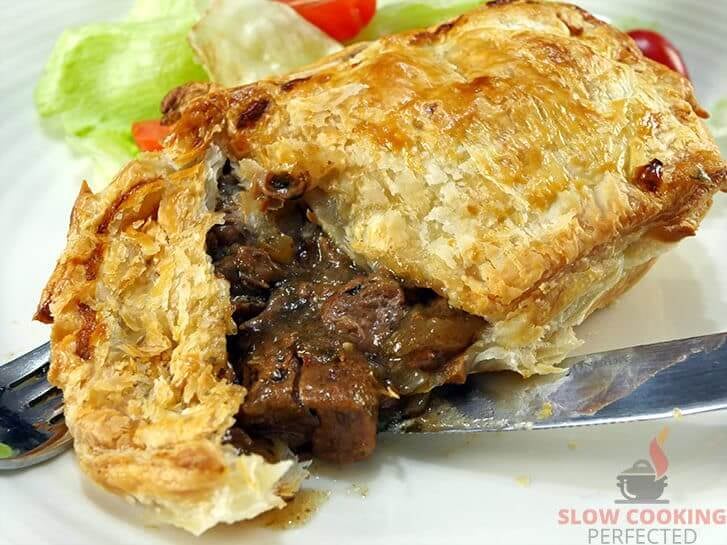 This pie filling is quite simple, but the flavors will leave you wanting seconds. A simple combination of herbs, Worcestershire sauce, and beef stock creates a rich, deep gravy sauce. This sauce compliments the tender beef quite well and will leave you very satisfied.
Much like most easy slow cooker recipes, this dish does not require much prep, yet the result is amazing. I highly recommend giving it a try if you are super limited in time.
This recipe should make enough pie filling to be able to feed six people. However, with some side dishes, you should be able to feed even more people. I have a few ideas for side dishes further down the page.
What to Serve with Steak Pies
As with any great pie, this dish does not really require any side dishes. With that said, there are plenty of foods that will go very nicely with the pie.
The easiest and healthiest is a delicious green salad. I like to keep things basic and usually do a combination of lettuce, cherry tomatoes, cucumber, and sliced red onion. Feel free to get creative.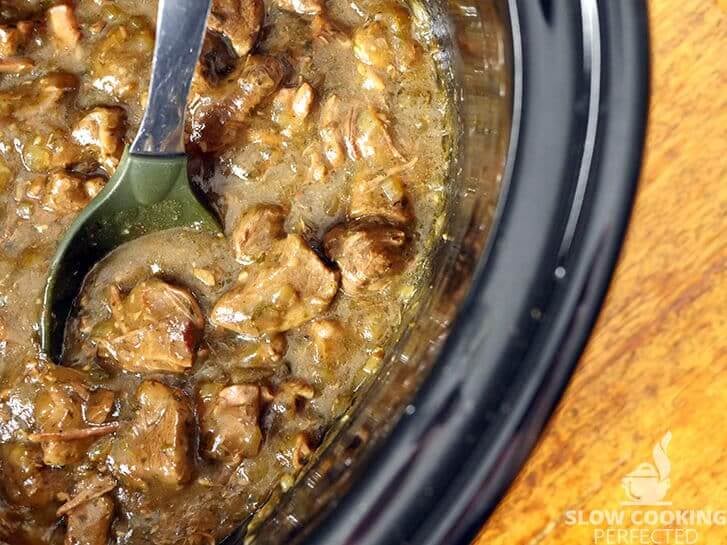 Some delicious baby potatoes cooked in a herby butter will work very nicely as a side dish. I love to cook them in a slow cooker as they end up very flavorsome by the time they are ready. Mashed potatoes are also a great potato side dish.
My last suggestion is to do the classic pie and chips combination. I recommend cooking the chips in the oven or deep fryer for the best result. It is an excellent side dish if you need to feed a crowd.
Making the Pies
A great way to make pies easily is to use a pie maker. These devices can make two pies at a time, but you can buy larger ones that can make four. The result is a golden pastry and a deliciously hot filling.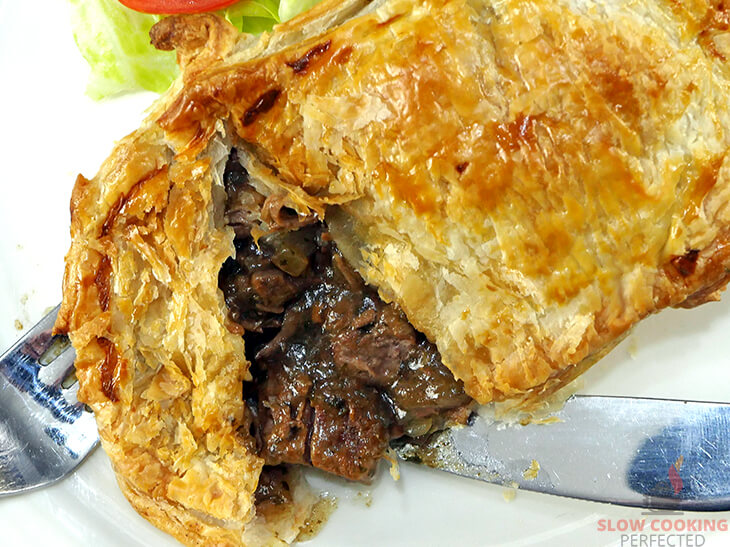 Alternatively, you can make the pies in some pie tins. I recommend that you blind bake the pastry before you add the filling. Once the pies are filled, top with another piece of pastry.
You could also make some pot pies using the filling and some pastry. Simply add the beef filling to a baking dish and top with some pastry.
I show you all the steps to making this delicious steak pie filling in the slow cooker in the video below. Alternatively, you can find the full written recipe right below.
Slow Cooker Steak Pie Recipe
Ingredients
1 kg (2.2 lb) chuck beef, cubed
2 onions, diced
2 tsp garlic, crushed
2 tsp dried thyme
1 Tbsp dried parsley
2 Tbsp Worcestershire sauce
500 ml (16.9 fl oz) beef stock
Pie Case
Puff Pastry sheets
Egg, beaten
Thickener
4 Tbsp cornstarch
¼ cup water
Instructions
In a frying pan over high heat, brown the chuck beef in batches. Once browned, place to the side.
In a slow cooker, add the beef, onions, garlic, thyme, parsley, Worcestershire sauce, and the beef stock.
Cook on low for 8 hours or until the beef is tender.
Mix the cornstarch and water until it forms a paste. Mix into the slow cooker.
Cook on high for 15 minutes or until thickened.
Season with salt and pepper and turn off the heat.
Add the steak pie filling to some prepared pie tins. Cover with puff pastry and brush with the egg wash.
Bake in an oven at 200°C (390 °F) until golden brown.
Serve & Enjoy.
Recipe Tips
A cheap cut of beef is ideal as we will be cooking this steak pie filling for a long time in the slow cooker. By the time the dish is ready, the beef will be incredibly tender and packed full of flavor.
You can add some vegetables to the beef mixture if you want to add more flavor and nutrition to the slow cooker pie filling. Carrots, peas, and celery are all great additions to this lovely slow cooker steak pie.
Browning the beef is optional and can be skipped if you are running low on time.
Note: I use a 5.5L (6 Quart) slow cooker for all the recipes that I have on this website unless specified. If you have a smaller or larger slow cooker, then you might need to adjust the ingredients.
Nutrition Information
Serving Size: 309g (10.9 oz)
Servings Per Recipe: 6
Calories Per Serving: 257
Amount Per Serving
Saturated Fat: 2.9g
Trans Fat: 0.3g
Dietary Fiber: 1g
Sugars: 3g
Cholesterol: 112mg
Sodium: 358mg
Protein: 38g
The information above is an estimate generated by an online nutrition calculator.
More Slow Cooker Beef Recipes
There are many other slow cooker beef dishes that you can make. Below are a couple of my absolute favorites.
You can always try using something like the satay beef as a pie filling. It is bound to be delicious, but make sure you thicken it so that it will sit in a pie case nicely.
Another slow cooker pie filling that you need to try is the flavor-packed beef and mushroom. It is as good as it sounds and has a lovely rich gravy.
This slow cooker steak pie filling is absolutely delicious and surprisingly easy to make. I hope that you enjoy it as much as I did. If you have some feedback, tips, or anything else that you would like to say, then please do not hesitate to leave a comment below.