The slow cooker is the perfect way of cooking a pie filling, and this slow cooker beef and Guinness pie is proof of that.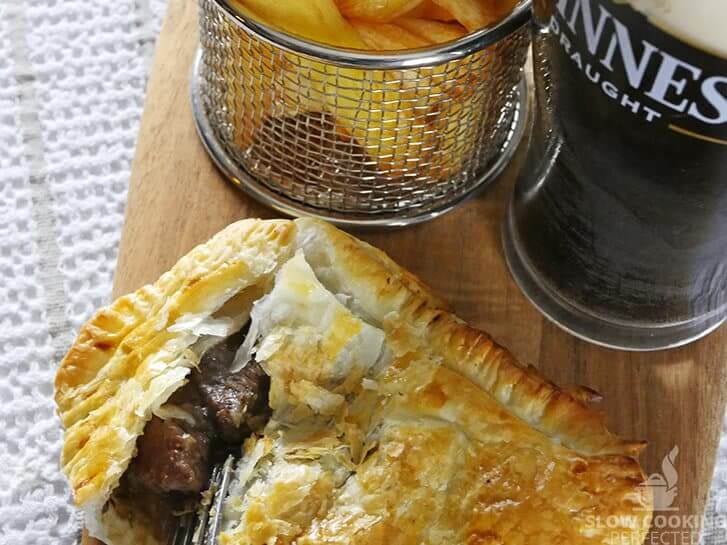 This pie's gravy has a rich Guinness flavor and will please anyone who is a massive fan of stout beer. The beef cooks to be incredibly tender and will melt in your mouth. It is a fantastic combination of flavors that will leave you wanting seconds.
A single batch of this pie filling should be enough to feed roughly six people. However, with a few additional side dishes, you may be able to feed more. You can easily double or triple the recipe if you need to.
You can prepare this slow cooker beef and Guinness pie filling a day ahead. To ensure your pies turn out the best, I recommend storing the pie filling separate to the pie cases. Simply fill the pie cases on the day you need to bake them.
How to Make the Pies
A quick and easy way to make pies is to use a pie maker. These appliances are pretty straightforward and ensure your pie is crispy on the outside and hot on the inside. It can easily be stored away whenever you are not using it.
I make use of some pie tins to make my pies. Simply line the pie tins with pastry and blind bake before adding the filling. Once the pies cases are filled, I simply top with a fresh piece of pastry and bake until golden brown. The photos are an example of the pies prepared this way.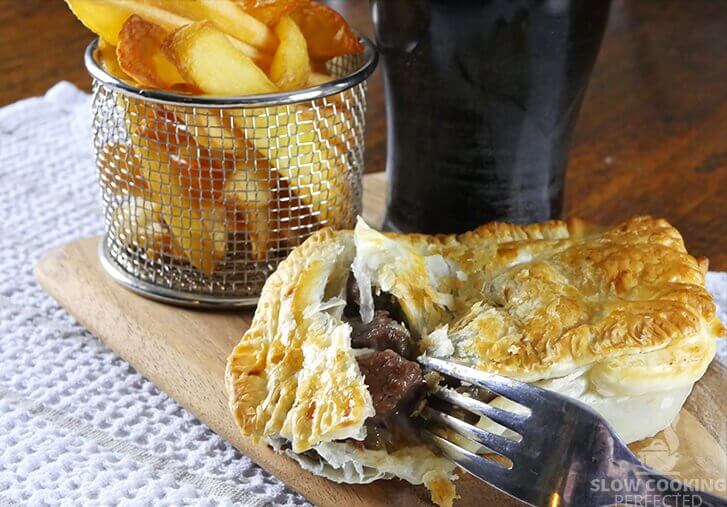 Lastly, you could make pot pies as they are much easier. Simply find a baking dish and add the pie filling. Top with the pastry and bake until the pastry is golden brown.
Serving Ideas for Beef and Guinness Pie
Below are a few ideas on how you can serve this delicious pie filling. If you have any of your own ideas that you would love to share, then please do not hesitate to leave a comment at the bottom of this page.
A side of chips and a nice cold Guinness go excellent with this delicious pie. With that said, there is a ton of other side dishes that will also go great with this pie. For example, I love to make creamy scalloped potatoes.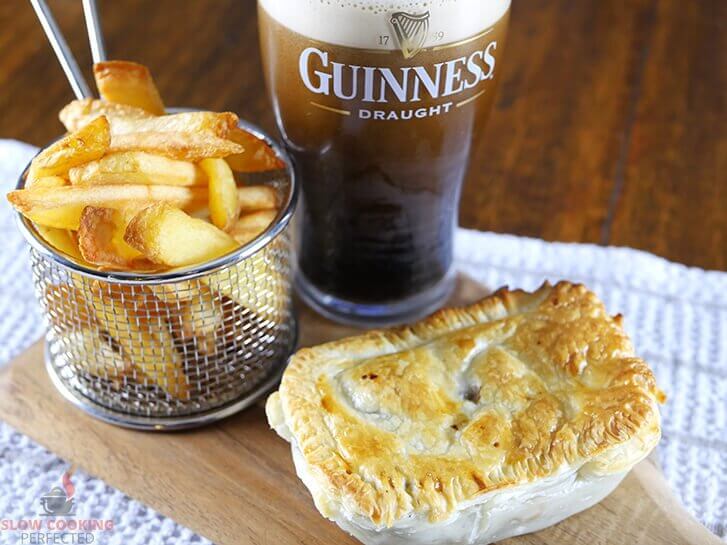 For something a little healthier, you can make a side of sweet potato fries and a lovely green salad. I love to make a simple green salad, as it is usually the easiest. The salad typically consists of cucumber, lettuce, red onion, and some diced tomatoes.
This recipe is a pie filling, but you can also eat it like a stew. I love to sometimes serve the filling in a nice big bowl and eat it with a few slices of bread. The bread is perfect for dipping into the delicious sauce.
The video below will take you through all the steps on how to make a good beef and Guinness pie in the slow cooker. Alternatively, you can find our full written recipe right underneath the video.
Slow Cooker Beef and Guinness Pie Recipe
Ingredients
Pie Filling
¼ cup cornstarch
1 tsp salt
¼ tsp pepper
1 kg (2.2 lb)   chuck steak, cubed
2 onions, sliced
1 Tbsp garlic, crushed
1 carrot, diced
400 ml (13.5 fl oz) Guinness
2 bay leaves
1 cup beef stock
Pie Case
2 sheets puff pastry
1 egg, beaten
Instructions
In a bowl, mix the cornstarch, salt, and pepper. Add the beef and gently toss.
In a frypan over medium heat, add 1 Tbsp oil. Once hot, add the beef and cook until browned. Approximately 5 minutes.
In the slow cooker, add the beef, onion, garlic, carrot, Guinness, bay leaves, and beef stock.
Cook on low for 6-8 hours
Remove the bay leaves.
Add the pie filling to prepared pie tins. Cover with puff pastry, and lightly brush with an egg wash.
Bake in a preheated oven at 200°C (390°F) for 10-15 minutes or until golden brown.
Serve & Enjoy.
Recipe Tips
There is a lot of changes that you can make to this pie recipe. For example, pieces of bacon or even potato will go great in the pie filling. It is entirely up to you, but keep in mind that some changes might radically change the outcome of the dish.
You may need to thicken this filling further. To thicken, mix one tablespoon of cornstarch with two tablespoons of water. Once combined, pour and mix into the pie filling.
The longer you cook this dish, the more tender the meat will be. If you cook it for long enough, the beef will fall to bits. Some people desire this texture, but you may not like it.
Note: I use a 5.5L (6 Quart) slow cooker for all the recipes that I have on this website unless specified. If you have a smaller or larger slow cooker, then you might need to adjust the ingredients.
Nutrition Information
Serving Size: 322g (11.4 oz)
Servings Per Recipe: 6
Calories Per Serving: 409
Amount Per Serving
Saturated Fat: 6.6g
Trans Fat: 0.6g
Dietary Fiber: 1g
Sugars: 1g
Cholesterol: 218mg
Sodium: 655mg
Protein: 39g
The information above is an estimate generated by an online nutrition calculator.
More Slow Cooker Pie Recipes
If you are looking for more slow cooker pie fillings, then be sure to check out other recipes such as chicken pot pie.
All the extra work for an excellent homemade pie is totally worth it, and the beef and mushroom pie is a perfect example. There is a huge range of fillings that you can make in the slow cooker.
Another pie filling I reckon you will love is chicken curry. It has delicious chunks of chicken, carrot, and much more. The curry sauce is super easy to make and brings the entire pie filling together.
I love this slow cooker beef and Guinness pie recipe, and I hope that you do too. If you have any feedback regarding this delicious pie filling, please leave a comment below.