This slow cooker chicken curry pie is packed with vegetables and has a delicious creamy flavor-packed curry sauce.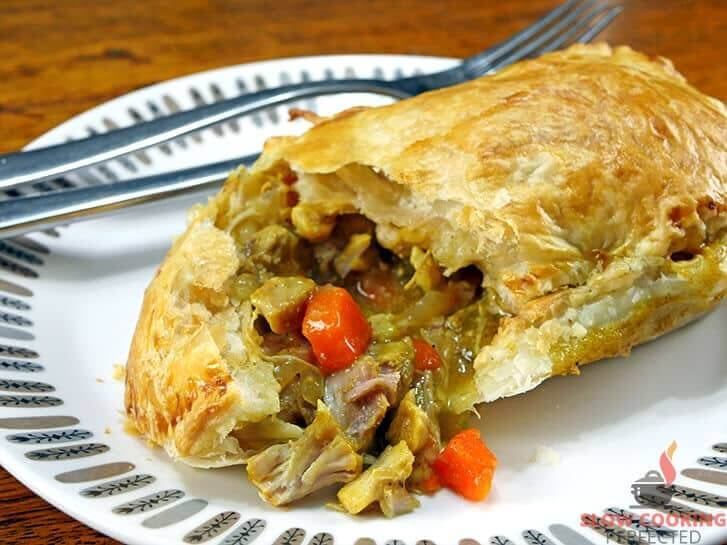 You will find the sauce of this pie to be packed full of flavor thanks to the curry powder, chicken stock, vegetables, and coconut cream. The chicken will be so tender that it will melt in your mouth.
The vegetables will not only add a ton of flavor but also a nice variety of color, making the pie visually appealing. This pie is certainly a delicious combination that will have you going back for seconds.
Much like the curried sausages, you can also eat this pie filling just on its own without any pastry. You can even cook some rice to go with it. If you want to go one step further, then naan bread will also work great on the side. It is an excellent combination if you want some curry chicken but not the actual pie pastry.
What to Serve with Curry Chicken Pie
The pie itself is excellent on its own, or you can have it with some side dishes. Below are a couple of suggestions on what you can have.
I find a side of chips or sweet potato fries usually works well with this chicken curry pie. If you want to be a little healthier, then try something like some blanched green beans or broccoli.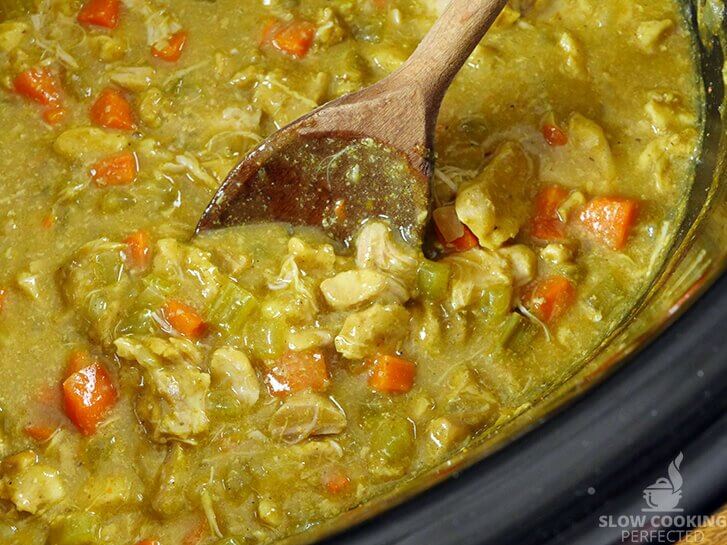 If you decide not to have the pastry, then some mashed potatoes or rice goes perfectly with this chicken curry. With either of these accompaniments, you will also get more serves out of a single batch of this recipe.
There are so many more side dishes that work great with this delicious pie, so if you have any suggestions, we will love to hear them. You can let us know by simply leaving a comment at the bottom of this page.
Perfecting the Pies
A great option if you're looking at making this pie as easy as possible is to use a pie maker. These appliances make pie-making so much easier and can make up to four pies at once. I prefer to make them handmade, but it can be time-consuming.
Getting the liquid to be the right consistency is hugely important if you're using this recipe as a pie filling. It will be safest to make it as thick as possible. I find the two tablespoons of cornstarch is usually enough, but you may need to add more.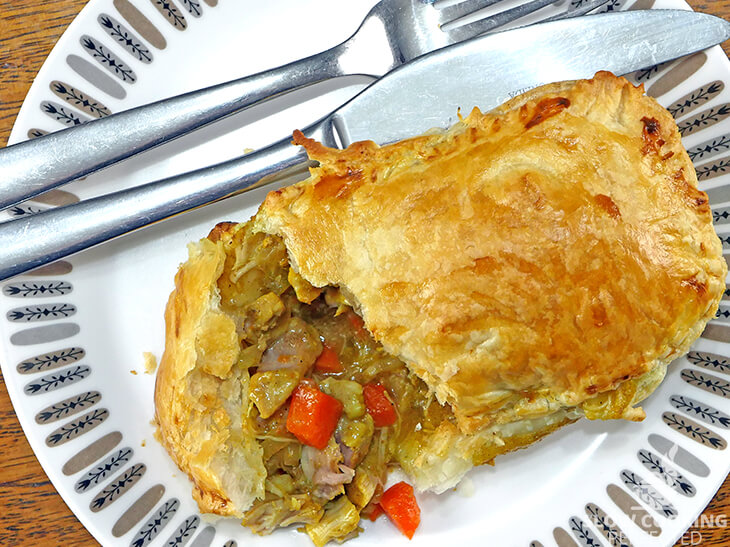 There are lots of little tweaks that you can do to this recipe. For example, you can add more vegetables, different spices, and so much more. If you have any suggestions, then we will love to hear them.
The video below will take you through the few steps to making this curry chicken pie in the slow cooker. Alternatively, you will find a super handy written recipe right underneath the video.
Slow Cooker Curry Chicken Pie Recipe
Ingredients
1 kg (2.2 lb) chicken thigh, cubed
1 onion, diced
2 tsp garlic, crushed
2 celery stalks, diced
2 carrots, diced
2 Tbsp curry powder
1 cup chicken stock
¼ cup coconut cream
Thickener
2 Tbsp cornstarch
3 Tbsp water
Pie Cases
Instructions
In a slow cooker, add the chicken, onion, garlic, celery, carrots, curry powder, and chicken stock.
Cook on low for 6-8 hours.
Mix the cornstarch and water until it forms a paste. Mix into the slow cooker along with the coconut cream.
Cook for 15 minutes on high or until thickened.
Add the curried chicken pie filling into prepared pie tins and cover with puff pastry. Brush lightly with an egg wash.
Bake in an oven at 200°C (390°F) for 10-15 minutes or until golden brown.
Serve & Enjoy.
Recipe Tips
You can use any cut of chicken in this dish. For example, you can replace the chicken thigh with chicken breast instead.
If you would love to add even more color and flavor to the pie filling, then consider adding some peas or corn. If you're adding peas, then add these towards the end of cooking if you wish them to stay nice and green.
If you need to bulk the pie filling out a bit, then some cubed sweet potato or pumpkin works great in this filling. By the time it's ready for the pie cases, the extra chunks of vegetables will be soft and packed with flavor.
Note: I use a 5.5L (6 Quart) slow cooker for all the recipes that I have on this website unless specified. If you have a smaller or larger slow cooker, then you might need to adjust the ingredients.
Nutrition Information
Serving Size: 274g (9.7 oz)
Servings Per Recipe: 6
Calories Per Serving: 284
Amount Per Serving
Saturated Fat: 5.1g
Trans Fat: 0g
Dietary Fiber: 2g
Sugars: 3g
Cholesterol: 158mg
Sodium: 237mg
Protein: 35g
The information above is an estimate generated by an online nutrition calculator.
More Slow Cooker Pie Fillings
There are quite a few pie fillings that you can make in a slow cooker, and all of them taste delicious. Below are a couple of other recipes that are well worth making.
If you're looking for something a little beefier than this dish, then you should try the beef and mushroom pie filling. It's certainly hearty and will please any good pie lover.
The chunky steak pie is a pie filling that is delicious. It is a pretty simple recipe, but the result is incredibly flavorsome. I absolutely love it and regularly continue to make it.
I do hope that this slow cooker chicken curry pie cooks to be as delicious as it was for me. If you have some thoughts, tips, or anything else, then please don't hesitate to leave a comment below.