This slow cooker beef and mushroom pie is an absolute delight and will please any pie lover.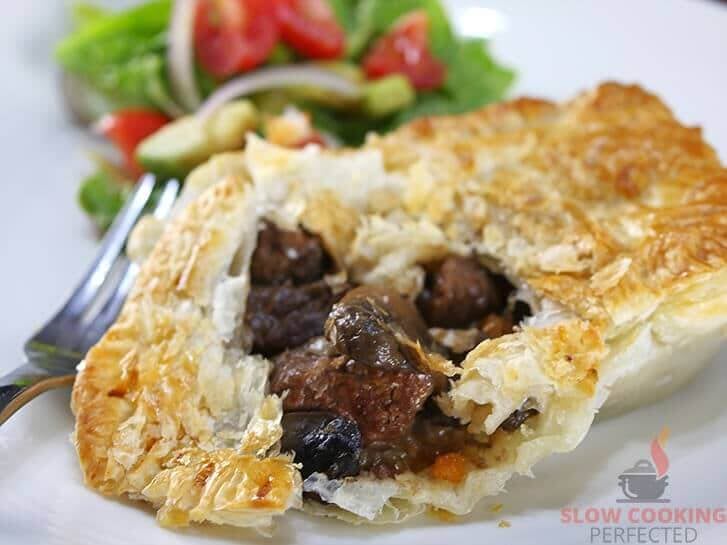 By the time the slow cooker has finished cooking, you will be left with a rich beef pie filling ready to use in your favorite pie casing. It is always a massive hit whenever I make it for dinner.
You will be able to make enough pies to feed six people. Some extra side dishes will help feed even more people without needing to adjust the recipe. Alternatively, you can easily double or triple the recipe.
Even though this recipe is meant as a pie filling, it is excellent just as a stew. I sometimes love to serve it over the top of mashed potatoes.
Making the Pies
You can prepare this pie filling ahead of when you need it. For example, you can make the pie filling the day before and then simply scoop into the pie cases. Simply bake until the pastry is golden brown, and the pie filling is hot.
To make life easier when it comes to making the pie, you should take a look at a pie maker. They are super easy to use, but the downside is they can only do two to four pies at a time.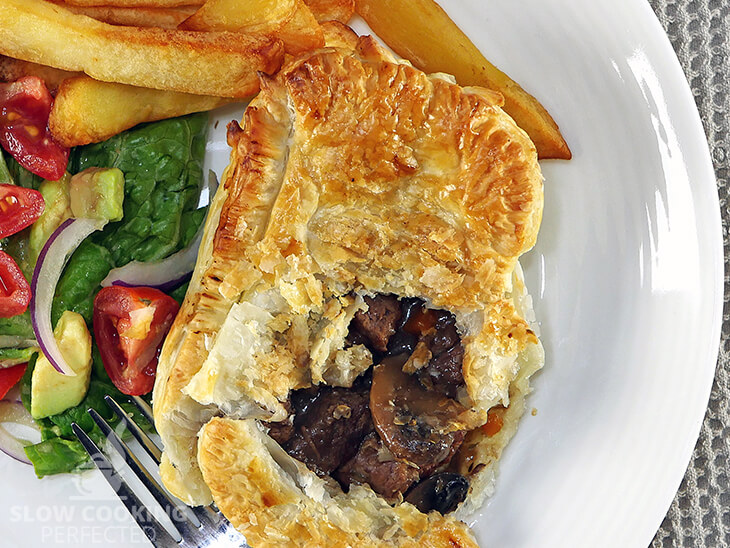 Using pie tins is an excellent choice for making the perfect pies. I highly recommend that you blind bake the pastry. After this, simply add the pie filling and top with another piece of pastry. Bake until the pastry is golden brown.
The easiest method is to make some simple pot pies. Simply fill some ramekins with the pie filling and top with pastry. Bake in the oven until the filling is hot and the pastry is golden brown.
What to Serve with Beef & Mushroom Pie
There are many extras that you might want to have with this delicious pie. Below are a couple of ideas that work great for me.
Something like a cauliflower cheese will work incredibly well with these pies. It only takes a few minutes to cook and will help feed a hungry crowd.
For something a little unhealthy, you can make some cheesy potatoes in another slow cooker. It features slow-cooked potatoes with a generous amount of cheese and bacon. It is a must-try.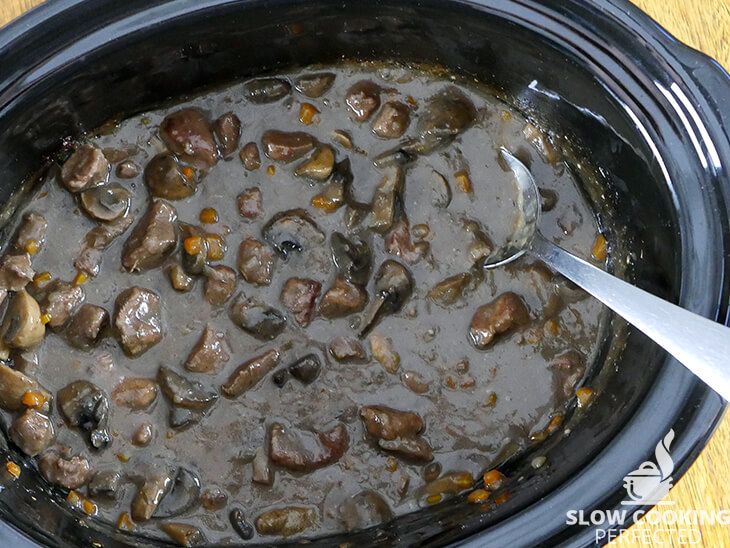 Nothing beats a delicious side of potato chips and green salad. I love to make some regular steak fries to go with the pie, but something like sweet potato fries will also work nicely.
The video right below will take you through all the steps to making this delicious beef and mushroom pie filling in the slow cooker. If you prefer written, then be sure to check out the full written recipe right under the video.
Slow Cooker Beef and Mushroom Pie Recipe
Ingredients
Pie Filling
¼ cup cornstarch
1 tsp salt
¼ tsp pepper
1 kg (2.2 lb) chuck beef (Stewing Meat)
2 onions, diced
1 Tbsp garlic, crushed
2 carrots, diced
1 tsp thyme
2 bay leaves
500 g (1.1 lb) mushrooms, sliced
500 ml (16.9 fl oz) beef stock
100 ml (3.4 fl oz) red wine
Pie Case
Sheets of puff pastry
Egg, beaten
Instructions
In a bowl, combine the cornstarch, salt, and pepper.
Toss the beef in the flour until well coated.
In a frypan over medium heat, add 1 Tbsp of oil.
Once hot, add the beef and cook until browned. Put to the side.
Add the red wine and deglaze the pan.
Transfer the wine and beef to a slow cooker. Add the rest of the pie filling ingredients.
Cook on low for 8 hours or until the beef is tender.
Remove the bay leaves.
Thicken the pie filling, if required.
Add the beef and mushroom pie filling to some prepared pie tins or a pie maker. Cover with puff pastry and brush with the egg wash.
Bake in an oven at 200°C (390°F)  until golden brown.
Serve & Enjoy.
Recipe Tips
I recommend using a cheap cut of meat, such as chuck beef. This choice in beef will keep costs down and ensure your pie filling turns out as flavorsome as possible.
You may need to thicken this slow cooker beef and mushroom pie filling with a mixture of cornstarch and water. Roughly two tablespoons of cornstarch mixed with a little bit of water should be more than enough.
I made use of button mushrooms for this recipe, but feel free to experiment with different types of mushrooms. They can radically change the dish, so keep this in mind when choosing a mushroom variety.
Note: I use a 5.5L (6 Quart) slow cooker for all the recipes that I have on this website unless specified. If you have a smaller or larger slow cooker, then you might need to adjust the ingredients.
Nutrition Information
Serving Size: 324g (11.4 oz)
Servings Per Recipe: 8
Calories Per Serving: 279
Amount Per Serving
Saturated Fat: 3.4g
Trans Fat: 0.3g
Dietary Fiber: 2g
Sugars: 4g
Cholesterol: 82mg
Sodium: 564mg
Protein: 32g
The information above is an estimate generated by an online nutrition calculator.
More Slow Cooker Pies
There are many kinds of pie fillings that you can do in the slow cooker. Below are a couple of my favorites.
If you love a good beef pie, you might want to check out the beef and Guinness pie. It is perfect for anyone who is a huge fan of Guinness.
The chicken curry pie is a must-try if you want something that is not beef. The pie has a delicious curry sauce, lots of chicken, and a few vegetables. It is one of my favorite pie fillings.
I hope that this recipe has shown you how to make an incredible slow cooker beef and mushroom pie. If you have any feedback, then please do not hesitate to leave a comment below.