This chicken pot pie filling cooks in the slow cooker for several hours, ensuring an incredibly delicious pie.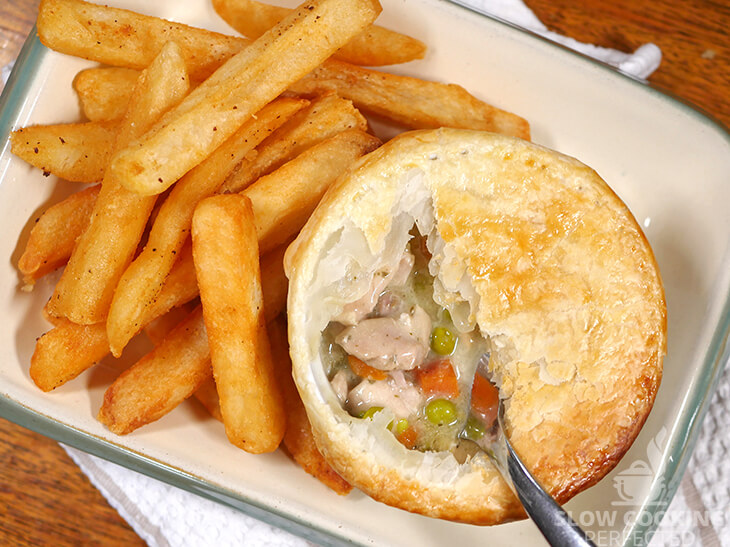 I love this pie filling as it is loaded with a whole range of delicious flavors. The sauce is creamy and compliments the chicken and vegetables nicely. The pie filling is so delicious that you can eat it without the pie case.
A single batch of this chicken pot pie should feed roughly six people. I do recommend making some additional side dishes to go with it. Personally, I love a good bowl of homemade fries on the side.
The leftover pie filling is great as a quick and easy dinner the next day. I recommend that you store it in an airtight container in the fridge or freezer. The pie should last for a few days in the refrigerator or roughly three months in the freezer.
Chicken Pot Pie Serving Ideas
There are lots of different ways that you can serve a pie. Below are just a couple of my favorite serving ideas.
A pie is always great with a side of delicious homemade potato fries. You can cook these in the oven or a deep fryer. For something a little healthier, you can try making some sweet potato fries instead.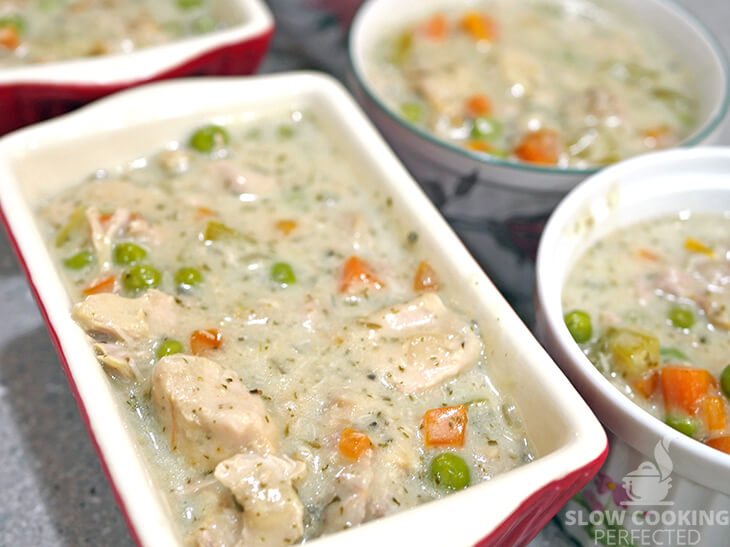 Buttermilk biscuits are an excellent alternative to doing a traditional pie crust. You may be able to buy these biscuits at your local store. Simply serve the pie filling from out of the slow cooker and top with the biscuits.
For something refreshing, a green salad will work very nicely as an accompaniment. I love to do a combination of cucumber, red onion, tomatoes, lettuce, and feta. If I am really hungry, I make a more complicated salad such as Caesar salad, potato salad, or taco salad.
If you have another slow cooker, you can make some cheesy potatoes to go on the side. Alternatively, mashed potatoes are an excellent side dish, and you can make them in bulk using a slow cooker.
Altering the Recipe
If you want to alter this recipe so that it is more to your liking, then below are a few ideas on what you can do.
More vegetables can be added to the pie filling for more flavor and nutrition. Something like potatoes or corn is great at adding more flavor and helping bulk the dish out. Feel free to experiment with other vegetables.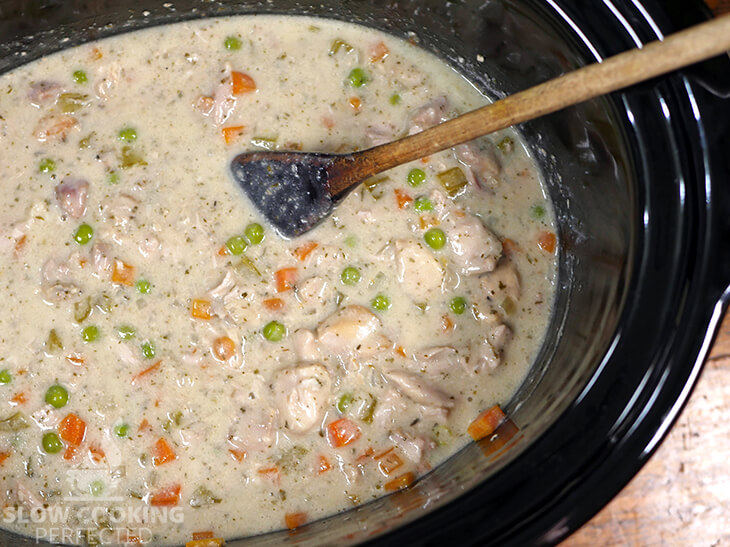 Cheese can be added for a cheesier pie. Something like parmesan will work best as it will not overpower the rest of the ingredients. I prefer a chicken pot pie without any cheese.
To make life easier, you can use a pie maker instead of the oven. A pie maker can typically make two to four pies simultaneously and produces some of the most perfect pies. Alternatively, pie tins or ramekins are an excellent option but require the oven.
The recipe below will take you through all the steps to making a chicken pot pie in the slow cooker.
Slow Cooker Chicken Pot Pie Recipe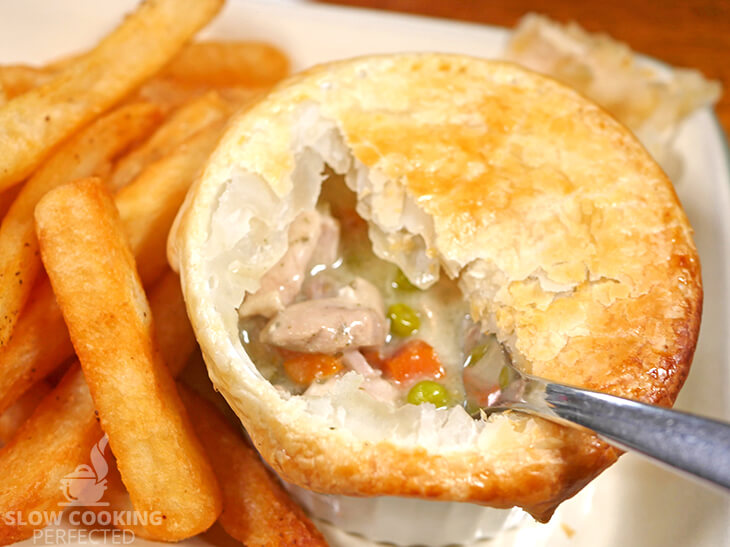 Ingredients
1 kg (2.2 lb) chicken thigh, cubed
1 onion, diced
2 carrots, diced
3 celery stalks, diced
2 tsp garlic, minced
2 tsp thyme, chopped
1 Tbsp parsley, chopped
50 ml (1.7 fl oz) white wine
300 ml (10.1 fl oz) chicken stock
150 g (5.3 oz) frozen peas
125 ml (4.2 fl oz) heavy cream
Thickener
3 Tbsp cornstarch
4 Tbsp water
Pie Top
Puff pastry sheets
Egg, beaten
Instructions
In a slow cooker, add the chicken, onion, carrots, celery, garlic, thyme, parsley, white wine, and chicken stock.
Cook on low for 6 hours.
Mix the cornstarch and water until it forms a paste.
Stir the cornstarch paste into the sauce along with the cream and frozen peas.
Cook for 30 minutes on high or until thickened.
Season to taste.
Add the chicken pot pie filling into greased large ramekins and cover with puff pastry. Brush lightly with an egg wash.
Bake in an oven at 200°C (390°F) or until golden brown.
Serve & Enjoy.
Recipe Tips
The pie filling is great without any pastry, so step seven and onwards is optional.
You can use a large pie dish rather than small ramekins. I prefer to do individual pies, but one giant pie is much easier.
Some pre-prepared buttermilk biscuits can be used instead of the puff pastry. Unfortunately, these may be hard to get your hands on in some countries.
Note: I use a 5.5L (6 Quart) slow cooker for all the recipes that I have on this website unless specified. If you have a smaller or larger slow cooker, then you might need to adjust the ingredients.
Nutrition Information
Serving Size: 345g (12.2 oz)
Servings Per Recipe: 6
Calories Per Serving: 505
Saturated Fat: 12.5g
Trans Fat: 0.1g
Dietary Fiber: 2g
Sugars: 4g
Cholesterol: 193mg
Sodium: 249mg
Protein: 31g
The information above is an estimate generated by an online nutrition calculator.
More Chicken Recipes
There are loads more chicken recipes that you can do in the slow cooker. Below are just a couple of my favorites that I highly recommend that you give a try.
I absolutely love the chicken curry pie as it is super simple and loaded with flavor. The pie filling is loaded with tender pieces of chicken, carrots, and delicious spices. I highly recommend giving it a try if you love the flavor of curry.
Another hugely popular recipe is chicken and bacon casserole. It features a deliciously creamy sauce loaded with chicken, bacon, mushrooms, potatoes, and so much more. I highly recommend giving it a try.
I hope that you like the slow cooker chicken pot pies as much as I do. If you have some feedback, then please do not hesitate to leave a comment below.