If you love satay, then you need to give this slow cooker satay beef a try. It is packed full of flavor and guaranteed to please even the fussiest of eaters.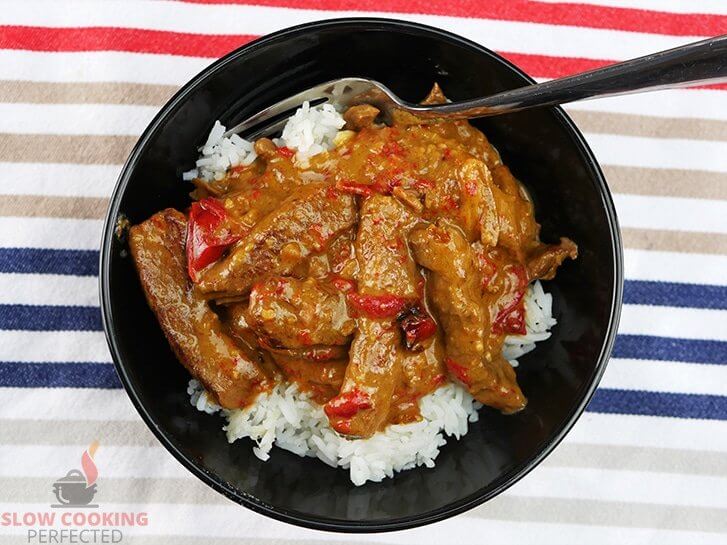 The satay sauce is pretty straightforward for this recipe. It combines several ingredients such as peanuts, soy, brown sugar, and more for a delicious rich sauce that will leave you wanting more.
Satay or sate originates from Indonesian cuisine but can be found all across the world today. This recipe is inspired by the traditional satay recipe that is usually skewered and marinated.
With a side dish, this satay beef should feed about six people. However, if you need to feed more, then I recommend that you double or triple the recipe.
If you find yourself with leftovers, make sure you do not throw them out as they will reheat quite nicely. I recommend keeping the leftovers in the fridge, but you can freeze them if you wish for them to last longer.
Best Cut of Beef to Use
When choosing a cut of beef for this dish, try and pick something cheap like rump steak or brisket. Rump is also known as sirloin (America), so depending on which country you are in, it might go by different names.
Lean cuts of meat will overcook easily and not taste nearly as good as the tough cuts. So, it is important that you choose a cut of beef that is more suitable for slow cooking.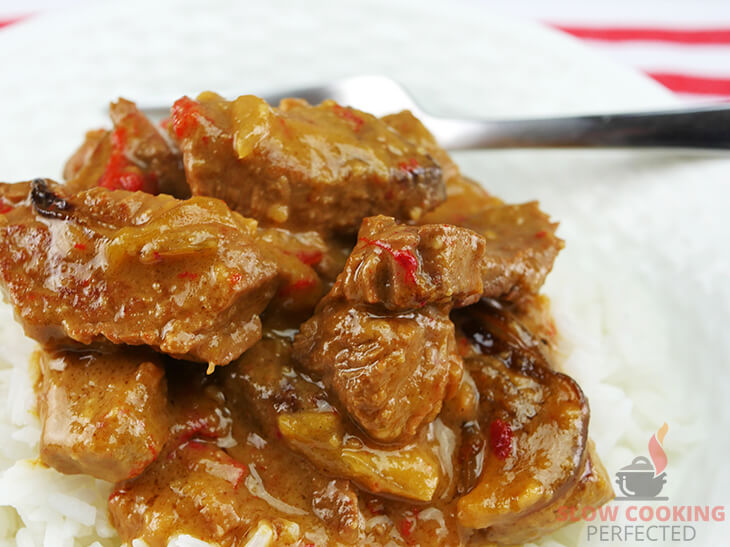 The beef in this dish will cook to be incredibly tender, so you do not need to worry about tough meat. Simply make sure you cook it on low for at least six hours, but longer is often better.
Side Dishes to Serve with Satay Beef
There are quite a few different side dishes that you can have with this dish. Below are some examples of what you can do.
As you can tell in the photos, my favorite side dish is some freshly cooked steamed rice. I usually use a rice cooker as it is super easy to get the rice perfect.
For something a little different, you can make some mashed potatoes to go with the beef. It is a slightly different side dish but works surprisingly well with the satay flavors. I recommend doing this side dish if you love mashed potatoes.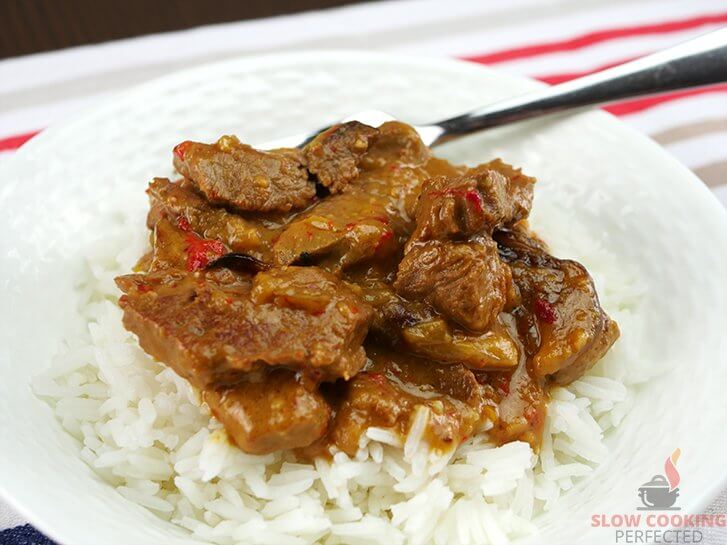 Some additional vegetables will work nicely with this dish. Sometimes I love to steam some vegetables to have on the side such as broccoli, sugar snaps, and cauliflower. However, feel free to use any vegetables that you might like.
My last suggestion is to cook some noodles to go with this dish. Something like egg noodles, soba noodles, or even udon noodles will be delicious. Feel free to use your favorite noodle.
The video below will take you through the steps to making this delicious satay beef recipe. If you prefer, then you can find the full written recipe right underneath the video.
Slow Cooker Satay Beef Recipe
Ingredients
500 g (1.1 lb) rump steak, thickly sliced
2 tsp peanut oil
1 onion, sliced
1 red bell pepper, thick slices
1 tsp garlic, crushed
1 tsp ginger, crushed
1 tsp red chili flakes
2 tsp brown sugar
1 Tbsp soy sauce
3 Tbsp peanut butter
½ cup coconut milk
½ cup beef stock
Instructions
Quickly brown the beef in a frypan, drain any excess fluid.
In a slow cooker, add all of the ingredients.
Stir to combine and cook on low for 8 hours.
Serve & Enjoy.
Recipe Tips
The red chili flakes can be left out of the sauce if you do not like spicy food. It is also ideal to leave the chili out of the dish if you need to feed kids.
If you need to feed a lot of people, then you can easily just double the recipe. You can try only increasing the meat, but you might not end up with enough sauce, so I recommend doubling all the ingredients.
You can skip browning the meat if you are running low on time. There should not be a massive difference in the end, but I recommend browning the meat if you have the time.
Note: I use a 5.5L (6 Quart) slow cooker for all the recipes that I have on this website unless specified. If you have a smaller or larger slow cooker, then you might need to adjust the ingredients.
Nutrition Information
Serving Size: 239g (8.4 oz)
Servings Per Recipe: 4
Calories Per Serving: 441
Amount Per Serving
Saturated Fat: 13.1g
Trans Fat: 0.7g
Dietary Fiber: 2g
Sugars: 6g
Cholesterol: 95mg
Sodium: 859mg
Protein: 40g
The information above is an estimate generated by an online nutrition calculator.
More Slow Cooker Beef Recipes
Below are a couple of my favorite beef recipes that you can make in the slow cooker. They are both worth trying out.
If you like this beef dish, then you might also like the beef and broccoli. Much like this dish, it has a delicious sauce that compliments the meat well.
Another dish that I reckon you will like is the delicious slow-cooked swiss steak. The dish features some deliciously tender steak and an incredibly tasty sauce. I highly recommend giving it a try.
I hope that you enjoy this slow cooker satay beef, it indeed has become one of my favorite dishes. If you have any thoughts, tips, or anything else, then please do not hesitate to leave a comment below.