This Korean beef dish is incredibly easy to make in the slow cooker and will be an absolute hit.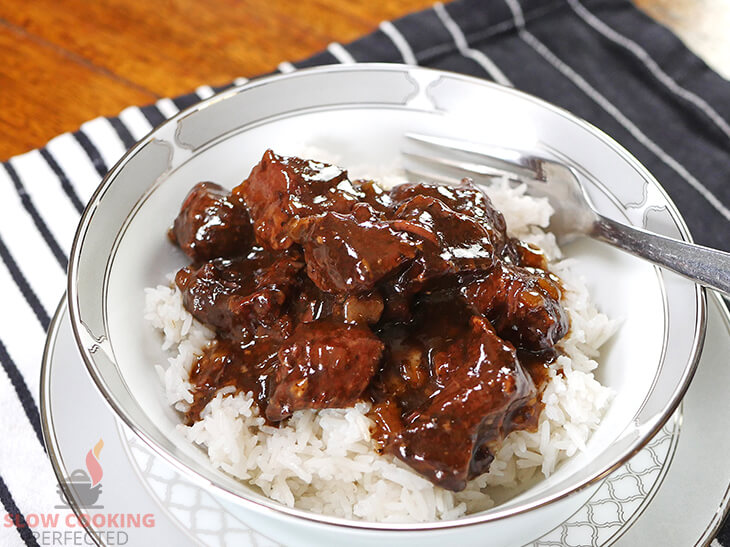 By the time you go to take a bite of this meal, the beef will be incredibly tender and coated in a delicious sauce. The sauce is loaded with flavor thanks to the sugar, soy sauce, sesame oil, and rice wine vinegar. It is an utterly delicious combination that I reckon you will love.
This dish will make enough to feed roughly four to six people. However, I do highly recommend that you make some side dishes to go with the beef. Something like steamed rice will work perfectly with the flavors of this dish.
If you have multiple slow cookers, then I highly recommend making a rice pudding to have after this delicious dish. It is super easy and usually turns out perfectly.
I highly recommend that you keep the leftovers as they are great for lunch the next day. You can keep the leftovers in either the fridge or freezer. The leftovers should last for roughly three days in the fridge or a few months in the freezer.
Tweaking the Recipe
The brown sugar can be substituted for a different sugar. A common replacement is a honey, but you could use something like apple butter, chopped pear, or applesauce to help sweeten the sauce.
More vegetables can be added in with the rest of the ingredients. Vegetables such as carrot can be added at the start along with the beef. Something like broccoli is best added in for the last hour or two of cooking.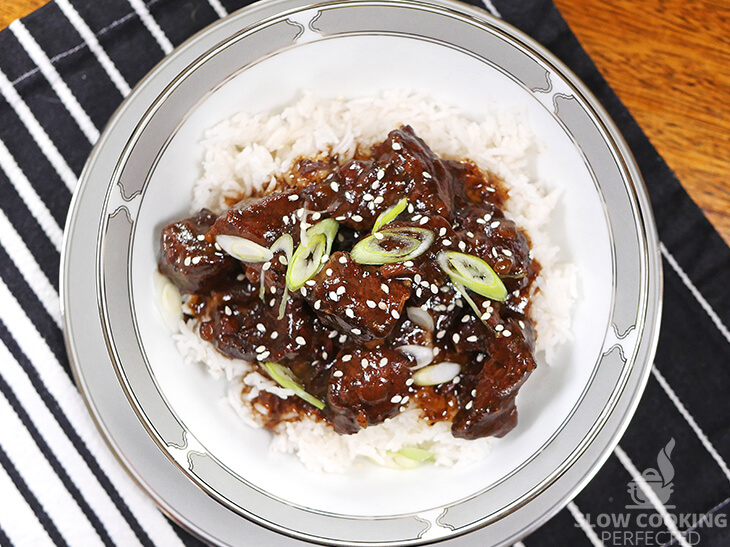 The red chili flakes will add a bit of spice to the dish. However, it is optional, so if you do not like spicy food, I recommend leaving it out of the recipe. The dish will still be great without it.
For the best results, I recommend using a tough cut of beef as it is cheaper and work best in the slow cooker. Something like chuck, round, or brisket will work best. I would avoid leaner cuts of meat.
Korean Beef Serving Ideas
There are plenty of ways that you can serve this delicious Korean beef. Below are a couple of my favorite serving ideas.
The most popular way to serve this delicious dish is with some steamed rice. I love to cook the rice in a rice cooker as it is super easy; otherwise, over the stove will also work. For something, a little healthier, you can make some cauliflower rice.
Noodles are another great accompaniment to have alongside this dish. Most types of noodles will work very nicely with the flavors of the sauce. I would personally go for something like udon noodles.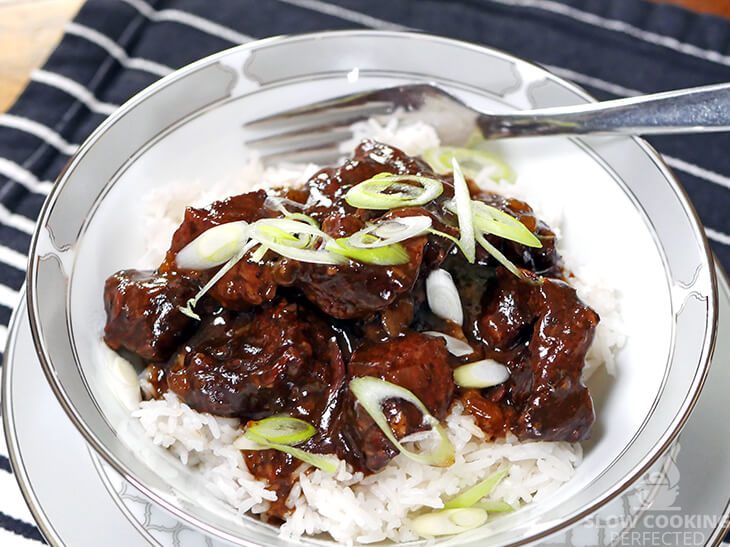 For something a little different, you can serve the beef over the top of some creamy mashed potatoes. I like to make the mashed potatoes in a slow cooker whenever I need to feed a crowd.
The video below will take you through all the steps to making this Korean beef in the slow cooker. Alternatively, there is a full written recipe immediately beneath the video.
Slow Cooker Korean Beef Recipe
Ingredients
1 onion, diced
3 tsp garlic, crushed
2 tsp ginger, minced
1 Tbsp rice wine vinegar
2 Tbsp sesame oil
½ cup soy sauce
½ cup beef stock
½ cup brown sugar
¼ tsp red chili flakes
1 kg (2.2 lb) chuck beef, cut into bite-sized cubes
Thickener
3 Tbsp cornstarch
3 Tbsp water
Instructions
In a slow cooker, add the onion, garlic, ginger, rice wine vinegar, sesame oil, soy sauce, beef stock, brown sugar, and red chili flakes. Stir to combine.
Add the beef and coat in the sauce.
Cook on low for 8 hours or until the beef is tender.
In a bowl, combine the cornstarch and water until it forms a paste. Pour into the slow cooker and mix into the sauce.
Cook on high for 30 minutes or until the sauce has thickened.
Serve & Enjoy.
Recipe Tips
If you are worried the soy sauce is too salty, then replace it with a low-sodium soy sauce.
You may need to skim excess fat from the top of the sauce. I find using a deep spoon such as a ladle is best.
The quantity of sugar can be increased if you like the sauce to be sweet. You can adjust it slightly just before you serve the dish.
Note: I use a 5.5L (6 Quart) slow cooker for all the recipes that I have on this website unless specified. If you have a smaller or larger slow cooker, then you might need to adjust the ingredients.
Nutrition Information
Serving Size: 268g (9.5 oz)
Servings Per Recipe: 6
Calories Per Serving: 374
Amount Per Serving
Saturated Fat: 3.4g
Trans Fat: 0.6g
Dietary Fiber: 1g
Sugars: 19g
Cholesterol: 123mg
Sodium: 1534mg
Protein: 37g
The information above is an estimate generated by an online nutrition calculator.
More Beef Recipes
There are many more beef dishes that you can make in the slow cooker. Below are some similar recipes that I reckon you will enjoy.
I reckon you will love the teriyaki beef if you are a fan of Asian cuisine. It features meat slow cooked in a delicious homemade teriyaki sauce. It is an amazing dish that I highly recommend making.
The Mongolian beef is remarkably like this recipe but features flavors from hoisin sauce. It will only take a few minutes to prepare, and the result is incredibly rewarding. Certainly, worth giving a try.
I hope that you enjoy this slow cooker Korean beef as much as I did. If you have some feedback, then please do not hesitate to leave a comment below.