This slow cooker sweet and sour beef is absolutely delicious and goes great with some rice or noodle.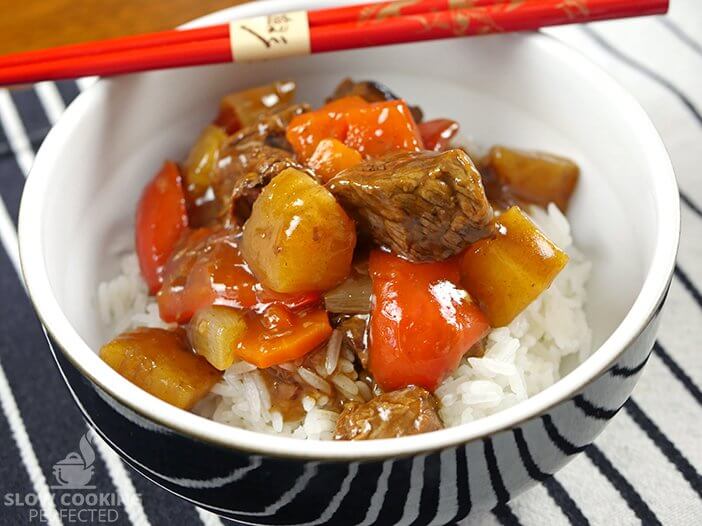 Once this dish is ready, the beef will be incredibly tender, and the vegetables will be flavor-packed. The beef, along with the vegetables, pineapple, and sweet and sour sauce, creates an incredible meal that will be hard to resist.
As the name suggests, the sauce will be sweet and sour and is inspired by one of the many Asian cuisines, Chinese. The sour comes from the vinegar while the sweetness comes from the pineapple juice and brown sugar. Beef will take on the flavor of the sauce and cooks to be incredibly tender.
You should be able to feed at least four people from a single batch of this recipe. The more sides that you have, the more you will likely be able to feed.
Any leftovers are worth keeping as this dish will heat the next day nicely. If you do not plan to use the leftovers anytime soon, you can freeze them rather than refrigerate them. I highly recommend that you do not store it with rice.
Choosing the Right Cut of Beef
For when it comes to beef cuts, something like round, shanks, chuck, blade, or brisket will cook to be perfect in this dish. You may need to check on naming differences depending on where you live.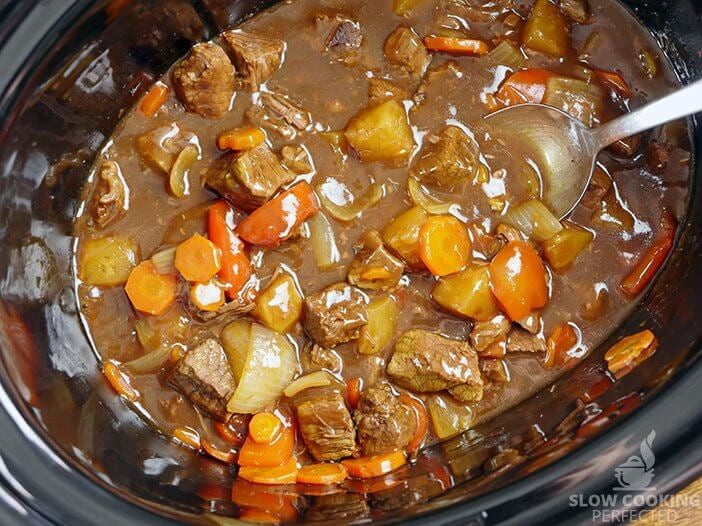 The long cooking time enables us to use a cheaper and tougher cut of beef. Since we will be cooking the meat for a long time, it will cook to be deliciously tender.
Sweet and Sour Beef Serving Ideas
If you are trying to think of some side dishes to go with this slow cooker sweet and sour beef, then below are some ideas.
I love to make some steamed rice to serve with this dish. You can easily make the rice in a rice cooker or over the stove. Alternatively, it also goes great with a bowl of cauliflower rice.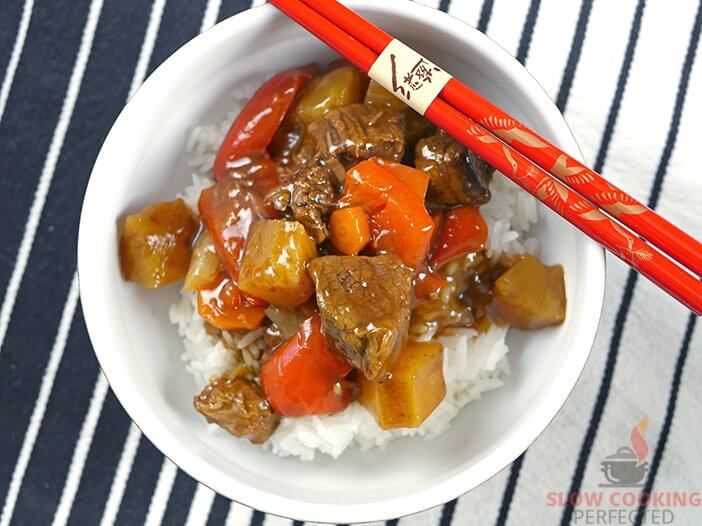 Noodles are an excellent choice for a side dish to go along with sweet and sour beef. The type of noodle is entirely up to you. For example, udon noodles, hokkien noodles, or even rice noodles will work very nicely with this dish's flavors.
Below is a video on how to make this delicious sweet and sour beef in the slow cooker. If you prefer a written recipe, then you can find it right underneath the video.
Slow Cooker Sweet and Sour Beef Recipe
Ingredients
500 g (1.1 lb) beef, cubed
440 g (15.5 oz) can pineapple pieces with unsweetened juice (Do not drain)
1 onion, quartered
1 carrot, peeled & sliced
1 large red bell pepper, chopped
1 tsp ginger, chopped
3 Tbsp brown sugar
4 Tbsp ketchup
2 Tbsp soy sauce
¼ cup apple cider vinegar
Thickener
Instructions
In a frypan, quickly sear the beef, so it is browned on all sides.
In a slow cooker, add all the ingredients except for the cornstarch and water.
Cook on low for 8 hours.
In a bowl, mix the cornstarch and water until it forms a paste. Pour into the slow cooker and stir until mixed in.
Cook on high for 15-30 minutes or until thickened.
Serve & Enjoy.
Recipe Tips
To ensure that this dish is gluten-free, use a gluten-free variety of soy sauce, cornstarch, and ketchup.
If you are not a fan of ketchup, then a good tomato paste will be fine to use instead.
There are more ingredients that you can add to this dish. For example, baby corn and water chestnuts are delicious in this dish. Other vegetables work well too.
Cooking on high is an option if you are running low on time. Make sure you half the amount of cooking time to avoid overcooking the vegetables.
You can skip browning the meat if you are running low on time. You may need to skim off any excess fat towards the end of cooking.
Note: I use a 5.5L (6 Quart) slow cooker for all the recipes that I have on this website unless specified. If you have a smaller or larger slow cooker, then you might need to adjust the ingredients.
Nutrition Information
Serving Size: 381g (13.4 oz)
Servings Per Recipe: 4
Calories Per Serving: 330
Amount Per Serving
Saturated Fat: 2.1g
Trans Fat: 0.4g
Dietary Fiber: 3g
Sugars: 30g
Cholesterol: 93mg
Sodium: 784mg
Protein: 28g
The information above is an estimate generated by an online nutrition calculator.
More Slow Cooker Recipes
Below are some more slow cooker recipes that are well worth making.
I absolutely love sweet and sour food. You can also make this dish using chicken, or even some pork. All the variations have a unique texture and taste, so it is worth trying out each type.
If you are after something a little less sweet, you should check out the beef and broccoli. It is super easy and has an incredible sauce that you must try.
That is all I have to say about this slow cooker sweet and sour beef recipe. If you have any feedback, then please do not hesitate to leave a comment below.