This delicious slow cooker sweet and sour pork is an incredibly easy dish to get prepared and slow cooking. It is a delicious recipe that the entire family will enjoy.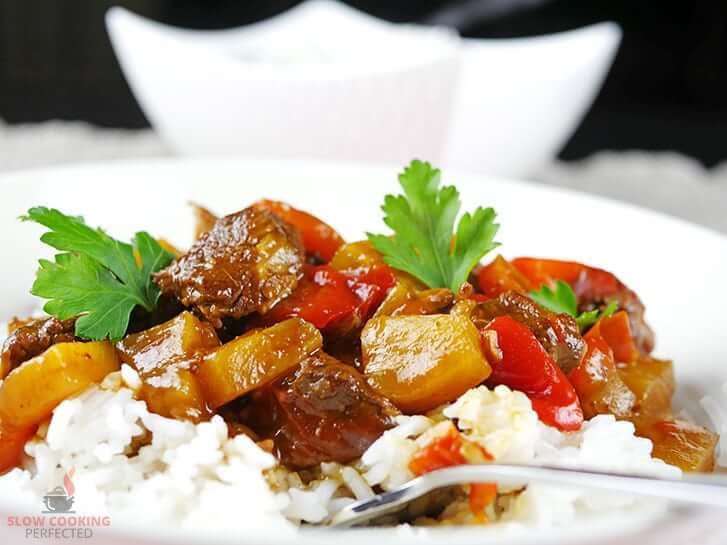 By the time this dish is ready, you will have lovely tender pieces of pork with flavor-packed vegetables and succulent pineapple. It is yet another great dish that you can get cooking in the morning, so it is ready for when you sit down for dinner.
If you just have the sweet and sour pork, you will only get about four to six servings. However, if you are serving something like rice with it, you can expect it to feed a lot more people, maybe even double the amount.
The leftovers will last for up to three days in the refrigerator, so they are perfect for an easy lunch the next day. You can also freeze this dish and keep it frozen for up to three months before it will need to be used.
Perfecting the Recipe
Since we are slow cooking the pork, you are better off using a tougher piece of meat. If you use a tender piece of meat, it is likely to cook too fast and fall apart before you even eat it. I recommend using either pork loin or pork shoulder.
You can replace the ketchup with tomato paste if you rather use something less processed. The result will not be hugely different and will still taste great.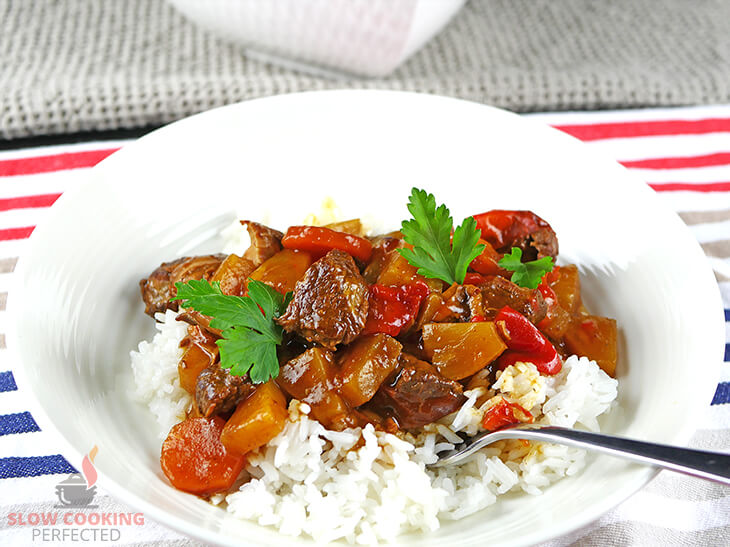 Some water chestnuts and baby corn are an excellent addition to this dish. Both of these can be added at the same time as the rest of the vegetables.
You can easily swap the meat for something else. For example, I love to make sweet n sour chicken. This recipe will work with almost any meat. However, some types of meat will work better than others.
What to Serve with Sweet and Sour Pork
You can enjoy this dish just by itself, but I recommend having something to go with it. Below are a couple of ideas of foods that will match nicely with this dish.
As you can probably tell in the photos, I love to serve this dish with some lovely steamed rice. You will probably need to get the rice cooking about thirty minutes before you plan to serve the pork.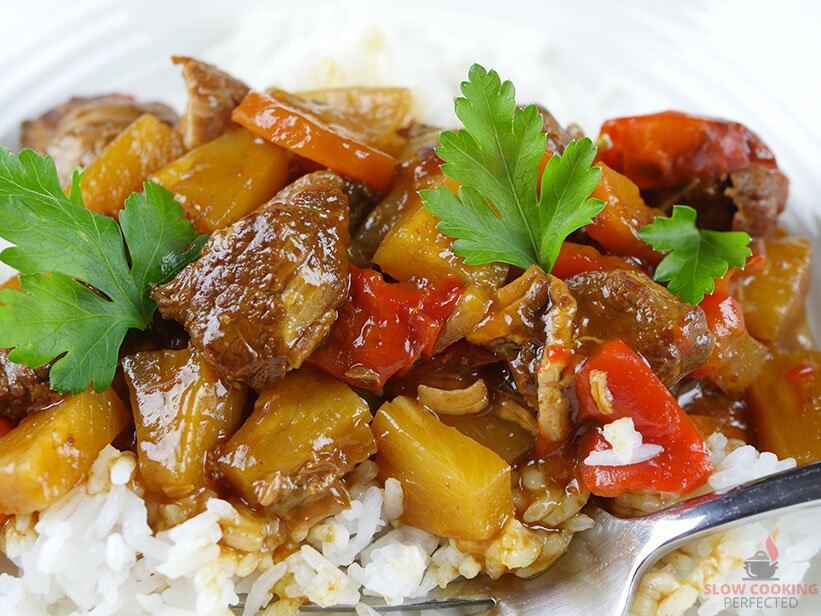 Another accompaniment that will go great with this dish is some noodles. I love to serve the dish with some egg noodles, but other types will work just as good. For example, udon noodles, rice noodles, hokkien noodles, and so many more.
If you want to see how to make this sweet and sour pork in the slow cooker, then be sure to check out the video below. It is short but shows you everything you need to know about getting this dish ready and cooking.
Slow Cooker Sweet and Sour Pork Recipe
Ingredients
500 g (1.1 lb) pork loin, cubed  and seasoned with salt and pepper
440 g (15.5 oz) pineapple pieces with unsweetened juice (Don't drain)
1 large red bell pepper, chopped
1 onion, quartered
1 carrot, peeled & sliced
½ tsp ginger, minced
3 Tbsp brown sugar
¼ cup apple cider vinegar
4 Tbsp ketchup
2 Tbsp soy sauce
Thickener
2 Tbsp cornstarch
2 Tbsp water
Instructions
In a fry-pan over high heat, quickly sear the pork loin.
In a slow cooker, combine the brown sugar, ginger, apple cider vinegar, pineapple juice, ketchup, and soy sauce.
Add the pork, red bell pepper, carrot, onion, pineapple pieces, and stir slightly.
Cook for 6-8 hours on low.
Mix together the water and cornstarch until it forms a smooth paste. Pour this into the slow cooker and mix, try to make sure there are no lumps.
Cook on high for 15 minutes or until the sauce is thick.
Serve & Enjoy.
Recipe Tips
The soy sauce provides plenty of salt for this dish, so you should not need to add any extra apart from the seasoning on the pork.
If you need the sweet and sour pork faster than the six hours, you can turn the slow cooker up to the high setting. It will take roughly two to four hours.
Note: I use a 5.5L (6 Quart) slow cooker for all the recipes that I have on this website unless specified. If you have a smaller or larger slow cooker, then you might need to adjust the ingredients.
Nutrition Information
Serving Size: 250g (8.8 oz)
Servings Per Recipe: 6
Calories Per Serving: 300
Amount Per Serving
Saturated Fat: 4.4g
Trans Fat: 0g
Dietary Fiber: 2.3g
Sugars: 16.4g
Cholesterol: 67mg
Sodium: 475mg
Protein: 24.2g
The information above is an estimate generated by an online nutrition calculator.
More Slow Cooker Recipes
There are so many other slow cooker dinner recipes that you need to try.
One recipe that is similar to this dish is the amazing honey garlic chicken. It has a rich blend of honey, soy, and garlic. It tastes amazing and is well worth checking out.
A pork dish that I reckon you will love is the slow-cooked pork belly. It cooks to be incredibly tender and has a delicious soy and honey glaze to go along with it. It is undoubtedly a must-try dish.
I hope you enjoy this slow cooker sweet and sour pork recipe as much as I did. If you have any feedback that you would love to share, then please don't hesitate to leave a comment below.