This delicious slow cooker beef and broccoli is so easy to make. It's a must-try for anyone who loves the traditional dish that's cooked over a hot stove but looking to try something slightly different.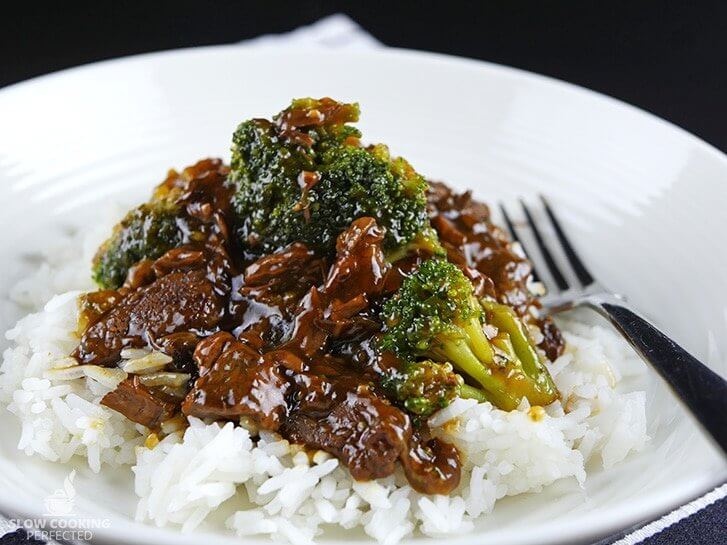 This beef and broccoli cooks to have an incredibly rich sauce and deliciously tender beef. The broccoli is added towards the end to ensure that it is tender but crisp. It's always a huge hit whenever I cook it for my family.
You will find that this dish is very popular across the world, but is most commonly referred to as an American Chinese dish. Meaning it has a Chinese influence but has been adapted to American tastes.
What Goes with Beef & Broccoli
As you would expect, this dish is best served with some rice. I recommend getting some rice cooking in either a rice cooker or over the stove about fifteen to thirty minutes before you plan to serve.
Some udon noodles or rice noodles will work very nicely with this recipe. Cook the noodles before mixing them through the sauce and beef for the best results.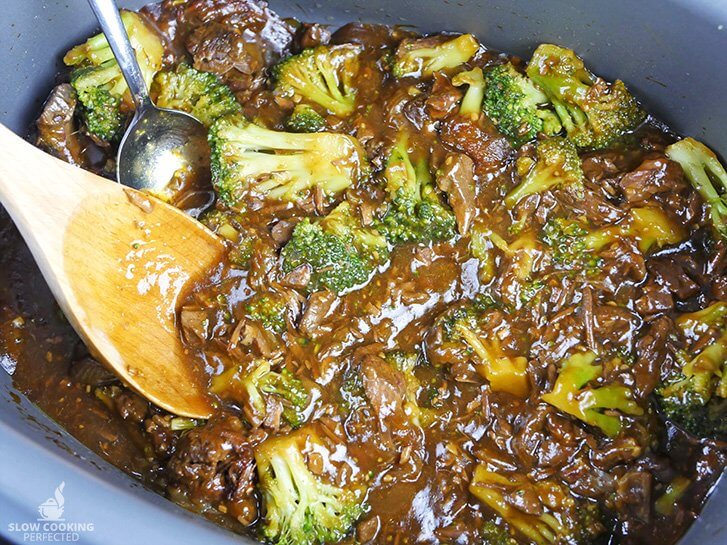 An alternative to rice and noodles is to cook some pasta instead. Most types of pasta will work very well with this delicious beef dish.
If none of the above appeals to you, then there are tons of other side dishes that work great with beef and broccoli. Be sure to let us know if you have a delicious combination that you want to recommend.
Personalize this Recipe
You're able to add some red peppers or other vegetables to this dish but keep in mind some ingredients are better added at the end. This includes green vegetables such as broccoli or green peas. Other vegetables such as carrots are better added at the start.
I wouldn't mess with the sauce ingredients as it's pretty good without any changes. However, the oyster sauce can be tricky to get your hands on so this can be replaced with something like hoisin sauce, fish sauce, Worcestershire sauce, or even more soy sauce.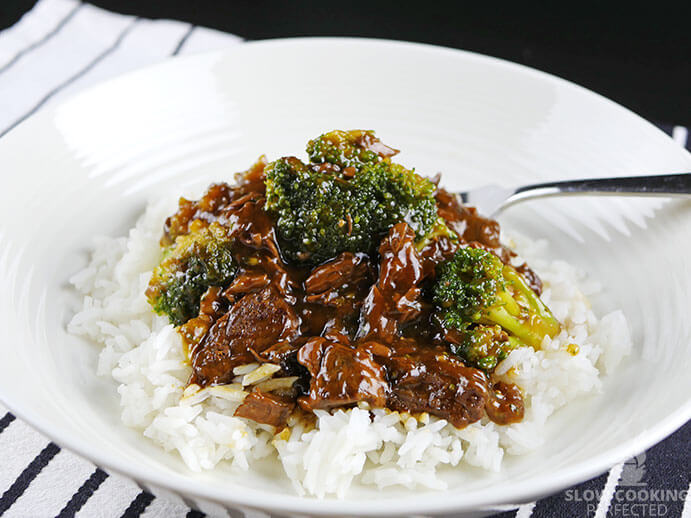 It's up to you whether you want to brown the meat before slow cooking. I always find that by browning the beef, you end up with a better-tasting beef dish at the end. If you skip this, then you can just place everything straight into the slow cooker.
I have lots more tips on how to make beef and broccoli in the slow cooker further down the page. Also, be sure to let us know if you have any suggestions as we're always looking to improve.
How Long to Store Beef & Broccoli
I recommend eating this dish immediately as the broccoli will go a bit soft and be not as appealing if stored for too long. With that said, you can easily store this in the fridge for a few days but no longer than a week.
The leftovers for this dish will reheat pretty well so make sure you keep them if you have any. Just make sure you store it in a sealed container in the refrigerator.
Make sure you heat the leftovers so that they're nice and hot when you go to eat. You may notice the broccoli is not as good after reheating the dish.
If you want to see how to prepare and cook this delicious beef and broccoli recipe in the slow cooker, then be sure to check out the video below. Alternatively, you can find the full text-recipe right below.
Slow Cooker Beef and Broccoli Recipe
Ingredients
500 g (1.1 lb) chuck beef, cut into strips
2 onions, quartered
3 tsp garlic, crushed
2 tsp ginger, minced
¾ cup beef stock
½ cup low sodium soy sauce
¼ cup brown sugar
¼ cup oyster sauce
1 Tbsp sesame oil
2 Tbsp cornstarch, to thicken
4 cups broccoli florets, room temperature
Instructions
Firstly, quickly brown the beef in a frying pan.
In the slow cooker, add the onions, beef, garlic, ginger, oyster sauce, beef stock, soy, brown sugar, and the sesame oil.
Cook on low for 6-8 hours or on high for 4 hours.
30 minutes before you go to serve, mix the cornstarch with 2 Tbsp of water. Mix the cornstarch mixture into the slow cooker along with the broccoli.
Cook until thickened and the broccoli is warm, roughly 30 minutes.
Serve & Enjoy
Recipe Tips
Make sure you don't add the broccoli at the start of cooking otherwise it will go like mush and become an ugly looking green. It's still edible but won't be as nice in texture and flavor.
Low sodium soy sauce is a recommendation, however, you can still use normal soy. I would recommend halving the amount you use as it may make the dish too salty.
When you put the broccoli into the slow cooker is probably a good time to get some rice cooking. Once the rice is done, the beef and broccoli in the slow cooker should be ready to eat.
If you like a runny sauce, then reduce the amount of cornstarch down to just one tablespoon.
You can use frozen or fresh broccoli. If you're using frozen, then make sure you defrost it before adding it to the slow cooker.
If you don't have chuck beef then basically any tough cut of beef will be fine. Plenty of people use flank steak with great results.
Note: I use a 5.5L (6 Quart) slow cooker for all the recipes that I have on this website unless specified. If you have a smaller or larger slow cooker, then you might need to adjust the ingredients.
Nutrition Information
Serving Size: 344g (12.1 oz)
Servings Per Recipe: 4
Calories Per Serving: 382
Saturated Fat: 3.5g
Trans Fat: 0g
Total Carbohydrate: 25.6g
Dietary Fiber: 3.4g
Sugars: 12.1g
Cholesterol: 112mg
Sodium: 1436mg
Protein: 43.2g
The information above is an estimate generated by an online nutrition calculator.
More Tasty Beef Recipes Worth Trying
If you love slow cooker beef dishes, then you may also like some Mongolian beef. It comes out to be incredibly delicious, and much like this dish goes perfect with some rice.
Another dish that I love to do in the slow cooker is some teriyaki beef. The beef cooks to be tender, and the sauce is absolutely delicious. I highly recommend giving it a try.
The beef goulash is yet another great dish that you're able to cook in your slow cooker or crock-pot. At the end of cooking, you end up with amazingly tender beef and delicious vegetables.
If you have any thoughts, tips or anything else that you would like to share on this beef and broccoli recipe for the slow cooker, then be sure to leave a comment below.