If you're looking for a fruity dessert, then the slow cooker peach cobbler is precisely that. It's incredibly easy, and you can use either fresh or canned fruit.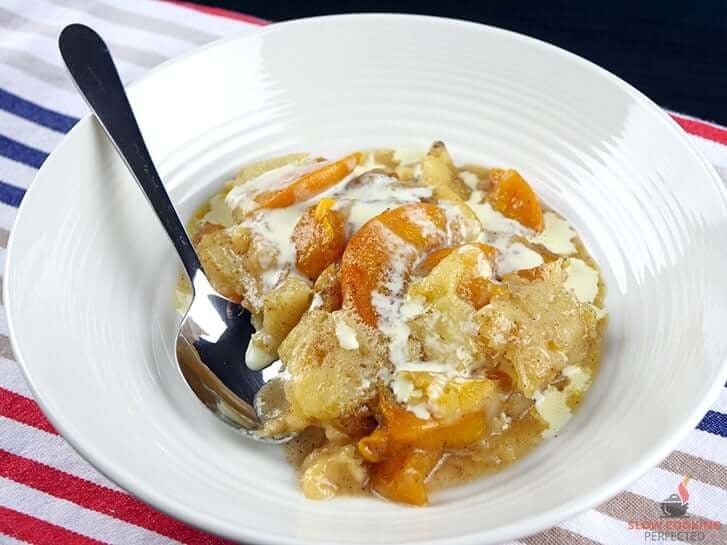 This dessert will be loaded with flavors thanks to the peaches, cinnamon, and nutmeg. It is sweet and goes excellent with a variety of delicious ingredients such as ice-cream. I highly recommend trying this slow cooker dessert.
Most recipes use a packet cake mix, but instead, we're going to make a cake mix from scratch quickly. This recipe doesn't take much time, and it is great if you don't keep a ton of packet mixes in the cupboard.
If you prefer to use a packet mixture, then be sure to check out the peach dump cake recipe. It's similar to this recipe, but a lot easier and still just as tasty.
What to Serve with a Peach Cobbler
Much like the blueberry cobbler, this is best enjoyed with some ice cream or cream. With that said, you can have it just by itself, and it will taste just fine.
One of my favorite accompaniments to have with a slow cooker dessert is some vanilla bean ice cream. It goes perfectly with the sweet fruit and gets even better as it begins to melt.
If you have some spare time, then a delicious homemade custard will work nicely with this cobbler. Some store-bought custard will also work nicely if you're limited in the amount of time you have in the kitchen.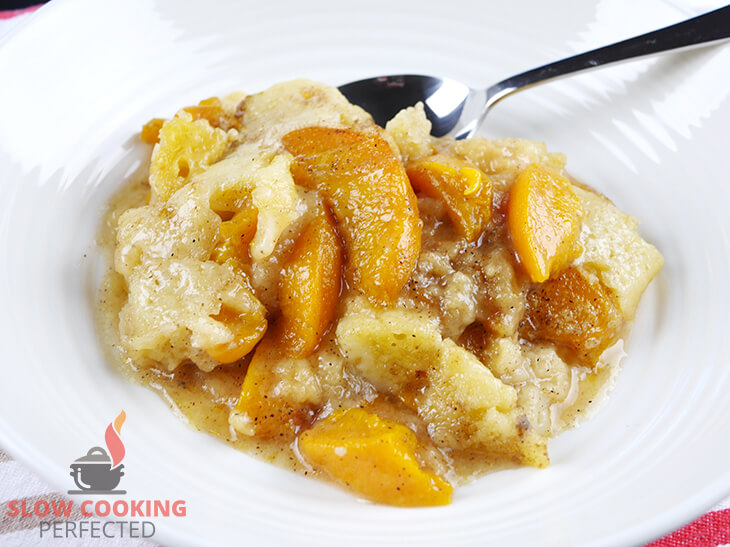 Yogurt is an excellent easy option if you want something to go with the cobbler. The type of yogurt is entirely up to you, as even Greek yogurt will work nicely with this dessert.
The last extra ingredient that will work nicely is some cream. You can easily drizzle the cream over the top to help cut through the sweetness of this dessert. The photo at the top of this page is the cobbler drizzled with some cream.
Personalizing the Recipe
Below are some tips on how you can alter this recipe, so it's a bit more to your liking. I highly recommend reading through some of the tips as they might give you an idea that will help elevate this delicious dessert.
In this recipe, I make use of drained canned peaches as they are easy and always result in a great tasting dessert. If you have the time, then fresh peaches will work nicely. You will need to deseed and slice fresh peaches.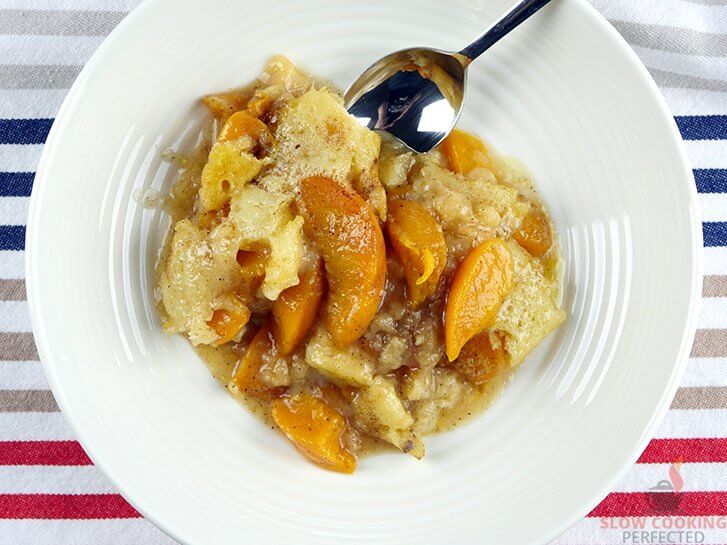 More fruit can be added if you feel like adding more flavors. Summer berries such as blueberries or strawberries will match nicely with the peaches. Alternatively, something like pear will also work very well in this dessert.
At the end of cooking, this peach cobbler will be quite soft and gooey. If you prefer a crunchy topping, then the best way to do this is to cook the cobbler in the oven and not in a crock pot or slow cooker.
The leftovers of this cobbler are well worth keeping and make for a fantastic easy breakfast or dessert. Just store in the fridge and reheat in the oven or microwave when needed.
If you want to see how to make this peach cobbler in the slow cooker, then be sure to check out the video below. It will take you through all the steps to perfecting this delicious dessert.
Slow Cooker Peach Cobbler
Ingredients
Fruit Mixture
500 g (1.1 lb) peach slices without any juice
50 g (1.8 oz) sugar
1 tsp cinnamon, ground
1 tsp nutmeg, ground
60 g (2.1 oz) unsalted butter
Cake Mixture
200 g (7.1 oz) self-rising flour
100 g (3.5 oz) sugar
250 ml (8.5 fl oz) milk
1/2 tsp salt
Instructions
In a bowl, lightly toss the peach slices with the sugar, nutmeg, and cinnamon.
In another bowl, mix together the self-rising flour, sugar, salt, and milk. Try to avoid any lumps.
Next, in the slow cooker, add the butter and spread evenly.
Add the coated peach slices.
Evenly spread the cake batter mix over the top of the peach slices in the slow cooker.
Cook on low for 4 hours or until the cobbler is cooked in the middle.
Serve & Enjoy.
Recipe Tips
You can use fresh, canned, or even frozen peaches in this recipe. Any of the three choices will leave you with an amazing tasting dessert.
If you're using canned fruit, then it's best not to add the syrup. Adding the syrup will likely place too much fluid into the slow cooker, which will result in an extra soggy cobbler.
You can add some chopped walnuts on top of the peaches to help provide a bit of crunch to this lovely dessert.
Reducing the milk in the recipe will result in a less gooey and saucy cobbler.
You can reduce the sugar in both the peaches and in the cake batter, I recommend doing this if you prefer your desserts less sweet. Reducing the cake mixture sugar by half and removing the sugar in the fruit will work nicely.
Note: I use a 5.5L (6 Quart) slow cooker for all the recipes that I have on this website unless specified. If you have a smaller or larger slow cooker, then you might need to adjust the ingredients.
Nutrition Information
Serving Size: 196g (6.9 oz)
Servings Per Recipe: 6
Calories Per Serving: 355
Amount Per Serving
Saturated Fat: 4.4g
Trans Fat: 0g
Dietary Fiber: 2g
Sugars: 39g
Cholesterol: 15mg
Sodium: 619mg
Protein: 5g
The information above is an estimate generated by an online nutrition calculator.
More Slow Cooker Desserts
There are so many delicious desserts that you can make in the slow cooker. Below are just a couple of my favorites that I highly recommend that you try.
If you like this dessert, then you might also be interested in a delicious apple crisp that you can cook in the slow cooker. The result is a delicious apple dessert with a crunchy topping, perfect if you have a ton of apples that you need to use.
Another fruity dessert that you should try is the baked apples. The apples cook to be super tender and are loaded with flavor thanks to the walnut, oat, and raisin filling. I highly recommend giving it a try.
I hope this slow cooker peach cobbler recipe works out for you just as well as it did for me. If you have any feedback, tips, or anything else that you would like to share, then please don't hesitate to leave a comment below.