A slow cooker apricot dump cake is one delicious dessert that you need to try. One of the best things about this cake is how easy it is to make and get cooking in no time at all.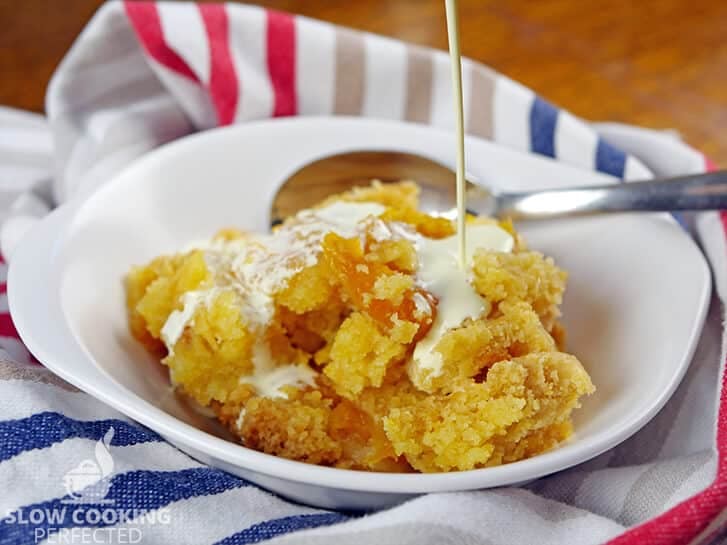 Apricots are an excellent fruit to use in a slow cooker dump cake. You can use fresh, frozen, or even tinned apricots. Personally, I tend to use tinned as they cook to be soft, flavorsome, and work perfectly with the cake mix.
This cake is the perfect way to finish off a delicious meal and is always a great hit with kids thanks to it being a bit on the sweet side.
What to Serve with this Apricot Dump Cake
There are hundreds of ways you can serve this apricot dump cake. My personal favorite is to have it with a drizzle of some hot custard or heavy cream.
If you want to be a little more experimental, you can have this cake with a drizzle of melted chocolate. I would use dark chocolate to help take away a bit of the sweetness.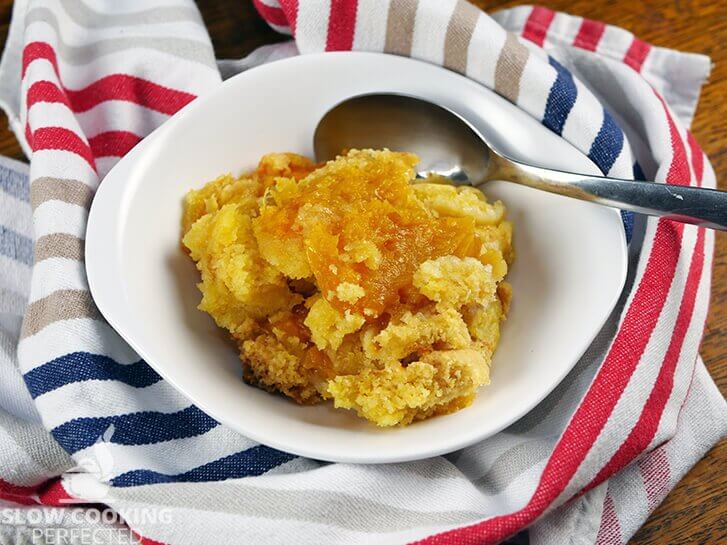 There are lots of other extras that you can have, such as ice cream, yogurt, and much more. I love having the cake with some cream but feel free to be creative.
Personalize the Cake
If you want to make this cake more to your liking, then there are dozens of ways you can tweak the cake mixture. I will mention some of the ways you can adjust the recipe.
An easy way to quickly alter the flavors of this cake is to add some different spices. For example, something like a teaspoon of cinnamon and nutmeg will add a whole heap of flavor.
Using other cake mixes is another excellent way of radically changing the flavors of this recipe. There are dozens of different cake mixes that you can buy. For example, you can try a chocolate cake mix or even a spice cake. There are just so many combinations, so it's hard to cover them all.
If you have a tweak that you would love to share, then please don't hesitate to leave a comment further down the page. We would love to hear from you.
What to do with Leftovers
Leftovers of this cake are pretty good the next day. I recommend heating them in the microwave before eating, but you can also have them cold. It's pretty much up to you how you handle the leftovers of this delicious cake.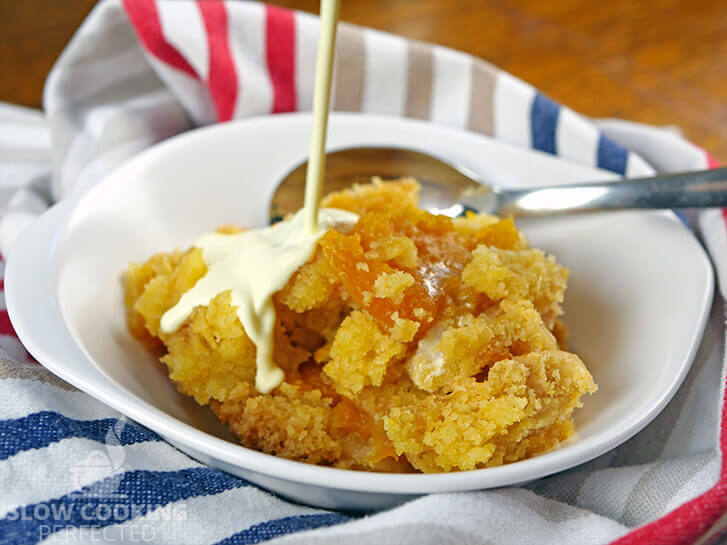 Any leftovers should last in the fridge for a few days. You can freeze the cake if you don't plan on eating it anytime soon. I prefer to have the cake as fresh as possible since it is so easy to make.
If you love to see how to make a dish, then be sure to check out the video below. If you prefer written recipes, then you can find one right underneath the video.
Slow Cooker Apricot Dump Cake Recipe
Ingredients
400 g (14.1 oz) apricots, drained
400 g (14.1 oz) yellow cake mix
110 g (3.9 oz) unsalted butter, cubed
Instructions
In a slow cooker, add the drained apricots and top with the yellow cake mix.
Scatter the butter on top of the cake mix.
Cook on high for 2 hours or on low for 4 hours.
Serve & Enjoy.
Recipe Tips
The apricots shouldn't need any additional sugar added to them unless you like your slow cooker desserts super sweet.
You can use fresh, tinned, or even frozen apricots in this dessert. I prefer something easy like the tinned apricots.
If you plan on using fresh apricots, make sure you remove the seed before placing it into the slow cooker.
Using a gluten-free yellow cake mix is perfect if you're catering for anyone that is gluten-sensitive or coeliac.
You can try using a different type of cake mix. For example, if you wanted chocolate and apricot, then you can use a chocolate cake mix instead.
Note: I use a 5.5L (6 Quart) slow cooker for all the recipes that I have on this website unless specified. If you have a smaller or larger slow cooker, then you might need to adjust the ingredients.
Nutrition Information
Serving Size: 152g (5.4 oz)
Servings Per Recipe: 6
Calories Per Serving: 433
Amount Per Serving
Saturated Fat: 10.3g
Trans Fat: 0.6g
Dietary Fiber: 2g
Sugars: 6g
Cholesterol: 39mg
Sodium: 521mg
Protein: 4g
The information above is an estimate generated by an online nutrition calculator.
More Desserts Worth Making
There are many other dump cakes that you can do in the slow cooker. For example, something like the peach dump cake is yet another super easy dessert that you can do. They're perfect if you're low on time and need something delicious fast.
Another dessert that is worth making is the apple crisp. It's got a fantastic crunchy top and an incredibly gooey filling. I absolutely love the recipe and have it once or twice a month.
I hope that you enjoy this slow cooker apricot dump cake. I highly recommend that if you like this recipe that you check out our other dump cakes. I also welcome any feedback, so be sure to leave a comment below.