This incredible slow cooker peach dump cake is super easy to make. It's perfect for anyone who is limited in both time and ingredients.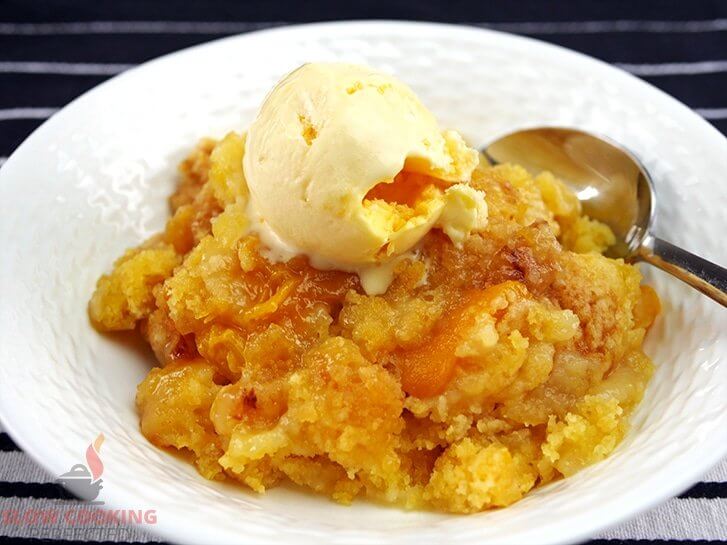 Making a dump cake in the slow cooker or crock-pot is so easy, and the results are super delicious. It's an excellent way to get a delightful dessert cooking while you do other things.
Much like all dump cakes, this cooks to have gooey bits of fruit in a delicious fluffy cake. Unlike most cakes, you will need to scoop it out of the slow cooker as you're probably going to have a hard time slicing it.
Extras to have with a Dump Cake
The usual extras will work pretty well with this dump cake but feel free to experiment a little.
My favorite extras include topping it with something like a delicious hot custard, vanilla ice cream, or even just some heavy cream. There are quite a few different accompaniments you're able to have with this.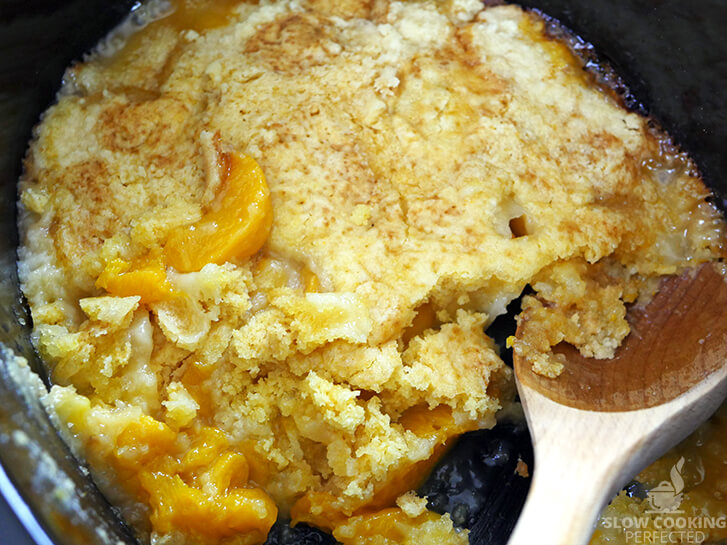 Be sure to share with us any of the combinations that you have tried with this delicious cake. You can do this by leaving a comment towards the bottom of this page.
Tips & Tricks
You can use any brand of yellow cake mix but make sure you get the measurements roughly correct for the best results.
As for the fruit, you can try either fresh or tinned peaches. It really just depends on what's available to you and how expensive the fruit is at your supermarket. I usually use tinned as it's generally readily available and very affordable.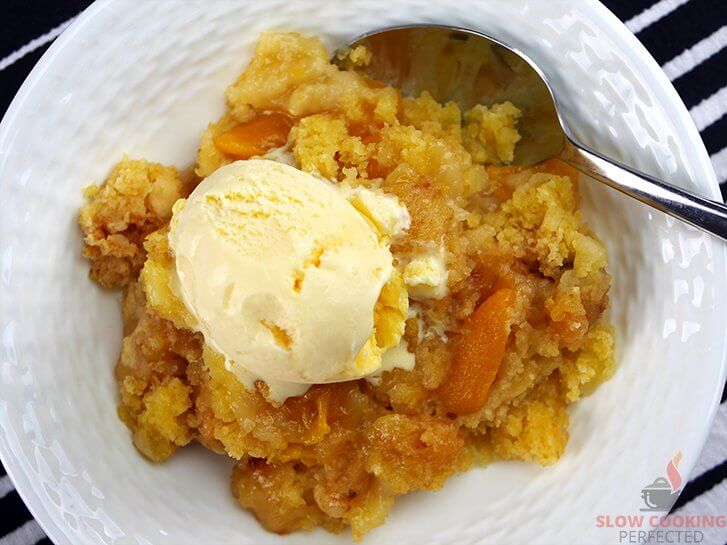 If you decide to use fresh fruit, you shouldn't need to do any extra steps except for slicing them and removing the stones. They will produce fluid as they cook that will seep into the cake mixture. It's a delicious combination that I highly recommend that you try.
You can change the type of cake mix that you use. For example, a spice cake mix is super delicious as you get all the amazing spices mixed with the flavors of the peaches. There are quite a few different types of boxed cake mix that you can buy so feel free to experiment.
I mention a few more cooking tips further down the page if you're interested.
Reheating the Leftovers
If you love leftovers that taste great, then this dump cake will please you. Keep any leftovers in the fridge and heat in the microwave or a hot oven. It should be fine in the refrigerator for three to five days before needing to be frozen or discarded.
You can also freeze this cake, but it might not reheat the greatest. I recommend freezing for a maximum of six to eight months.
Assuming you like to see how to prepare and cook recipes visually, then be sure to check out the video right below. It will take you through all the steps to making this delicious slow cooker dessert.
You can find the full written recipe for this slow cooker peach dump cake right underneath the video.
Slow Cooker Peach Dump Cake Recipe
Ingredients
400 g (14.1 oz) peaches, drained
400 g (14.1 oz) yellow cake mix
110 g (3.9 oz) butter, cubed
Instructions
In a slow cooker, add the peaches and top with the cake mix.
Scatter the butter across the top of the cake mix.
Cook on high for 2 hours or low for 4 hours.
Serve & Enjoy.
Recipe Tips
You can swap the tinned peaches for fresh if you have any around. Both will work out just fine, but for the best results, fresh always works better.
I don't recommend adding any more sugar to the fruit as it will be sweet enough as is.
You can make some yellow cake mix at home, but I recommend spending the time and making something like the peach cobbler instead.
Leaving the peach liquid in the slow cooker will result in a very soggy but flavorsome cake. I highly recommend that you drain the liquid first.
Note: I use a 5.5L (6 Quart) slow cooker for all the recipes that I have on this website unless specified. If you have a smaller or larger slow cooker, then you might need to adjust the ingredients.
Nutrition Information
Serving Size: 228g (8 oz)
Servings Per Recipe: 4
Calories Per Serving: 673
Saturated Fat: 15.5g
Trans Fat: 0.9g
Dietary Fiber: 3g
Sugars: 15g
Cholesterol: 59mg
Sodium: 787mg
Protein: 5g
The information above is an estimate generated by an online nutrition calculator.
More Slow Cooker Cakes
There are so many different types of dump cakes that you're able to do in the slow cooker. For example, if you love fruit, then you need to give the apple dump cake a try. It cooks out to have delicious, tender apples in some cake mix.
You should also try the apricot dump cake as that's also super delicious. There are so many combinations to try it's easy to get carried away.
This 3-ingredient slow cooker peach dump cake is fantastic, and I hope that you find it the same. If you have a variation, tip or just anything else that you want to mention, then be sure to leave a comment below.