This incredible three-ingredient slow cooker pineapple dump cake is another great sweet dish that you can easily prepare.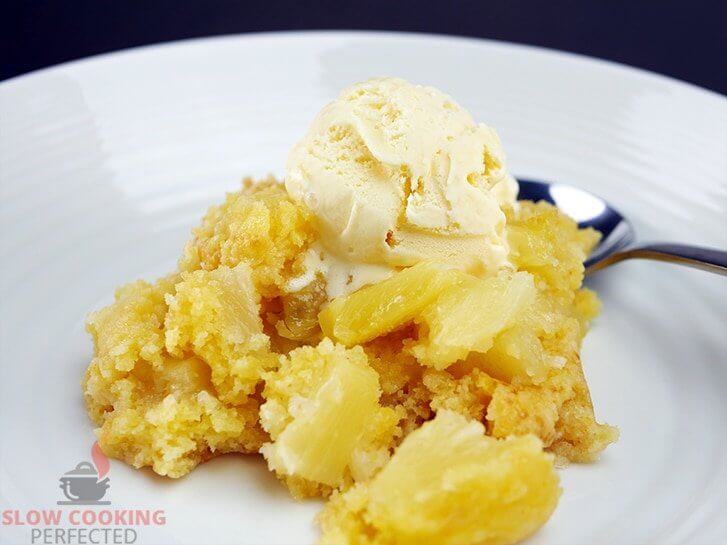 By the time this simple cake has finished cooking, you will have a delicious cake mix with bits of flavor-packed pineapple throughout it. It is an absolute must-try if you are a fan of pineapple-flavored desserts.
A single dump cake should feed roughly four people. You can easily double or triple the recipe if you need to feed more. I also recommend having something to go with it, such as cream.
Like most dump cakes that you can make in the slow cooker, the leftovers are well worth keeping. Keep them stored in the fridge or freezer until you are feeling hungry. It should last up to three to four days if stored correctly in the refrigerator or three months in the freezer.
Perfecting the Recipe
For the best results, I highly recommend that you use pineapple pieces. You can use crushed pineapple as well, but I find that it does not turn out nearly as nice.
Using different cake mixes will result in a different style of cake. If you want to experiment, then you can try using a chocolate cake mix instead.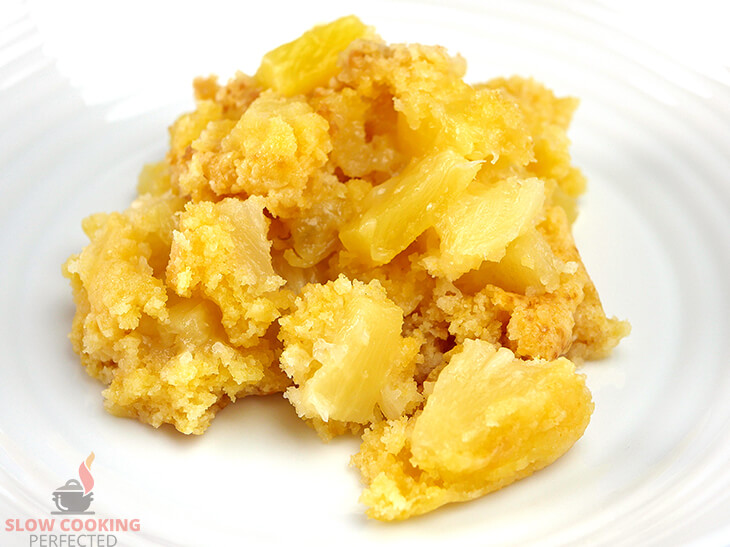 There are several methods of spreading the butter so that it covers the entire cake. I simply cube the butter and scatter it across the top of the cake mix. Another option is to melt it and drizzle it over the top. Either method will work just fine.
Be sure to let us know of any changes that you made to this recipe. Especially if it makes the cake even better.
What to Serve with Pineapple Dump Cake
Below are some ideas on what to serve with this delicious cake.
My favorite addition to most dump cakes is a scoop of vanilla bean ice cream. I prefer vanilla as it does not tend to conflict with the flavors of the cake.
Another option is to make some delicious homemade custard. I absolutely love pouring the custard over the top of this dessert. If you do not have time, then store-bought custard will also work.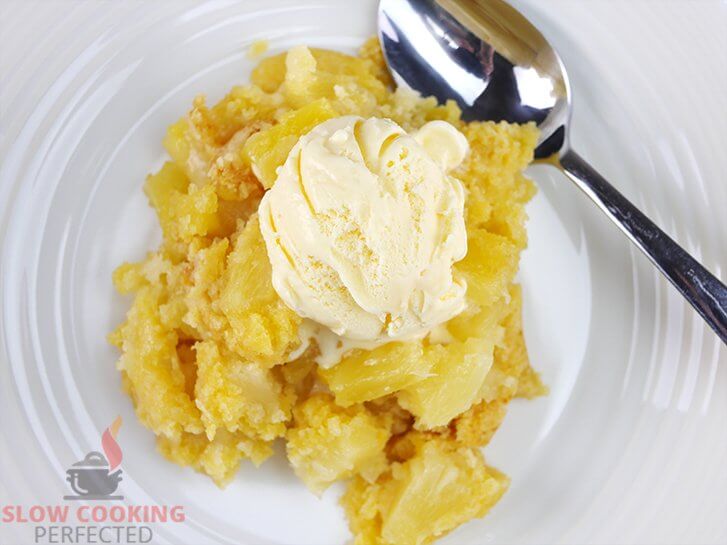 Lastly, this cake goes great with a simple drizzle of cream over the top. I like this option as it is super easy and helps cut through some of the pineapple cake's sweetness. I highly recommend giving it a try.
Be sure to let us know of any serving suggestions that you have by leaving a comment at the bottom of this page.
This pineapple dump cake is a super easy dessert recipe. If you want to see how to make the cake, then I have prepared a video below. It is super short as there is not much to this dish.
Slow Cooker Pineapple Dump Cake
Ingredients
Instructions
Add the pineapple pieces to the slow cooker and top with the yellow cake mix. Lastly, scatter the butter over the top.
Cook on high for 2 hours.
Serve & Enjoy.
Recipe Tips
You should not need to add any more liquid as the butter and pineapple will provide enough.
As I mentioned above, you can use a different type of pineapple, such as crushed pineapple. The result will be different, but it will still be incredibly tasty and easy to make.
You can cook this cake on low, but the result might be slightly different. Just make sure you cook it for longer as two hours might not be long enough.
Note: I use a 5.5L (6 Quart) slow cooker for all the recipes that I have on this website unless specified. If you have a smaller or larger slow cooker, then you might need to adjust the ingredients.
Nutrition Information
Serving Size: 228g (8 oz)
Servings Per Recipe: 4
Calories Per Serving: 601
Saturated Fat: 10.8g
Trans Fat: 0g
Dietary Fiber: 3g
Sugars: 14g
Cholesterol: 29mg
Sodium: 615mg
Protein: 6g
The information above is an estimate generated by an online nutrition calculator.
More Slow Cooker Dump Cakes
There are quite a few dump cakes that you can try in the slow cooker.
If you like this recipe, then you should certainly give the chocolate and cherry dump cake a try. It is rich in chocolate and has gooey cherries scattered throughout it.
One of our most popular recipes is the peach dump cake. The dessert is delicious pieces of peach topped with an incredible yellow cake mix. It is super easy to make and tastes absolutely amazing.
This slow cooker pineapple dump cake was certainly delicious for me, so I hope that you find the same. If you have any feedback, then please do not hesitate to leave a comment below.