This slow cooker blueberry cobbler has a delicious blueberry filling topped with a flavor-packed fluffy cake. It's incredibly simple to cook and tastes fantastic.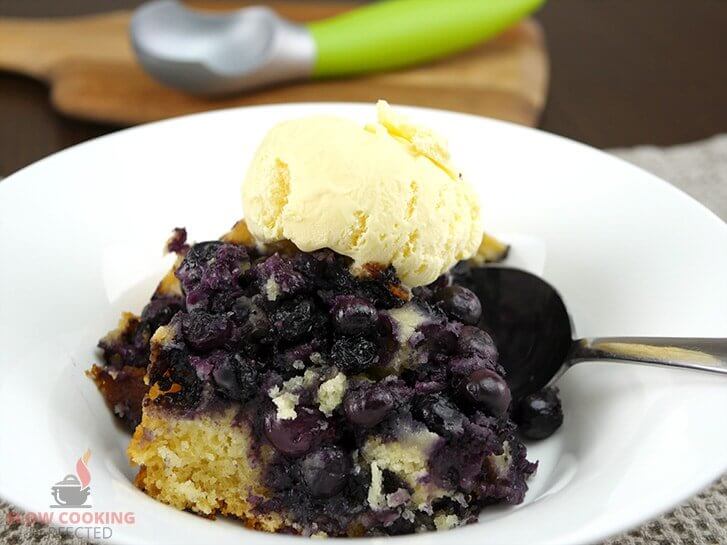 Fruity desserts are amazing in the slow cooker as they always seem to cook to be just right. The blueberries and the vanilla cake are the perfect match and make this dessert an absolute must-try.
Blueberries are the perfect fruit to use as they have a wide range of health benefits and taste amazing. You're able to buy blueberries frozen or fresh from any good supermarket.
I love keeping leftover dessert, as it is excellent for a quick and easy breakfast. Simply store in an airtight container in the fridge, and it should last for a few days. If you want to keep it longer, then make sure you keep it in the freezer.
Personalizing the Recipe
To customize this recipe, you can do quite a bit, such as adding some spices or a larger variety of fruit. Below are just a couple of suggestions on what you can do.
You can use fresh or frozen blueberries in this recipe, but I recommend using frozen to keep things cheap. However, if you have the money, then fresh works just as well.
Other berries will work very well in this dessert. For example, raspberries are an excellent way of adding more flavor and color to this cobbler.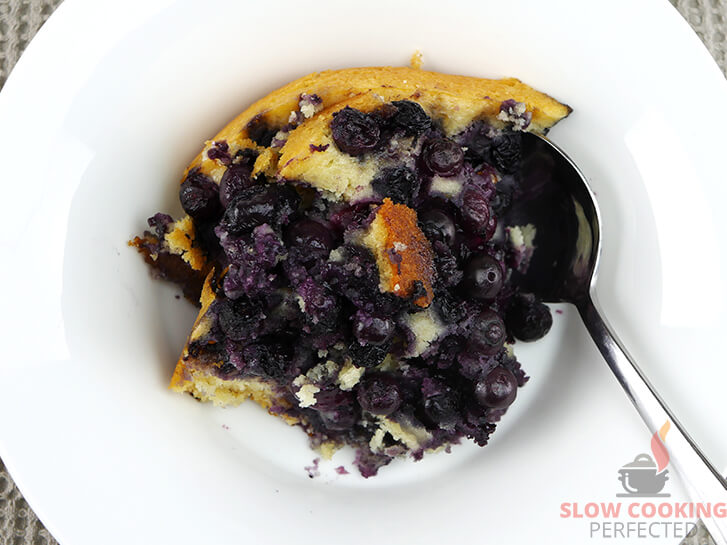 The cake batter can have some different spices added to it for more flavor. A teaspoon of nutmeg and cinnamon is an excellent way of adding more flavor. Feel free to experiment a little, so you get the best tasting cake mixture.
There are lots more ways you can change this recipe to make it more to your liking. If you have some suggestions, then be sure to leave a comment at the bottom of this page.
What to Serve with a Blueberry Cobbler
As with any slow cooker dessert, this goes great with a scoop or two of vanilla ice cream. The ice cream matches perfectly with all the flavors of the cobbler.
If you're feeling energetic, then some hot custard is perfect drizzled over the top of the cobbler. You can make the custard from scratch or use a premade mixture from the supermarket. Both will work just fine.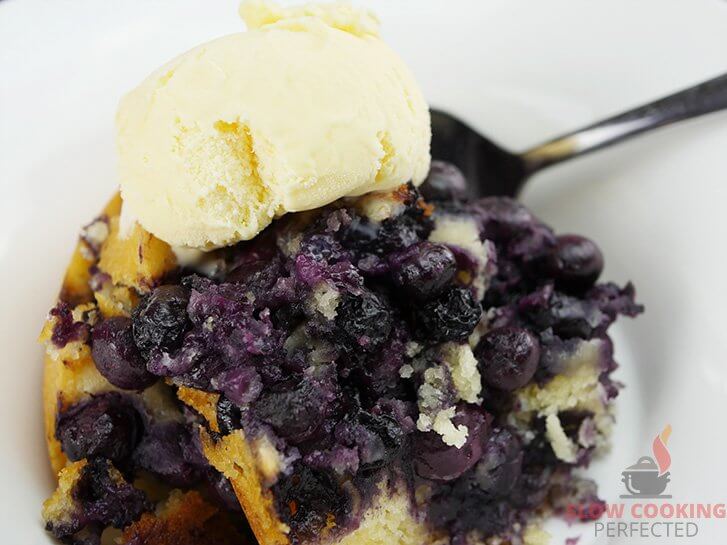 A drizzle of cream is also a great way to elevate this delicious dish. I prefer either some ice cream or custard, but the cream option is super easy.
If you have a sweet tooth, then a drizzle of homemade caramel is a great way to sweeten this dish. This dessert is already pretty sweet, so don't go too overboard.
With all that said, this dessert is fantastic straight out of the slow cooker without anything else.
If you want to see all the steps to preparing this blueberry cobbler in the slow cooker, then be sure to check out the video below.
Alternatively, if you prefer written recipes, then you can also find one right underneath the video.
Slow Cooker Blueberry Cobbler Recipe
Ingredients
Fruit
500 g (1.1 lb) blueberries
¼ cup sugar
1 tsp vanilla essence
Cake Batter
1 & ½ cups self-rising flour
½ cup sugar
¼ tsp salt
60 g (2.1 oz) butter, unsalted
1 cup milk
Instructions
In a bowl, mix the self-rising flour, sugar, and salt. Form a well, mix in the butter and milk. Try to avoid lumps by slowly mixing in the milk.
In another bowl, gently coat all the blueberries in the sugar and vanilla.
Add the cake batter to a greased slow cooker and top with the blueberries.
Cook on low for 3-4 hours or until the cake mix is cooked.
Serve & Enjoy.
Recipe Tips
If you prefer your desserts to be less sweet, then I highly recommend reducing the amount of sugar that's with the blueberries. It's important to remember that frozen berries tend to be more bitter, so sometimes sugar is essential.
We add the blueberries on top as we don't want them to overcook sitting on the bottom. This placement is different to how I did the apple cobbler as we wish the apples to cook until they were tender.
To go one step further, you can always mix in some different berries with the blueberries. This variation includes fruits such as strawberries, raspberries, and more.
Note: I use a 5.5L (6 Quart) slow cooker for all the recipes that I have on this website unless specified. If you have a smaller or larger slow cooker, then you might need to adjust the ingredients.
Nutrition Information
Serving Size: 287g (10.1 oz)
Servings Per Recipe: 4
Calories Per Serving: 530
Amount Per Serving
Saturated Fat: 9g
Trans Fat: 0.5g
Dietary Fiber: 7g
Sugars: 50g
Cholesterol: 38mg
Sodium: 737mg
Protein: 7g
The information above is an estimate generated by an online nutrition calculator.
More Dessert Recipes
There is a surprising amount of desserts that you can make in a slow cooker. Below are a couple of other desserts that I highly recommend that you try.
If you're a huge fan of different fruity cobblers, then be sure to check out the tasty peach cobbler recipe for the slow cooker. The peach cobbler is super delicious and perfect for anyone who loves a fruity dessert.
The apple crisp is another dessert that's worth making in the slow cooker. It will have a surprisingly crispy topping despite being cooked in the slow cooker.
I hope that you enjoy this tasty slow cooker blueberry cobbler and that you don't have any trouble making it. If you have anything you would like to add or a variation, then be sure to leave a comment right below.