This slow cooker caramel is probably the easiest homemade caramel that you can make. It involves just one very simple ingredient, some water and nothing else.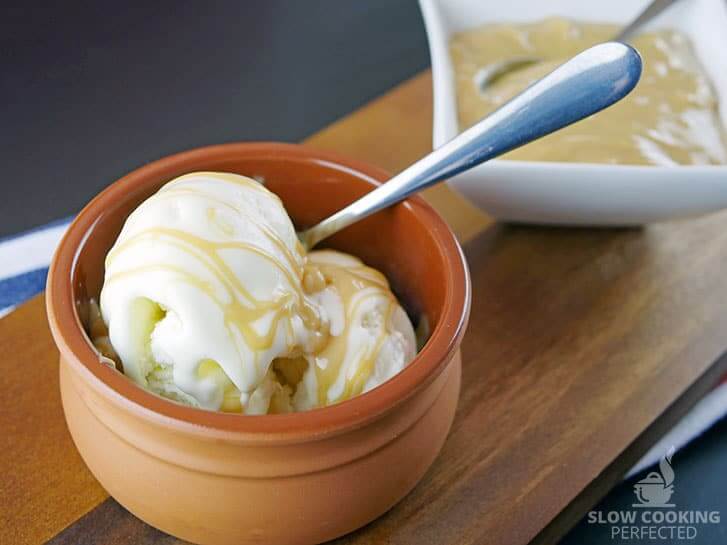 After a few hours of cooking, the condensed milk will darken and become a beautiful caramel that tastes absolutely delicious. It is super easy to get right and will be a huge hit with your next dessert.
You should be able to find tinned condensed milk at most supermarkets. Any brand should work just fine, and you can get it online at stores such as Amazon.
This caramel will keep in the fridge for a few days, but if it starts to smell bad, make sure you throw it out. Unless you need a ton of caramel, I would only cook a single tin at a time.
Perfecting the Caramel
Once the caramel is ready and cooled, I mix it with some fresh cream to help make it the perfect consistency. There is no accurate measurement of how much cream you should add, just keep adding it until you get the consistency you want.
You can surprisingly overcook this caramel, so make sure you do not leave it in hot water for too long. You will notice it is overcooked because the caramel will be a deep brown color and extremely thick.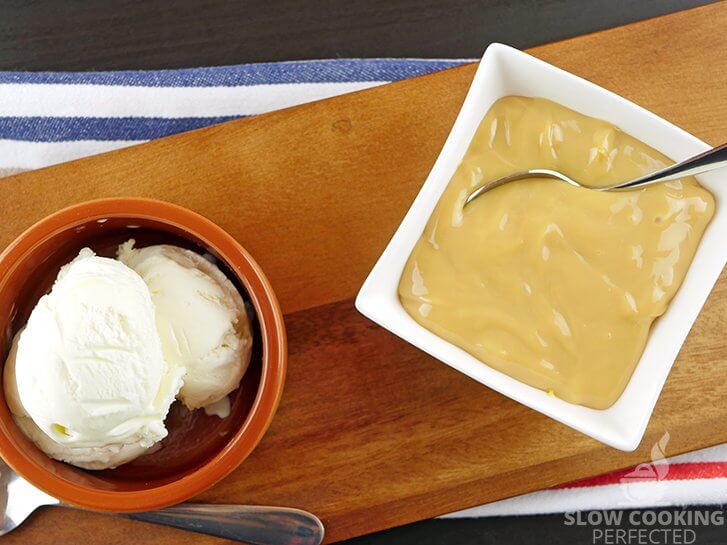 The tin may deform while you are cooking, but it should never explode as long as it is completely submerged. If you are ever worried that it may explode, remove it from the slow cooker and allow it to cool. I have tested this many times and never experienced the can exploding, even after accidentally overcooking it.
Desserts that go Great with Caramel
There are so many slow cooker desserts that will go well with this caramel.
A delicious peach cobbler will go great with the caramel poured over the top. The only downside is that you will need another slow cooker to make the peach cobbler. Alternatively, you could cook it in the oven instead.
The apple crisp is a classic example of a dish that matches perfectly with rich caramel. I love to pour the caramel over the top of the apples for a truly delicious dessert.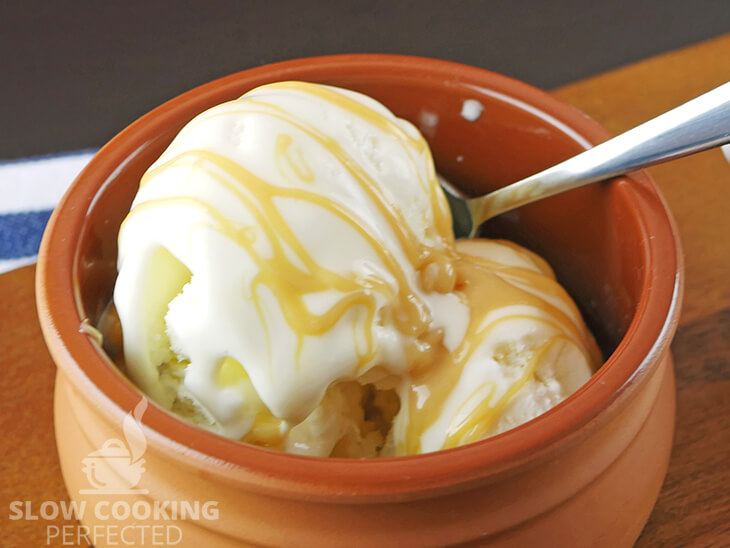 There are many uses for this caramel, but my favorite non-slow cooker dessert is the caramel drizzled over the top of some delicious vanilla bean ice cream. It is also perfect to use in a banoffee pie, as a dipping sauce, and so much more.
If you want to see how to make this caramel in the slow cooker, be sure to check out the video below. Alternatively, there is a text recipe right underneath the video.
Slow Cooker Caramel Recipe
Ingredients
1 can sweetened condensed milk
Water
Instructions
Remove the labels from the condensed milk can.
In a slow cooker, place the can of condensed milk.
Cover the can completely with water, make sure the water is 2-cm (0.7 in) or higher than the can. The can should be completely submerged.
Cook on low for 6 hours.
Cool completely before opening.
Serve & Enjoy.
Recipe Tips
It is important to make sure the condensed milk can remains submerged throughout cooking. Since the slow cooker is a sealed unit, there should be little to no evaporation, so you should not need to add more water throughout cooking. However, it may still be a good idea to check on it every now and then.
Do not worry about the cans exploding, as they can resist the amount of pressure generated from the water's heat. Just make sure you have the cans entirely submerged in the water.
Make sure you remove the labels as they will become very wet and can get quite messy. It is best just to get rid of the labels before placing the cans in the water.
Turn the slow cooker to high and cook the caramel for three hours if you need it faster.
If you need the caramel to be a bit runnier, then you can add some cream. Slowly pour the cream in until you get the consistency you want. You should do this after the caramel has cooled and not while it is still hot; otherwise, it might not mix very well.
Note: I use a 5.5L (6 Quart) slow cooker for all the recipes that I have on this website unless specified. If you have a smaller or larger slow cooker, then you might need to adjust the ingredients.
Nutrition Information
Serving Size: 2g (0.1 oz)
Servings Per Recipe: 13
Calories Per Serving: 130
Saturated Fat: 2g
Trans Fat: 0g
Dietary Fiber: 0g
Sugars: 22g
Cholesterol: 10mg
Sodium: 45mg
Protein: 3g
The information above is an estimate generated by an online nutrition calculator.
More Slow Cooker Sweets
There are many sweet dishes that you can make in the slow cooker. Below are a couple more recipes that I highly recommend trying.
The slow cooker dump cakes are super easy desserts that I reckon you will love. Most of them involve three ingredients and are almost as easy as this caramel.
Another sweet dish is the golden syrup dumplings. Traditionally you make them over the stove, but the slow cooker version turns out to be pretty delicious.
I hope that this slow cooker caramel has worked out as great as it did for me. If you have some feedback, variations, or anything else about this recipe that you would like to share, then be sure to leave a comment below.