These delicious slow cooker golden syrup dumplings are a great treat that you can get cooking just before dinner so that they're ready for dessert.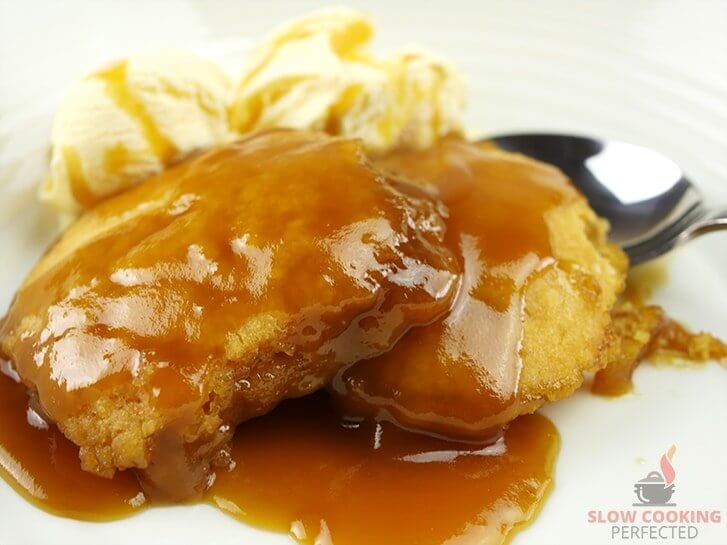 By the time this dessert is ready to eat, you will find that the dumplings are fluffy and the sauce is deliciously sweet. It's the ideal dessert if you have a bit of a sweet tooth.
Like most slow cooker meals, this one can be left in the pot for an hour or two after it's finished cooking. This leniency is excellent if you're running late, or you're not quite ready to dig into this tasty dessert.
What to Serve with Golden Syrup Dumplings
Lots of different accompaniments go great with these delicious dumplings. Below are a couple of suggestions on how to serve this tasty dessert.
My favorite is to serve these dumplings with some vanilla bean ice cream. A couple of scoops go perfectly on the side and blend very nicely with the hot golden syrup sauce.
Custard is also a delicious accompaniment to have with this dessert. You can make some custard from scratch or just buy it from the supermarket. The sauce and the custard won't clash, so don't be worried about trying this delicious combination.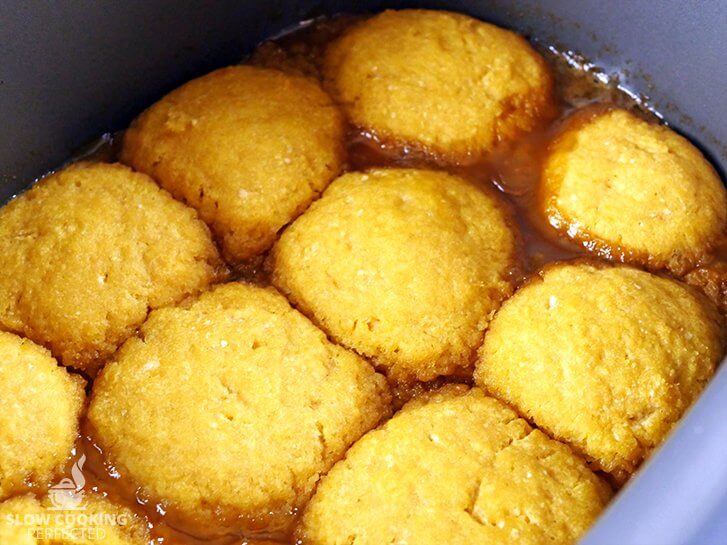 A drizzle of cream is the simplest but one of the most delicious ways to serve this dessert. The cream helps cut through a bit of the sweetness while also adding a bit more flavor and that lovely creamy texture.
These dumplings are also fantastic on their own, so don't feel like you need to add extras.
If you have any suggestions on what to have with these dumplings, then please don't hesitate to leave a comment below.
Slight Tweaks to the Recipe
There are a couple of slight changes that you can make to this recipe.
The golden syrup should be available at any local supermarket in the baking or international section. Of course, you can also find golden syrup online at places such as Amazon.
Alternatively, you can use light treacle, maple syrup, corn syrup, or molasses as a substitute to golden syrup. However, I can't guarantee the result will taste the same. For example, molasses can be bitter, or maple syrup can be runny.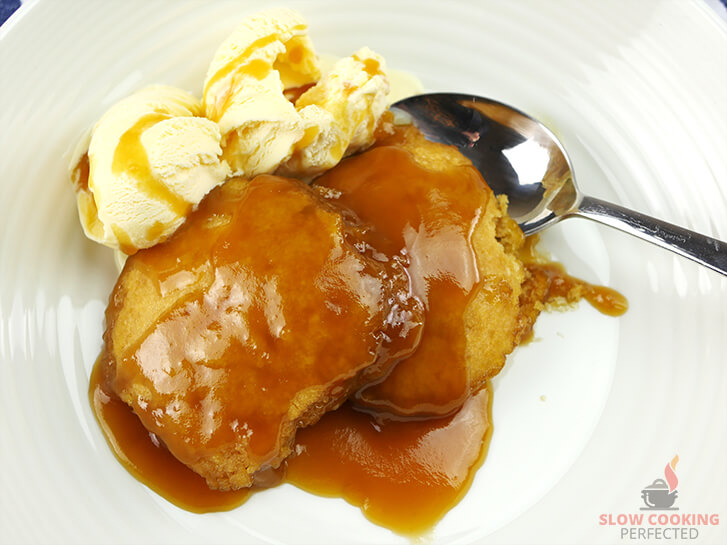 You can add some spices into the dumplings to add a bit more flavor. A bit of cinnamon and nutmeg will make a lovely spiced dumpling that goes perfectly with the golden syrup sauce.
There isn't a huge amount that you can do to this recipe, but if you come up with a change that you want to share, then be sure to let us know.
What to do with Leftovers
Just like the bread and raisin pudding, any leftovers are worth keeping as they will reheat nicely for breakfast or dessert the next day. Just heat in the microwave and enjoy.
These should last for up to a week in the fridge. You can also freeze the dumplings, and have them last for up to six months. It's ideal if you want a tasty dessert that you can quickly heat and eat.
If you love to see things done visually, then the video below goes through all the steps to making these delicious golden syrup dumplings in the slow cooker. If you have a variation that you would like to share, then please don't hesitate to leave a comment below.
Slow Cooker Golden Syrup Dumplings Recipe
Ingredients
Dumplings
1 ½ cup self-rising flour
30 g (1.1 oz) butter, softened
1/3 cup milk
1/3 cup golden syrup
Sauce
2 cups boiling water
¾ cup golden syrup
½ cup brown sugar
50 g (1.8 oz) butter, melted
Instructions
In a bowl, mix the flour and butter until it resembles breadcrumbs.
Make a well in the center and add the milk and golden syrup. Mix until well combined.
Roll the mixture into roughly 9-18 balls. (~1 Tbsp each)
In a slow cooker, mix the golden syrup, butter, brown sugar, and boiling water.
Add the dumplings one by one.
Cook on high for 60-90 minutes or until the dumplings are cooked.
Serve & Enjoy.
Recipe Tips
You can prepare the dumplings mixture the day before you want to make the dessert. Just make sure you store the mix in the fridge until you need it.
Adding a drizzle of cream to the sauce at the end of cooking will make the sauce much creamier.
As mentioned above, you can substitute the golden syrup with light treacle or molasses.
These can cook on low, but they might not puff up as much and instead be more spread out.
Note: I use a 5.5L (6 Quart) slow cooker for all the recipes that I have on this website unless specified. If you have a smaller or larger slow cooker, then you might need to adjust the ingredients.
Nutrition Information
Serving Size: 217g (7.7 oz)
Servings Per Recipe: 6
Calories Per Serving: 458
Saturated Fat: 7.1g
Trans Fat: 0.4g
Dietary Fiber: 3g
Sugars: 66g
Cholesterol: 30mg
Sodium: 509mg
Protein: 4g
The information above is an estimate generated by an online nutrition calculator.
More Slow Cooker Desserts
If you're after more slow cooker desserts, then you need to try out some of the puddings that you're able to do.
The chocolate lava cake cooks out to have an incredibly rich and gooey sauce. It is the perfect treat for anyone who absolutely loves chocolate.
A self-saucing banana pudding is another dessert that you might like. It has a rich caramel sauce and a delicious banana cake. I highly recommend giving it a try.
These delicious slow cooker golden syrup dumplings are so addictive and are worth the effort it takes to make them. They're super easy to make quickly, and I hope they cook to be as great as they did for me.
If you have any feedback, tips or anything else, then be sure to leave a comment below.