Creamy and delicious are the two perfect words to explain this slow cooker custard recipe.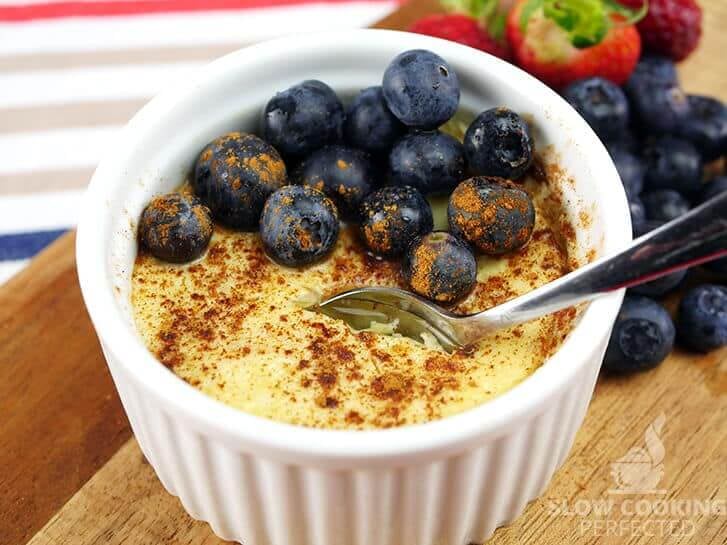 This custard is an incredible dessert that only needs four simple ingredients that you are likely to have around the house already. It is pretty easy to make, but you will need some ramekins to get the best result.
A single batch of this recipe will make roughly five pots of custard. Each pot is roughly enough for one person. You can easily double or triple the recipe if you need to feed more people.
You will want some ramekins for this recipe as the custard will likely burn if you put it straight into the slow cooker. If you do not have any ramekins, then something like coffee mugs will work as a substitute.
Custard does not reheat very well, so if you keep any leftovers, you will need to eat them cold. With that said, the cold custard is pretty amazing and is well worth saving. The leftovers are perfect if you need an easy delicious breakfast the next day.
What to Serve with the Custard
This custard cooks to be incredibly creamy and has a hint of vanilla. It also goes great with some additional ingredients. Below are a few serving ideas that you might like.
As you can tell in the photos, I love to top the custard off with a sprinkle of cinnamon or nutmeg. These spices create a slightly spiced custard that is simply delicious.
Lots of different fruits go amazing with this custard. I love to serve it with some fresh summer berries such as blueberries, strawberries, and raspberries. Other fruits such as banana will also work nicely.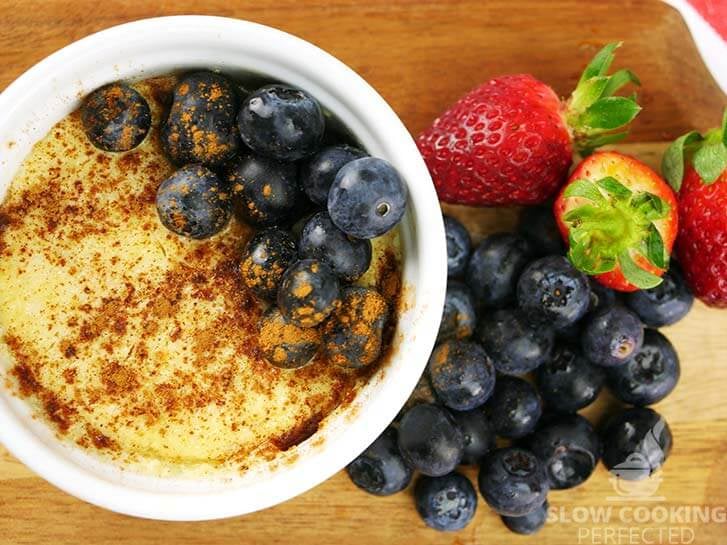 To go one step further, you can try the one ingredient slow cooker caramel to drizzle over the top. It is super simple to make and will match nicely with the flavors of this hard-set custard.
If you want to see how to make this custard in the slow cooker, check out the video below. The video is straight to the point, so it will not chew up too much of your time. Alternatively, you can find the full written recipe right underneath the video.
Slow Cooker Custard Recipe
Ingredients
3 eggs
½ cup caster sugar
1 tsp vanilla bean paste
2 cups milk
Instructions
Whisk together the eggs, vanilla, and sugar. Once combined, slowly whisk in the milk.
Lightly grease each ramekin with butter, then pour in the custard mixture.
Cover each of the ramekins with foil.
Place one of the following into the slow cooker: wire rack, foil balls, metal rings or something similar.
Now, place the ramekins into the slow cooker. Try to get them to sit level.
Fill the slow cooker to about halfway up the ramekins with hot water.
Cook on low for 2 hours, or until the custard is set.
Sprinkle with some ground nutmeg or cinnamon.
Serve & Enjoy.
Recipe Tips
The foil prevents water from dripping into the custard and helps distribute heat evenly.
Placing a wire rack or similar into the slow cooker will keep the ramekins off direct heat. This method will help encourage a much more beautiful and consistent custard while preventing the bottom from burning.
If you need the custards to cook faster, try cooking them on high for the best results. You will need to reduce the cooking time by half.
Swap the milk for coconut milk if you want a coconut flavored custard instead.
Keep an eye on the custards as they will start to split if you cook them for too long. I suggest checking every ten minutes once the first hour of cooking is up.
Caster sugar is also known as superfine sugar or baker's sugar.
Note: I use a 5.5L (6 Quart) slow cooker for all the recipes that I have on this website unless specified. If you have a smaller or larger slow cooker, then you might need to adjust the ingredients.
Nutrition Information
Serving Size: 150g (5.3 oz)
Servings Per Recipe: 5
Calories Per Serving: 131
Saturated Fat: 2.6g
Trans Fat: 0g
Dietary Fiber: 0g
Sugars: 13g
Cholesterol: 108mg
Sodium: 82mg
Protein: 6g
The information above is an estimate generated by an online nutrition calculator.
More Slow Cooker Recipes
This delicious custard is not the only creamy dessert that you can cook in a slow cooker.
One of my personal favorites is a creamy slow cooker rice pudding that is easy to make. It is worth a try if you love creamy desserts.
Another creamy dessert that I reckon you will love is the tapioca pudding. Of course, it is not everyone's cup of tea, but if you love creamy desserts, I reckon you will enjoy it.
I hope you enjoy this slow cooker custard and that it becomes part of the list of your favorite recipes. If you have any feedback, then please feel free to leave a comment right below.