This slow cooker apple butter is easy to make and is a great way to use up some old apples.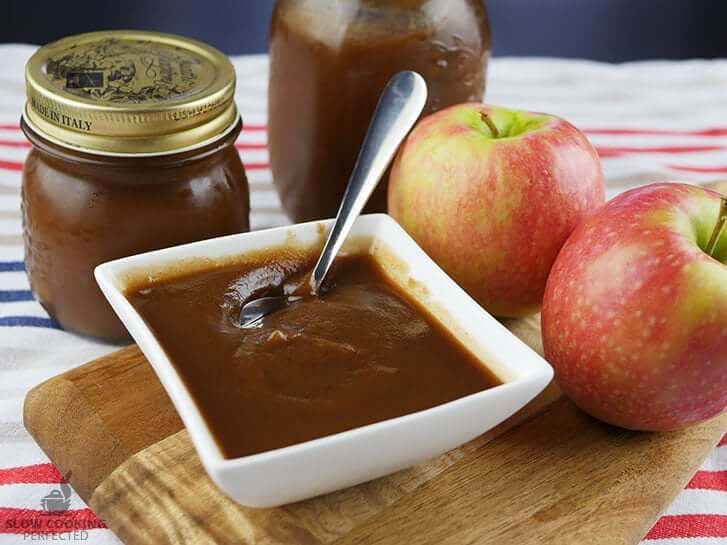 If you have never heard of apple butter before, then to put it simply, it is highly concentrated applesauce. Good apple butter should achieve a deep brown color and have the consistency of a thick jam.
This apple butter recipe is best to start before you go to bed because of the time it takes to cook. You can speed it up by cooking on high, but like most slow cooker recipes, I suggest cooking on low.
Perfecting the Recipe
While I recommend gala apples, you can use other apple varieties and still get similar results. The most likely difference you will notice is taste. For the best results, I suggest using golden delicious, McIntosh, or gala apples.
The ground cinnamon can be swapped for a cinnamon stick. Make sure you remove it before you blend the apples, otherwise, you will end up with bits of cinnamon bark through the apple butter.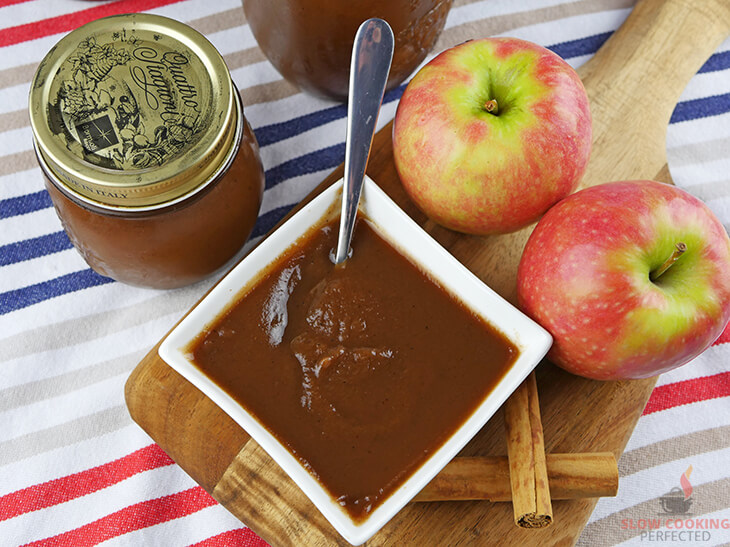 If you are unsure of how sweet you want the butter, you can avoid putting in most of the sugar until after you have finished the puree step. Instead, adjust the sugar once it has been pureed.
Apple Butter Uses
This delicious preserve is useful in so many meals. Below are a couple of examples of what you can use it in.
I love to use it in a bread pudding for a little bit of extra flavor. It is a slight tweak to the recipe, but the result is certainly worth it.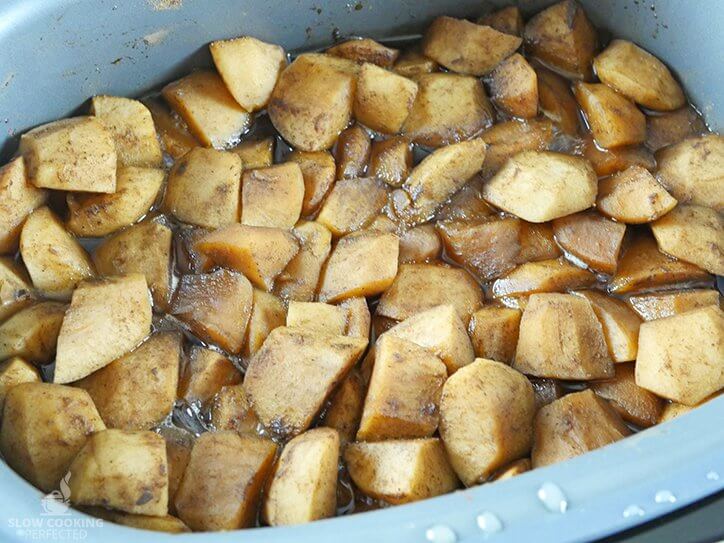 You can use it as a condiment with your next roast pork rather than the usual applesauce. It is a lot richer than applesauce, so you will not need to use as much.
The butter is perfect as a spread on fresh bread or banana bread. Personally, I love to have it on my fruit toast for breakfast, as it adds lots of delicious apple flavors.
There are lots more uses for this apple butter, so if you have any suggestions, be sure to let us know.
Storing the Apple Butter
The method that you store the apple butter will influence how long it will last. At a minimum, this condiment should last for at least two weeks. Alternatively, storing in jars can have it last even longer.
If you pasteurize your jars correctly, then the homemade apple butter should last up to about a year, maybe a little longer. The process of pasteurization can vary depending on the jars you are using. Still, typically it involves placing them in a pot of near boiling water.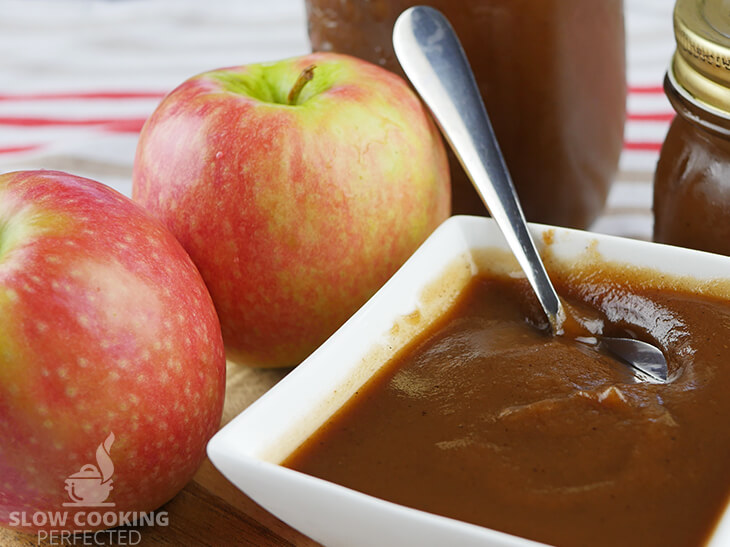 You can usually pick up some jars from your local store; otherwise, amazon has jars in stock. You might also want to get some jar tongs to help stop burnt fingers. Alternatively, a good canning kit will contain almost everything you need (except the jars).
This pasteurization guide is perfect if you are looking into storing your homemade goods correctly.
If you would love to see how to make apple butter in the slow cooker, then be sure to check out the video below. Alternatively, you can find the full recipe right below the video.
Slow Cooker Apple Butter Recipe
Ingredients
2.7 kg (6 lb) gala apples or similar, peeled, cored, and cubed
¼ cup apple cider vinegar
1 tsp lemon juice
½ cup white sugar
½ cup brown sugar
½ Tbsp cinnamon, ground
1 tsp allspice, ground
½ tsp cloves, ground
½ tsp nutmeg, ground
Instructions
In the slow cooker, add all the ingredients and stir them together.
Cook on low for 8 hours.
Using an immersion blender or similar, puree the mixture until smooth. This step is also the perfect time to adjust the flavors so that it is more to your liking. For example, adding more spices or sugars.
Cook for a further 4 hours on low in the slow cooker with the lid off.
Once the 4 hours are up, the liquid should be thickened, if not, you may need to cook it for longer.
Transfer to sterilized glass jars and seal appropriately.
Store in the fridge until needed. It should last two weeks or longer if stored correctly.
Recipe Tips
If the apple butter is too runny, make sure you have removed the lid from the slow cooker to allow the liquid to evaporate. It can take a few hours for the mix to thicken. I would avoid using a cornstarch mixture with this condiment.
Once the apple butter has thickened, you may find it will start to boil and splash. You may want to make sure there is nothing too close to the slow cooker that you do not want to become dirty.
Note: I use a 5.5L (6 Quart) slow cooker for all the recipes that I have on this website unless specified. If you have a smaller or larger slow cooker, then you might need to adjust the ingredients.
Nutrition Information
Serving Size: 28g (1 oz)
Servings Per Recipe: 260
Calories Per Serving: 21
Amount Per Serving
Saturated Fat: 0g
Trans Fat: 0g
Dietary Fiber: 0.5g
Sugars: 4.2g
Cholesterol: 0mg
Sodium: 0mg
Protein: 0.1g
The information above is an estimate generated by an online nutrition calculator.
More Slow Cooker Apple Recipes
There are many other apple recipes you can do in the slow cooker, all of them are great if you want to cook lots of apples.
The apple cobbler is a must-try dessert if you love apple. The dessert has a delicious cake topping and is loaded with lots of deliciously tender apples. It is one of my favorite recipes.
Another recipe that I think you might like is the baked apples. The apples are filled with a delicious oat and raisin mixture and slow-cooked for several hours. I highly recommend giving it a try.
I hope that this delicious slow cooker apple butter works out well for you. If you come across any issues or have some feedback that you would like to share, then please do not hesitate to leave a comment below.