There is nothing like a good slow cooker pork loin roast that you can come home to and just start eating straight away.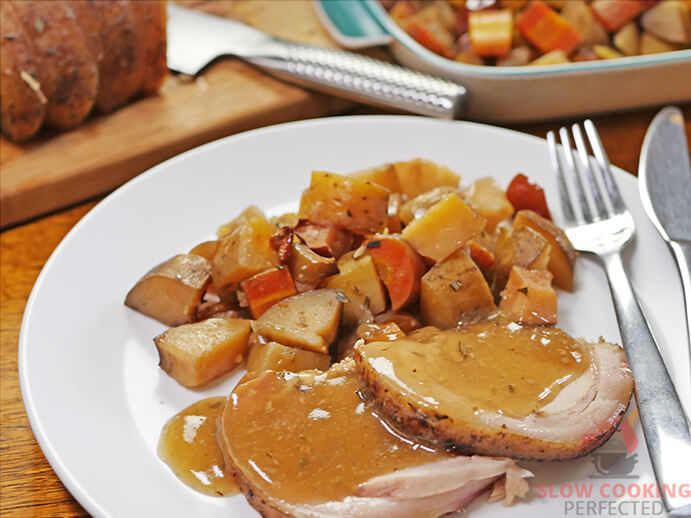 By the time you go to eat this roast pork, it should be tender and packed with some incredible flavors thanks to the seasoning mixture. The vegetables are also pretty good on the side.
This recipe should feed roughly four to six people, but can easily be adjusted to feed even more. For example, you can easily increase the size of the pork loin. Alternatively, you can do even more side dishes to go with the roast.
Tweaks and Hints
You don't need to remove the fat when you go to cook this dish, but you can if you want to. However, it's important to keep in mind the fat will help add flavor to the overall dish. Once it's finished cooking, you can trim any excess fat way off the roast.
More vegetables are always a good thing, so don't hesitate to add more. You could add some pumpkin, bell peppers, or even sweet potato. There are just so many options.
Feel free to tinker with the spice mix as it can heavily change the flavors of the dish. Adding a little bit of chili or cayenne pepper will add a bit of bite to the pork. You could also add some sugar for a sweeter pork loin.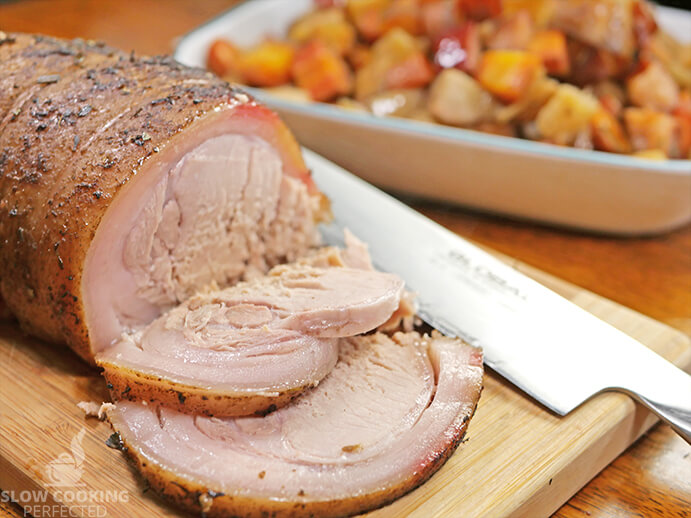 A roast is never complete without a delicious gravy. I love to reserve the fluids from the slow cooker and thicken them up. It creates a delicious gravy that you can pour over the pork. Simply use a cornstarch and water mixture to thicken it.
If you're worried about the pork being a bit dry, then simply shred the meat instead. This method will allow the fluid to help moisten the pork. Shredding the pork is also a delicious alternative to simply slicing it.
We have some more cooking tips further down the page that you should also check out.
Type of Pork Cut to Use
There are quite a few different cuts of pork that you can choose to use as a roast. Some are better than others, so it's pretty much up to you what you want to use.
For this recipe, I made use of boneless pork loin, which turned out excellent. You can use a bone-in pork loin and still get fantastic results.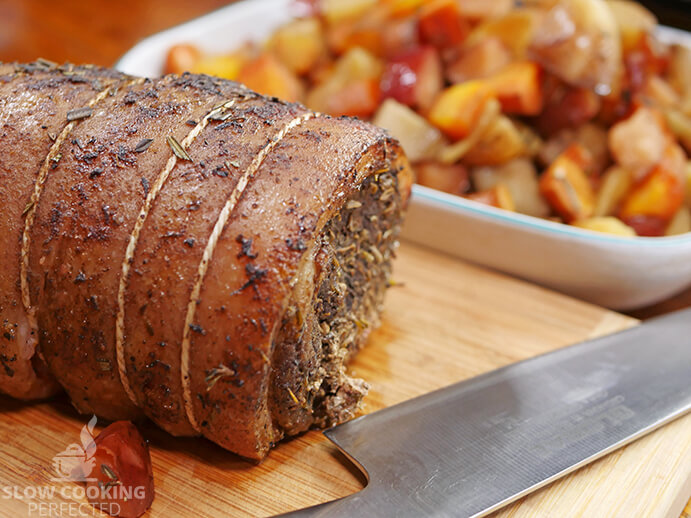 Other than the pork loin, I recommend using the pork shoulder, or a pork scotch fillet. I have only tried this recipe with a pork loin and can guarantee that it was delicious.
If you pick a different cut to loin, then be sure to let us know how it turned out.
Sides to have with Pork Loin
If you have multiple slow cookers and looking for an extra side dish to go with this roast, then the cheesy hash brown casserole is perfect. If you do this, you might want to leave the potatoes out of the recipe, so you don't end up with too much potato to go with your pork.
An accompaniment that will go excellent with this slow cooker pork loin is the apple sauce. Roast pork is never complete without apple sauce, so I highly recommend that you either make or buy one to go along with this pork.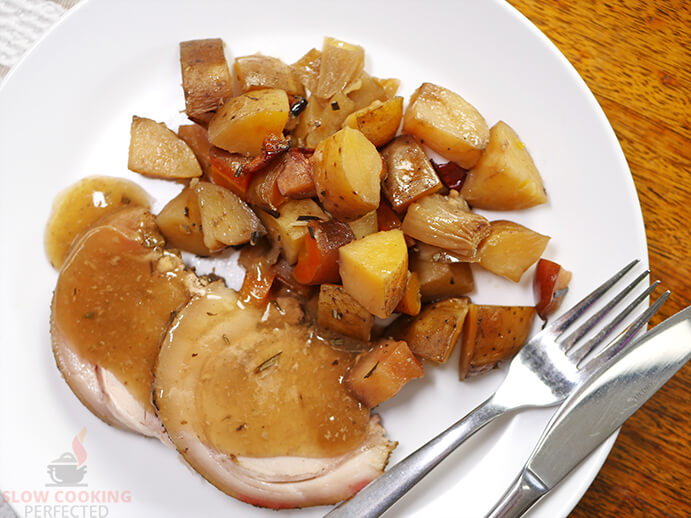 A lighter side dish that always goes well with a roast is something such as a salad. Something as simple as a green salad will work fine with this recipe. Let us know if there is a salad that works excellent with this recipe.
Some cauliflower cheese is an awesome side dish that I love to have with any good roast. The best way to make this dish is over a stove. I highly recommend making it as it's worth the time and effort.
What to do with Leftover Roast Pork
Any leftover pork loin should last in the fridge for up to three days and sometimes longer. If you don't plan on using the leftovers any time soon, then you can also freeze it for a few months before needing to be used.
You will find that the leftovers are great in so many different recipes. For example, I love having slices of pork in a toasted sandwich. You could even shred the pork and use it on a pizza or in even in a taco. There is just so much that you can do with leftover pork roast.
If you want to see how to make a pork loin roast in the slow cooker, then be sure to check out the video below. It goes through all the steps and is very short, snappy, and straight to the point.
Slow Cooker Pork Loin Roast
Adblock removing the video? Support us by going ad-free or whitelist us in your ad-blocker.
Ingredients
1 kg (2.2 lb) pork boneless loin roast
4 carrots, chopped
4 potatoes, chopped
2 apples, cored & chopped
1 onion, chopped
1 Tbsp rosemary
½ cup chicken stock
Seasoning Mixture
1 tsp garlic powder
1 tsp cumin, ground
1 tsp oregano, dried
1 tsp coriander seeds, ground
1 tsp thyme, dried
1 tsp salt
½ tsp pepper
Thickener
2 Tbsp cornstarch
2 Tbsp water
Instructions
In a bowl, combine all the seasoning ingredients.
Rub the pork roast with the seasoning mixture.
In a fry pan over high heat, heat 2 Tbsp oil.
Quickly sear the roast until nicely browned on all sides.
In the slow cooker, place the pork in the middle. Next, surround the pork with the carrots, potatoes, apples, onion, and rosemary. Lastly, pour in the chicken stock.
Cook on low for 6 hours or until the pork is completely cooked.
Remove the pork and vegetables from the slow cooker and keep warm.
Transfer the liquid to a pot and heat over a stove.
Combine the cornstarch and water and pour it into the pot while stirring.
Cook on high heat for 5 minutes or until thick and gravy-like.
Serve & Enjoy.
Recipe Tips
If you want, you can skip browning the pork loin before you add it to the slow cooker. There are some positives to browning the meat, such as it helps seal in the moisture and flavor.
Assuming your roast is small enough, then you can just brown it in a pan. Otherwise, you might need to do it in the oven.
Adjust the cooking time depending on the size of your pork loin. I recommend roughly four to six hours on low or 2 hours on high for a piece of meat that is 1kg (2.2 lb).
You can leave the vegetables out of this recipe, but you really do end up missing out on a lot of flavors.
Note: I use a 5.5L (6 Quart) slow cooker for all the recipes that I have on this website unless specified. If you have a smaller or larger slow cooker, then you might need to adjust the ingredients.
Nutrition Information
Serving Size: 451g (15.9 oz)
Servings Per Recipe: 6
Calories Per Serving: 397
Saturated Fat: 2.2g
Trans Fat: 0g
Dietary Fiber: 6g
Sugars: 10g
Cholesterol: 106mg
Sodium: 537mg
Protein: 42g
The information above is an estimate generated by an online nutrition calculator.
More Recipes Worth Trying
There are a ton of other roasts that you're able to do in the slow cooker. One of my personal favorites is the slow cooker whole chicken. In the end, you're left with a deliciously moist flavorsome chicken and some excellent vegetables.
The roast beef recipe for the slow cooker is another one that's worth trying. At the end of cooking, you're left with a delicious roast that's packed with flavor. Much like this recipe, it also has some accompanying vegetables that are also delicious.
A dessert that is super delicious after a roast is the baked apples. They have a fantastic oat and walnut filling that compliments the tender apple nicely. Certainly, a dessert that I can highly recommend.
I hope that you enjoy this slow cooker pork loin roast, if you have anything you would love to share such as a variation, some feedback, or anything else, then please don't hesitate to leave a comment below.