This slow cooker whole chicken is an amazing meal that you can quickly get cooking so that it is ready for when you go to have dinner.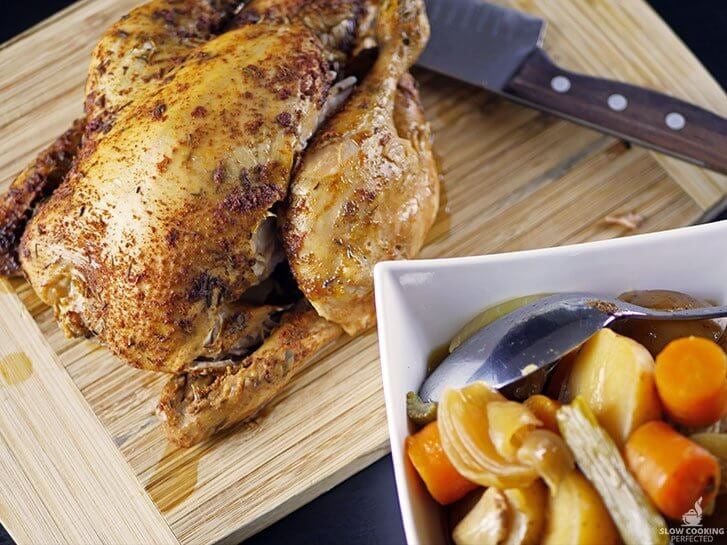 Once the chicken is cooked, it will be deliciously moist and so tender that it will just melt in your mouth. Our spice rub will ensure that when you bite into the chicken, you are greeted with flavor.
Perfecting the Whole Chicken and Vegetables
There is a range of vegetables to go with the whole chicken. These will sit underneath the chicken so that they will cook in the juices. This method will help ensure that once they are cooked that they are packed full of flavor.
One thing to be aware of is the skin will not crisp up in this recipe since we're slow cooking the chicken. If you do want crispy skin, then you can try grilling the skin at the very end, but I would recommend avoiding doing this as you can end up with overcooked chicken.
When you cook a whole chicken in the slow cooker, all the juices will sit in the bottom. The vegetables we use help stop the chicken from sitting in its own fluid. If you do not have or want the vegetables, then I recommend using a wire rack or tin foil balls.
Side Dishes to go with a Whole Chicken
Lots of side dishes go great with roast chicken and is a excellent way of feeding a crowd. You can easily feed more than four people with the addition of some sides.
I always love having some scalloped potatoes on the side, but something like cauliflower cheese works perfectly too. If you have the time, then both are delicious with this tender chicken dish.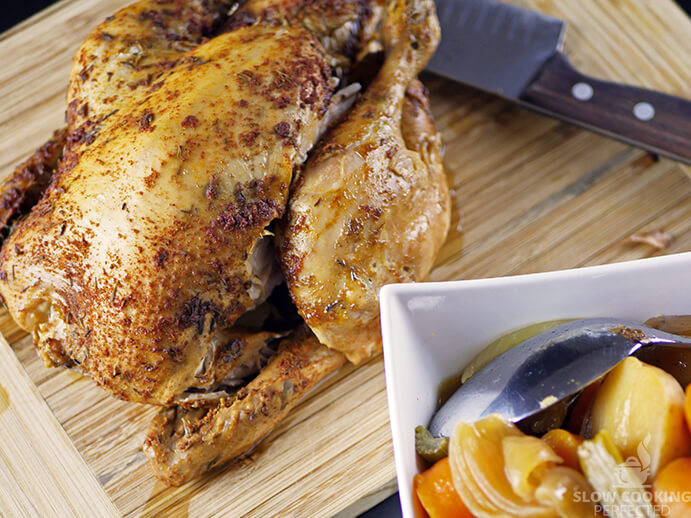 There are also quite a few side dishes that you can make in the slow cooker. For example, the herby baby potatoes are so good and will go delicious with chicken. The downside is that you will need two slow cookers to cook them at the same time.
Let us know if you have any suggestions on side dishes that go great with a delicious whole chicken.
Leftover Roast Chicken
Assuming you somehow you end up with leftovers, then the chicken is amazing shredded. The shredded chicken is so good in a sandwich with some coleslaw. It is perfect as an easy lunch the next day.
You can also use the leftover chicken in other recipes such as a butter chicken curry, delicious buffalo chicken dip, layered chicken enchiladas, or even in chicken a la king.
If you want to see how to do this recipe quickly, then be sure to check out my video I prepared below. It goes through all the steps to getting this dish prepared and ready for cooking.
Slow Cooker Whole Chicken Recipe
Adblock removing the video? Support us by going ad-free or whitelist us in your ad-blocker.
Ingredients
Vegetables
3 stalks of celery cut into thirds
2 carrots, cut into chunks
4 potatoes, cut into chunks
1 onion, quartered
Chicken & Seasoning
4 tsp chicken salt (Stock powder should also work)
2 tsp paprika
1 tsp cayenne pepper
1 tsp thyme
4 garlic cloves, peeled
1 onion, halved
1 Tbsp vegetable oil
1 whole chicken
Instructions
In a bowl, combine the chicken salt, paprika, cayenne pepper & thyme.
Lightly spray the slow cooker with oil.
Place all the vegetables into the base of the slow cooker.
Rub the oil into the outside of the chicken.
Rub the spice mix into the outside of the chicken. Add the garlic, and one onion into the cavity.
Place on top of the vegetables in the slow cooker.
Cook on low for 8 hours
Once done, remove the chicken & vegetables from the slow cooker.
Serve & Enjoy
Recipe Tips
You can add a proper stuffing mix to the inside of the chicken. Make sure you secure the opening, so it does not pour out and onto the vegetables.
If you are finding it hard fitting your chicken inside the slow cooker, you can use poultry scissors to cut it in half.
Assuming you are not having vegetables but want to keep the chicken from sitting on the bottom of the slow cooker, then you can use some balls of foil to place underneath the chicken. A wire rack can also be used to keep the chicken from sitting on the bottom.
You can add different varieties of vegetables to this dish. Vegetables such as bell peppers, sweet potato, leeks, mushrooms, and much more will go amazingly in this dish.
If you have the time, then you can coat the chicken in the spices and herbs and leave it to marinade overnight. This change will result in much more flavor, but it is still amazing if you do not do it.
Note: I use a 5.5L (6 Quart) slow cooker for all the recipes that I have on this website unless specified. If you have a smaller or larger slow cooker, then you might need to adjust the ingredients.
Nutrition Information
Serving Size: 575g (1.3 lb)
Servings Per Recipe: 4
Calories Per Serving: 601
Saturated Fat: 2.9g
Trans Fat: 0g
Dietary Fiber: 7.9g
Sugars: 6.7g
Cholesterol: 193mg
Sodium: 1593mg
Protein: 77.4g
The information above is an estimate generated by an online nutrition calculator.
More Delicious Recipes to Try
This roast chicken style recipe is indeed one that will please. If you have multiple slow cookers and want dessert, then you should take a look at some my amazing slow cooker dessert recipes. They too are very easy to prepare and get cooking in no time at all.
There are plenty of roast style dishes that you can do in the slow cooker. For example, the Mississippi roast is an excellent dish that you should try out.
I hope this slow cooker whole chicken comes out to be as good as it did for me. If you have a variation, feedback, or anything else that you would like to mention, then please don't hesitate to leave a comment below.