Back to Recipe
Print Recipe
Slow Cooker Whole Chicken Recipe
---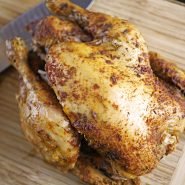 Prep time: 20 Minutes
Cook time: 8 Hours
Total time: 8 Hours & 20 Minutes
Serves: 4
Ingredients
Vegetables
3 stalks of celery cut into thirds
2 carrots, cut into chunks
4 potatoes, cut into chunks
1 onion, quartered
Chicken & Seasoning
4 tsp chicken salt (Stock powder should also work)
2 tsp paprika
1 tsp cayenne pepper
1 tsp thyme
4 garlic cloves, peeled
1 onion, halved
1 Tbsp vegetable oil
1 whole chicken
---
Instructions
In a bowl, combine the chicken salt, paprika, cayenne pepper & thyme.
Lightly spray the slow cooker with oil.
Place all the vegetables into the base of the slow cooker.
Rub the oil into the outside of the chicken.
Rub the spice mix into the outside of the chicken. Add the garlic, and one onion into the cavity.
Place on top of the vegetables in the slow cooker.
Cook on low for 8 hours
Once done, remove the chicken & vegetables from the slow cooker.
Serve & Enjoy
---
Recipe Tips
You can add a proper stuffing mix to the inside of the chicken. Make sure you secure the opening, so it does not pour out and onto the vegetables.
If you are finding it hard fitting your chicken inside the slow cooker, you can use poultry scissors to cut it in half.
Assuming you are not having vegetables but want to keep the chicken from sitting on the bottom of the slow cooker, then you can use some balls of foil to place underneath the chicken. A wire rack can also be used to keep the chicken from sitting on the bottom.
You can add different varieties of vegetables to this dish. Vegetables such as bell peppers, sweet potato, leeks, mushrooms, and much more will go amazingly in this dish.
If you have the time, then you can coat the chicken in the spices and herbs and leave it to marinade overnight. This change will result in much more flavor, but it is still amazing if you do not do it.
Did you make this recipe?
We want to see! Tag
@slowcookingperfected
on Instagram or use the hashtag
#slowcookingperfected
so we can find you!
---