I have rounded up seven of the best slow cookers that are currently on the market. Of course, everyone has their own personal favorite, but these all look pretty good and have some cool unique features.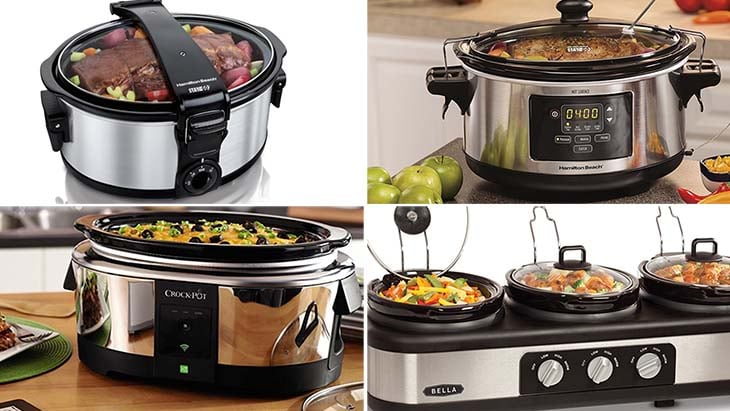 If you have your own favorite, then be sure to let us know in the comments section at the bottom of this page. There is such a great range of slow cookers it will be cool to hear some of your experiences (good or bad).
This is a simple roundup of unique highly rated slow cookers if you want honest opinions from people who have bought these then make sure you check out the reviews.
The slow cooker reviews can be found on the product pages and will give you an insight into the device and the highlighted features.
If you're completely new and would like to know more, then check out our guide that explains what a slow cooker is. It will take you through a lot of the basics so you can get started a lot quicker.
Affiliate link disclaimer: The links to products on this page are affiliate links that earn me a small commission whenever a sale is made. Thank you for your support.
Temperature Probe Slow Cooker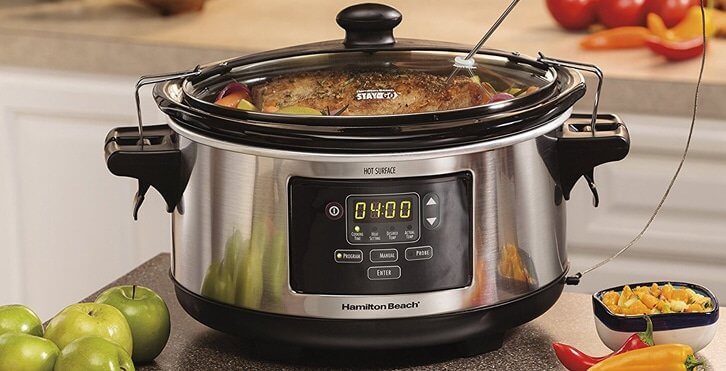 This slow cooker has a temperature probe that you're able to insert into the food/meat so you can get accurate temperatures throughout cooking.
The temperature can be seen on the main screen, and you can also set the slow cooker to cook until the desired temperature is reached. Once that temperature has been reached, it will switch to keep warm.
It's also programmable so you can simply set the cooking time and leave it to do its thing. Once the time is up, it will switch to keep warm so the food will be kept nice and hot until you go to serve.
Another one of the coolest things with this slow cooker is the power interrupt protection. This means if your power goes out, it will stay on for a little bit making it perfect if you suffer from a brief power interruption.
Check out Temperature Probe Slow Cookers
Three Pot Slow Cooker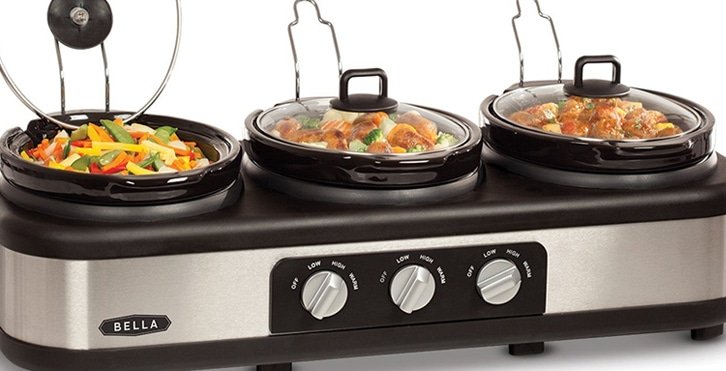 If you're often cooking for a large crowd and love to cook up more than one dish in the slow cooker, then a three or two pot version might take your fancy.
Each of the pots has its own temperature controls so you can cook different dishes in each of them. On quiet nights you can simply just use one instead of all three.
Using the three pots, you can cook a main dish such as a whole chicken, side dish such as scalloped potatoes and in the third pot, you can cook a delicious dessert. It's totally up to you how you approach this super handy three-pot slow cooker.
One of the downsides of this version is the space it will take up on the kitchen bench, but it is truly a great setup if you absolutely love slow cooking. Certainly worth being included in this list of seven of the best slow cookers.
Check out Three Pot Slow Cookers
WiFi Enabled Slow Cooker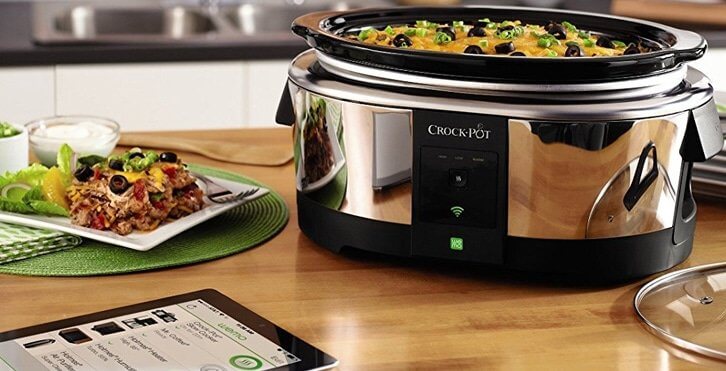 If you're a tech-savvy person like me and love having every device WiFi-enabled, then you might just love this one.
Being a WiFi slow cooker, you can control this from a distance. One great scenario is that if you're running late, you can alter the time and temperature, so you don't end up with an overcooked dish. It also has notifications to alert to any changes and the standard monitoring features that you would expect.
Outside the WiFi functionality, it has all the standard features you will expect from a slow cooker, such as three heat settings, removable stoneware pot, and so on.
The Three in One Slow Cooker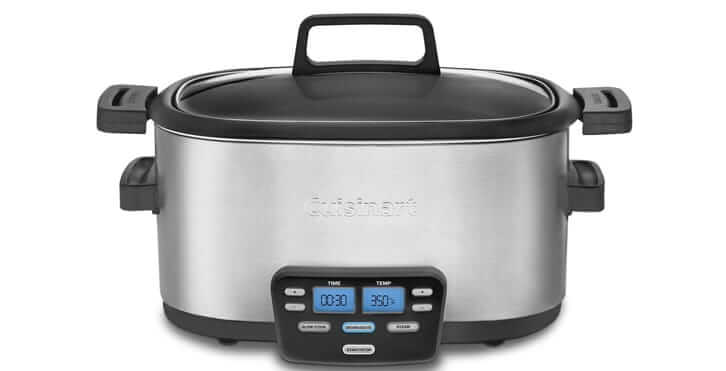 The three in one slow cooker has three different modes making it perfect for anyone looking at bundling multiple appliances in one. This particular slow cooker is able to brown, steam and of course slow cook.
It has a handy digital display, so you're able to see the time left and the temperature that the slow cooker is set to. The inclusion of an inbuilt timer is an absolute must in any modern slow cooker.
Outside of the three cooking modes this slow cooker has basically all the standard features you would expect. One thing you should be aware of is that this uses an aluminum Teflon coated cooking pot. This style of pot is required to be able to get to the high temperatures required for searing, and the downside is that the heat might be a bit more direct.
This one is a must-have for anyone who would love to replace a few appliances with just the one. The searing feature is super handy for anyone who loves to brown their vegetables and meat before slow cooking.
A Portable Slow Cooker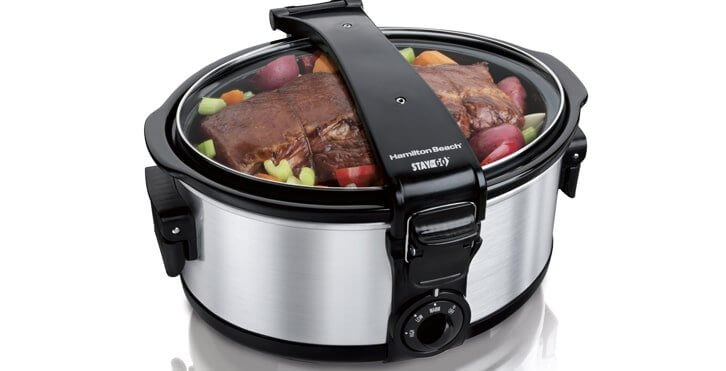 Love making some slow cooker food and taking it around to your friends then this portable slow cooker is just for you. This cool slow cooker has been designed, so you're able to move it and not have it easily spill.
The latch will clamp the lid down so that it will seal the unit. This makes it easier to move from the kitchen to the table or from your house to someone else's house. Just make sure you secure it in the car if you're driving somewhere.
This product a pretty standard slow cooker outside the extra features for portability. It has three heat settings and a stoneware pot that can be washed in the dishwasher.
One downside to this one is the lack of an inbuilt timer so you will need to either purchase a power point timer or just live with it being on until you can get to it.
Check out Portable Slow Cookers
A Cheap Slow Cooker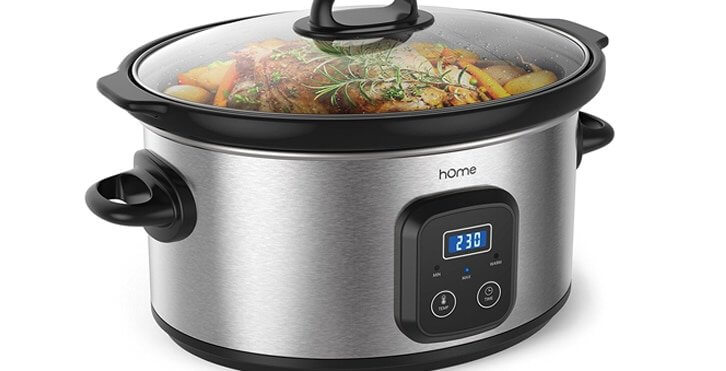 As you probably know, slow cookers can vary quite a bit in price with some being cheap and some being expensive. This cool slow cooker is one of the most affordable you can get that's not in a thrift shop.
This slow cooker can fit up to 6 quarts of food, is programmable and has a removable stoneware pot. It has an inbuilt timer so it will switch to keep warm once the timer is up. Perfect if you're unsure if you will be around when it is supposed to finish.
Of course, this is not as spec-heavy and unique as some of the other slow cookers on this page. However, it's got everything you need and is a good entry point to slow cooking.
I highly recommend for anyone on a budget but really wants a good device to get started with slow cooking.
Mini Slow Cooker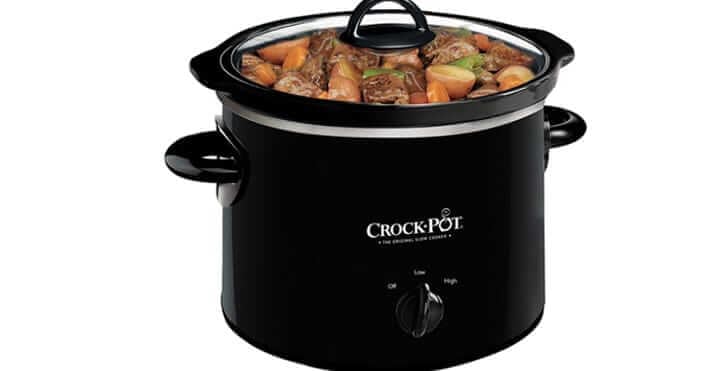 This mini slow cooker is the perfect little companion where space is limited, and you only need to feed one or two people.
Some people love to buy these and take them to work so they can have a delicious slow-cooked meal for lunch. It's best to check that it's ok before setting one of these up in your office.
It has a removable pot, so it makes cleaning a lot easier, it is also dishwasher safe.
There are a few downsides to this compact device, the first being that it only has two heat settings (low & high). It also has no inbuilt timer so you will need to time it yourself.
Some foods such as a whole chicken will unlikely fit into this so you will need to cut them down or simply skip using that type of food.
Recipes to try out in your Slow Cooker
If you are ready to get cooking, then be sure to check out some of our tasty slow cooker recipes.
I hope this roundup of some of the best slow cookers has helped inspire you for your next purchase or gift. If you have some thoughts or have a slow cooker that you would love to share then feel free to drop a comment below.