If you are tired of eating beef, then this slow cooker chicken chili is for you. It has all the things that you love about a good chili but uses chicken instead of beef.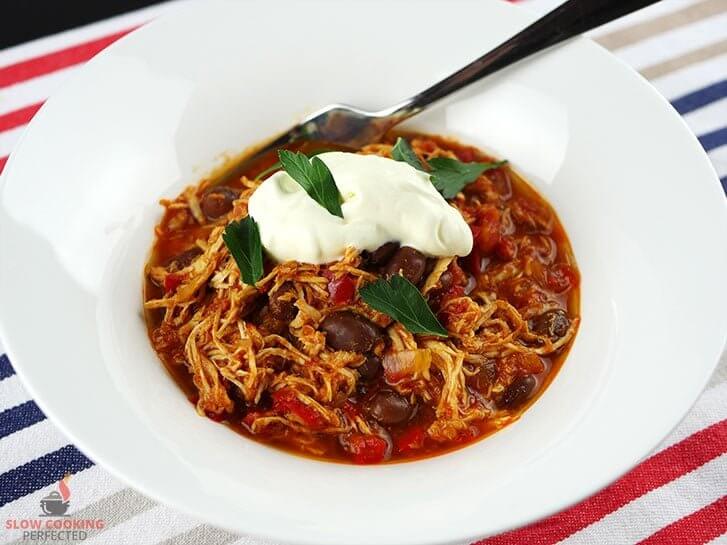 Chicken chili is very similar to regular chili but instead has incredible shredded chicken throughout it. This chili has a delicious range of flavors, thanks to the herbs and spices. It is super easy to prepare, and great if you need to feed a crowd.
This version of chicken chili has the traditional tomato-based sauce with all the spices and flavors you know and love. If you are looking for something a little creamier, you need to check out the white chili chicken recipe.
You should be able to feed roughly six people without needing to make any major adjustments to the recipe.
Much like any chili, this will reheat nicely, so make sure you keep the leftovers. Store covered in the fridge until you need them. Heat in the microwave or over the stove. You can also freeze this dish and keep it for a few months before you need to eat it.
Tweaking the Recipe
If you think this chili might not be spicy enough for you, you can always double the amount of chili paste. Doubling the chili should add a good amount of heat to the dish. Also, you can use any type of chili you like such as, dried, paste, or fresh.
Beans are one of the best parts of good chili, but if you are not a fan, you can easily leave them out. I sometimes replace them with a different ingredient, such as carrots cut into chunks.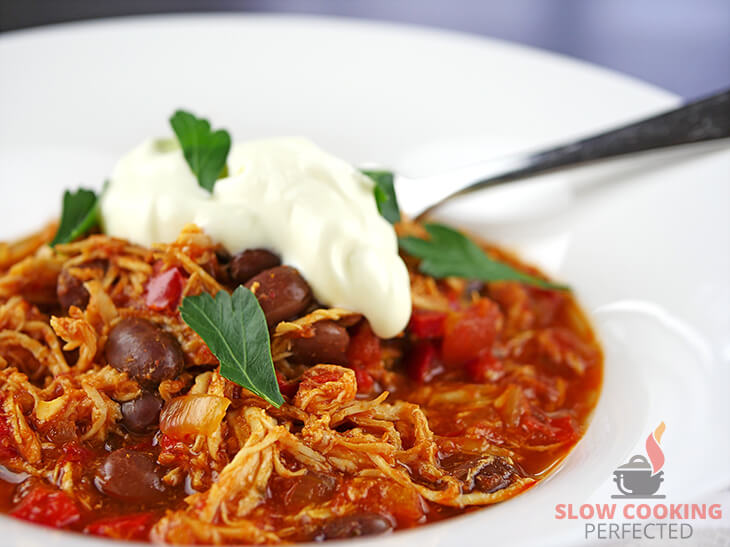 For a bit of extra flavor, you can add some diced bacon into the chili. I recommend frying the bacon first, so you get the best texture and taste. There are many other ingredients you can add, such as carrots, pumpkin, bell pepper, and so much more.
If you are not a fan of chicken breasts in the slow cooker, you can swap them for chicken thighs. It will still pull apart the same way and still be incredibly tasty. You will need about four chicken thighs to make up for the two chicken breasts.
Chicken Chili Serving Ideas
There are so many ways that you can serve this slow cooker chicken chili. Below are a couple of ideas on what you can do.
While you can serve this dish on its own, there are a ton of extras that you can have with it. For example, something like some fresh bread or homemade cornbread will go perfectly on the side. You could also cook some steamed rice, but that will involve more dishes and prep.
I love to top this chili with a dollop of sour cream and homemade guacamole. These are the perfect condiments as they will help cut through a bit of the spice that a good chili is known for.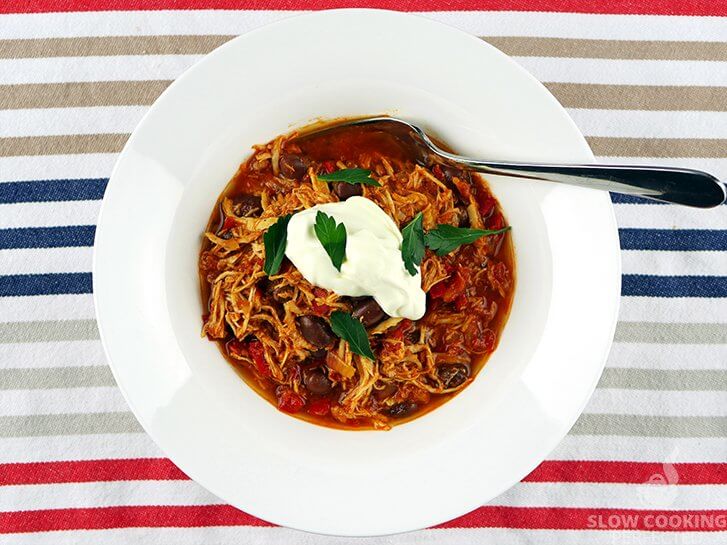 A popular way to serve chili is over the top of some corn chips. It is an excellent way to make some delicious nachos. Alternatively, you can serve it over some steak fries for some delicious chicken chili cheese fries. There is so much that you can do.
If you would like to see how to prepare and cook chicken chili in the slow cooker, then be sure to check out the video below. If you prefer the written recipe, then you can find it right underneath the video.
Slow Cooker Chicken Chili
Ingredients
2 chicken breasts
1 onion, diced
1 red bell pepper, diced
1 tsp garlic, crushed
2 Tbsp tomato paste
400 g (14.1 oz) diced tomatoes
400 g (14.1 oz) red kidney beans
1 Tbsp sugar
1 tsp paprika
1 tsp cumin, ground
1 tsp oregano, dried
2 tsp chili paste
Instructions
First, add the chicken breasts to the slow cooker.
Add the rest of the ingredients on top of the chicken breasts and mix them together.
Cook on low for 6-8 hours.
Remove the chicken breasts from the slow cooker and shred using two forks.
Return the chicken and cook on high for 30 minutes or until reheated.
Season with salt and pepper.
Serve & Enjoy.
Recipe Tips
You will want to defrost frozen chicken before placing it in the slow cooker to avoid increased risks of food poisoning.
This dish uses sugar to help reduce the tartness of the tomatoes. If you are not a fan of adding sugar to your meals, you can leave it out or replace it with something you are happy to use.
Note: I use a 5.5L (6 Quart) slow cooker for all the recipes that I have on this website unless specified. If you have a smaller or larger slow cooker, then you might need to adjust the ingredients.
Nutrition Information
Serving Size: 251g (8.9 oz)
Servings Per Recipe: 6
Calories Per Serving: 430
Amount Per Serving
Saturated Fat: 1.9g
Trans Fat: 0g
Dietary Fiber: 12.1g
Sugars: 8.1g
Cholesterol: 75mg
Sodium: 110mg
Protein: 40.6g
The information above is an estimate generated by an online nutrition calculator.
More Slow Cooker Recipes
Below are a couple more slow cooker recipes that I reckon you will love.
If you have decided that you do not feel like having chicken, but beef is more appealing, then be sure to check out my delicious beef chili recipe.
The pulled pork is another dish that I reckon you will love. It features some shredded pork in a delicious homemade sauce. You can swap the homemade sauce for BBQ sauce if that is what you prefer.
I hope that this slow cooker chicken chili cooks to be as great as it did for me. If you have any tips, feedback, or anything else that you would like to share, then please do not hesitate to leave a comment below.