This refreshing slow cooker chicken soup is a must-try. It's packed with vegetables, pulled chicken, and cooked in a delicious herby chicken broth.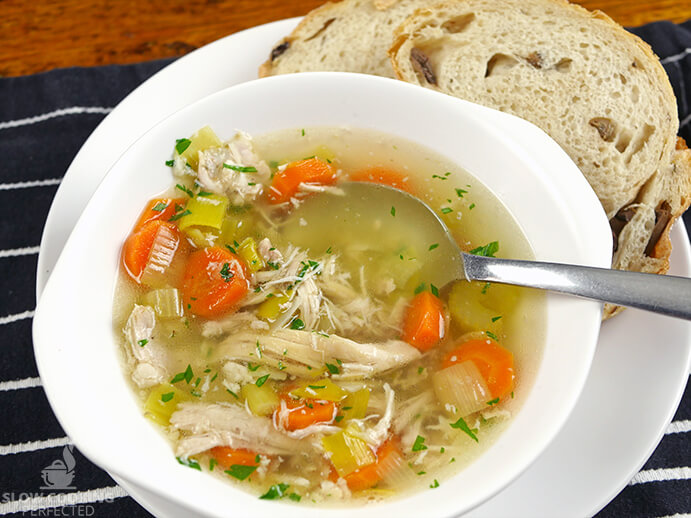 If you're looking for a healthier soup, then this is undoubtedly one you need to add to your list. It's has a ton of vegetables and is cooked with just a few herbs, chicken thighs, and chicken stock.
Don't let this soup's simplicity fool you, it is absolutely delicious and will have you going back for seconds. It's my go-to soup for when I need something light but also fulfilling.
There are many other slow cooker soup recipes that you need to try. For example, I absolutely love making some homemade tomato soup in the slow cooker. It's so delicious.
What to Serve with Chicken Soup
Nothing beats some fresh bread to dip into hot soup. I love getting an olive loaf from the local bakery, but any good bread will go great with this chicken soup.
There are plenty of other side dishes that work nicely with the soup. For example, a nice green salad always works great as a side dish. Alternatively, some cornbread or cheesy muffins goes so well with this dish.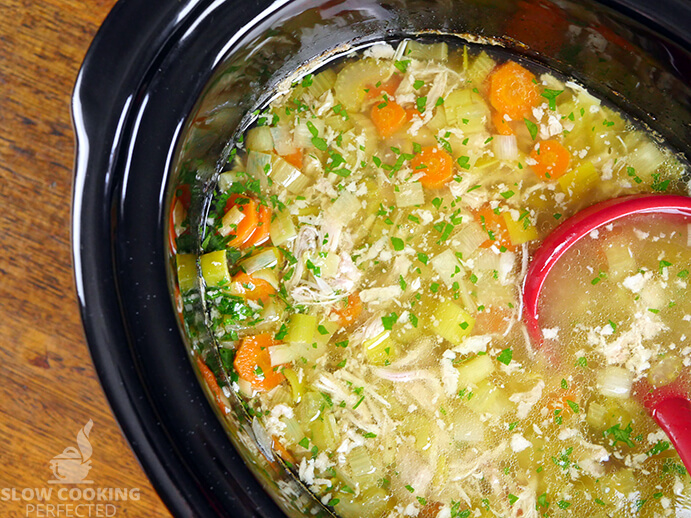 This soup is still great on its own and will easily feed four to six people without any side dishes.
If you have some suggestions on what to serve with a bowl of healthy chicken soup, then please leave a comment.
Leftovers & Dessert
Leftovers of this soup are great for lunch or dinner the next day. Simply heat the leftovers either over the stove or in the microwave. It's an excellent healthy lunch that I love eating while at work.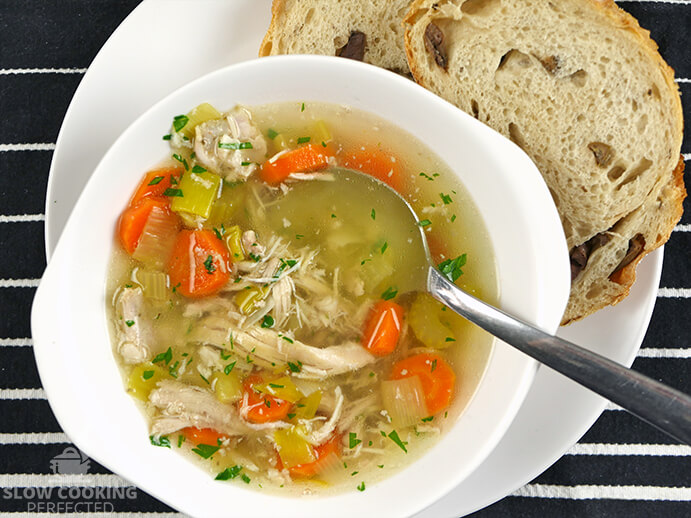 If I were to recommend a dessert to have after this, I would highly recommend the apple crisp. It has a delicious apple filling and a crunchy flavor-packed topping.
The video below will take you through all the steps to making this delicious chicken soup in the slow cooker. A written recipe is right underneath the video and can be printed out.
Slow Cooker Chicken Soup Recipe
Ingredients
1 kg (2.2 lb) chicken pieces
1 leek, chopped
2 tsp garlic, crushed
2 celery stalks, sliced
2 carrots, sliced
2 bay leaves
½ tsp thyme
½ tsp rosemary
2 l (2.1 qt) chicken stock
1 Tbsp fresh parsley, roughly chopped
Instructions
Add all the ingredients into the slow cooker except for the parsley.
Cook on low for 8 hours.
Skim the foam and fat off the top of the liquid. Remove and discard the bay leaves.
Remove the chicken and shred using two forks. Add the shredded chicken back into the slow cooker.
Season to taste.
Cook on high for 15 minutes or until hot.
Stir in the parsley.
Serve & Enjoy.
Recipe Tips
The leek can be swapped with two diced onions.
You can use whatever cut of chicken that you prefer. I made use of chicken thigh, but something like chicken drumsticks will work great. Just make sure you shred the meat off of the chicken drumstick and discard any fat, bone, and cartilage.
There are plenty of more types of vegetables that you can add to this recipe. For example, zucchini or bell peppers will make an excellent addition. I would add these in the last hour of cooking.
Feel free to use leftover roast chicken in this recipe. Keep in mind if it's marinated, then the soup will take on some of the flavors from that.
You can cook this on high for 3-4 hours if you need the soup faster.
This soup is perfect if you're on either a gluten-free diet or a Paleo diet.
Note: I use a 5.5L (6 Quart) slow cooker for all the recipes that I have on this website unless specified. If you have a smaller or larger slow cooker, then you might need to adjust the ingredients.
Nutrition Information
Serving Size: 536g (1.2 lb)
Servings Per Recipe: 6
Calories Per Serving: 321
Amount Per Serving
Saturated Fat: 2.2g
Trans Fat: 0g
Dietary Fiber: 1g
Sugars: 6g
Cholesterol: 118mg
Sodium: 623mg
Protein: 43g
The information above is an estimate generated by an online nutrition calculator.
More Chicken Recipes
There are plenty of other chicken recipes for the slow cooker that you should try. I will just quickly mention a couple of my favorites.
The chicken bacon casserole is well worth trying. It's creamy, has a ton of flavor, and I highly recommend it. You will find that it's just a little unhealthy compared to this tasty soup, but it's totally worth it.
If you're looking for more soups, then be sure to check out the minestrone. It has a ton of vegetables and is very addictive. It's one of my favorite soups to have when I want lots of vegetables.
That's all I have to say about this slow cooker chicken soup, and I do really hope that you enjoy it. If you have any feedback, tips, or anything else, then please don't hesitate to leave a comment below.