This slow cooker chicken and corn soup is an absolute must-try. It has delicious shredded chicken, sweet corn, and lots of ham.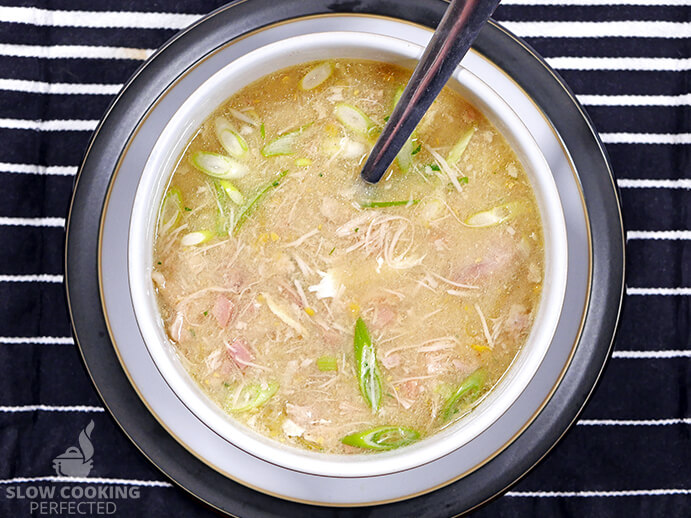 By the time this soup is ready to eat, it will be packed with shredded chicken, creamy corn, ham, and silky ribbons of egg. The soup itself will be creamy and have a slight golden color.
If you're looking for a simpler and healthier soup, then be sure to check out our other chicken soup recipe. It's absolutely delicious and perfect if you're trying to avoid heavier foods.
Great for Feeding a Crowd
I absolutely love this recipe, and it has become a soup we always return to, especially if we need to feed quite a few people.
A single batch of this recipe should feed up to eight people, but this depends on how hungry they are. You can easily double this recipe if you need to feed a crowd. It doesn't matter if there are any leftovers as they are delicious.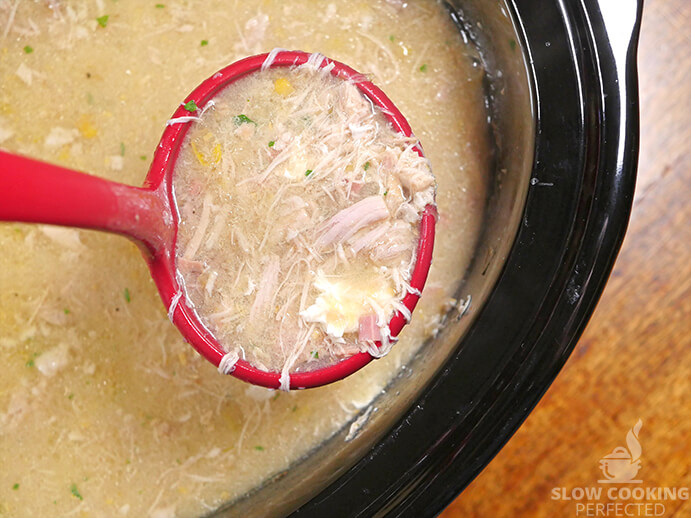 This soup is fantastic as just an appetizer but can easily be the main meal. If you're have it as a main meal, then I highly suggest that you have some side dishes to go with it.
Side Dishes to have with Chicken & Sweet Corn Soup
There are so many delicious side dishes that go great with this tasty soup.
I love to have the soup with some prawn crackers or also known as shrimp crackers. These prawn crackers will need to be fried before you can eat them. However, some Chinese takeaway shops also sell them pre-cooked.
A simple loaf of fresh bread will also go down a treat. I love dipping the bread straight into the soup and letting it soak up the delicious broth. I highly suggest you give it a try; it's so good.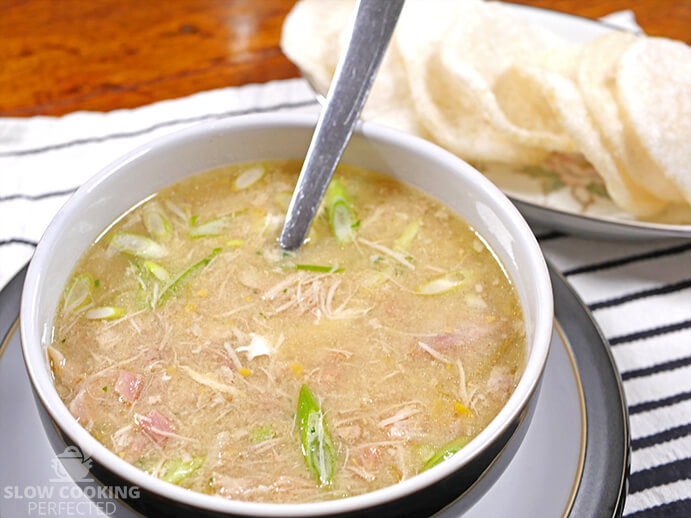 Another few examples of side dishes that go great with chicken and corn soup include garlic bread, blanched greens, herby baby potatoes, or even some roasted vegetables.
Let us know any of your favorite side dishes to have with soup in the comment section towards the bottom of this page.
The Leftovers are still Delicious
Any leftovers of this soup are well worth keeping as they are fantastic for lunch or dinner the next day.
Simply heat in either the microwave or over the stove. It should keep for a few days in the fridge. Alternatively, you can freeze the soup for later.
If you want to see how to make this chicken and corn soup in the slow cooker, then check out the video below. Alternatively, the full written recipe is right underneath the video.
Slow Cooker Chicken and Corn Soup Recipe
Ingredients
1 kg (2.2 lb) chicken thigh
100 g (3.5 oz) ham, diced
2 scallions, sliced
1 tsp ginger, crushed
420 g (14.8 oz) creamed corn
1 tsp sesame oil
2 l (2.1 qt) chicken stock
2 eggs, beaten
4 Tbsp water
1 Tbsp parsley, chopped
Thickener
Instructions
In a slow cooker, add the chicken, ham, scallions, ginger, creamed corn, sesame oil, and chicken stock.
Cook on low for 8 hours.
Remove the chicken from the slow cooker and shred. Return the chicken to the slow cooker.
In a bowl, beat the eggs with the water. Pour slowly into the soup while continually stirring.
In another bowl, mix the cornstarch and water until it is smooth. Pour into the soup and stir.
Cook on high for 15 minutes or until hot.
Add the parsley, and season to taste with salt and pepper.
Serve & Enjoy.
Recipe Tips
To ensure that this soup is gluten-free, make sure you use gluten-free cornstarch.
The chicken thigh can be swapped for chicken breast instead. Other chicken cuts such as drumsticks will work fine too. Just make sure you increase the weight as you will need to compensate for the bone.
More vegetables can always be added to this recipe. For example, you can add some more corn or even some bell pepper. I recommend not altering the recipe for the best result.
Scallions can be swapped for other types of onion such as shallots.
If you need this soup fast, simply turn the slow cooker to high and reduce the cooking time by half.
Note: I use a 5.5L (6 Quart) slow cooker for all the recipes that I have on this website unless specified. If you have a smaller or larger slow cooker, then you might need to adjust the ingredients.
Nutrition Information
Serving Size: 352g (12.4 oz)
Servings Per Recipe: 8
Calories Per Serving: 418
Amount Per Serving
Saturated Fat: 6.9g
Trans Fat: 0.1g
Dietary Fiber: 1g
Sugars: 4g
Cholesterol: 174mg
Sodium: 580mg
Protein: 28g
The information above is an estimate generated by an online nutrition calculator.
You Should Also Try
There are quite a few soup recipes that you can do in the slow cooker. The creamy corn chowder is one I highly recommend if you like this recipe. It's packed with corn, bacon, and a ton of vegetables.
If you're after something completely different, then something like the creamy chicken and bacon casserole might take your fancy. It's an absolute must try and tastes as good as it looks. Again, I highly recommend that you give it a try.
I absolutely love this slow cooker chicken and corn soup, and I have that you will too. If you have any feedback regarding this recipe, then please don't hesitate to leave a comment below.