This delicious slow cooker creamed corn is the perfect comfort food. You can eat it just on its own or as a side to another dish.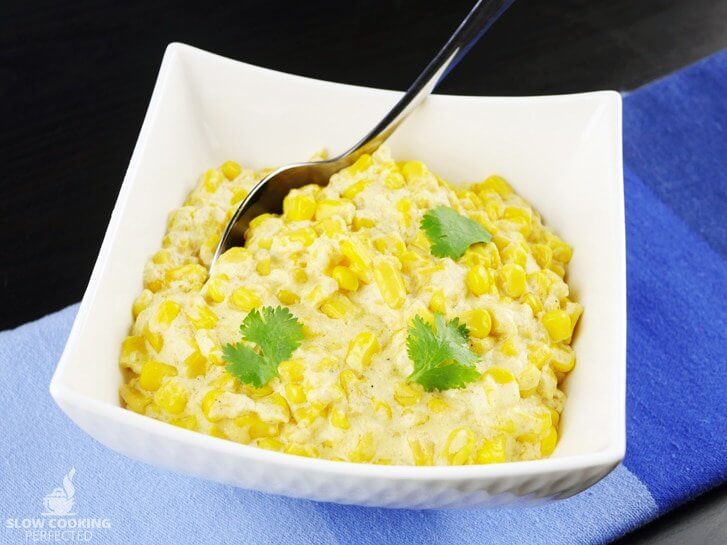 There isn't a massive amount of ingredients required for this dish, but that doesn't mean it won't be delicious. If you're a fan of corn and cream cheese, then this dish is made for you.
One great thing that I love about this recipe is how easy it is to get right. All you need to do is dump the ingredients into a slow cooker and wait until it's ready for eating.
Creamed corn is the kind of side dish that you will find at a thanksgiving meal or just a regular family roast. It's cheesy, delicious, and certainly worth making.
What to Serve with Creamed Corn
This dish is perfect just on its own, but there is also a lot of meals that go great with a side of creamed corn.
If you have multiple slow cookers, you can cook this alongside something else such a whole chicken or even a pork loin.
The corned beef is also a meal that pairs excellently with this delicious dish. Like the examples above, you can make the corned beef in a slow cooker or crock-pot.
It's up to you what you have with this dish, but I found this fulfilling enough to just eat it on its own.
Altering the recipe
There aren't many ingredients that you will need for this delicious dish. You can always alter the recipe if you feel like it needs a bit of adjusting.
You're able to use fresh corn kernels if you have some around, but I opted for the tinned variety. Make sure you drain the tinned corn kernels before adding them to the slow cooker.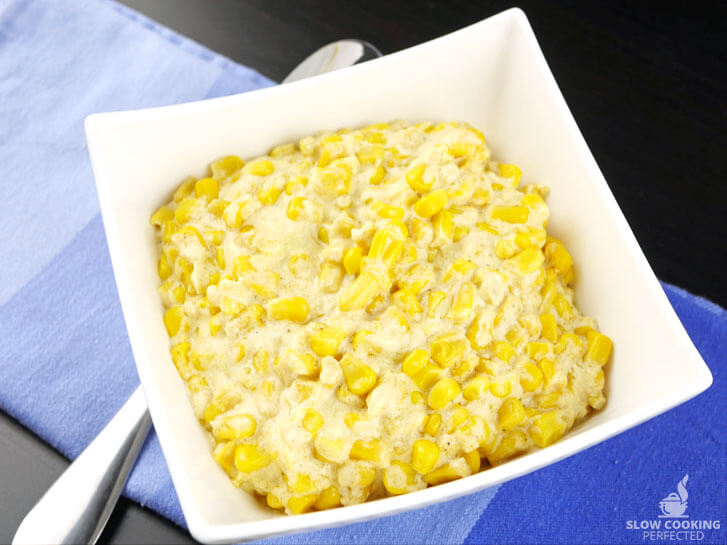 Some crispy bits of bacon is an excellent addition to this recipe. I recommend adding roughly half a cup for the best bacon experience.
Another ingredient that I sometimes love to add is some chopped jalapenos. It adds not only a bit of heat but also some more flavor.
If you come up with an even better variation, then feel free to leave a comment below.
How long does Creamed Corn Last
Creamed corn will last in the fridge for a few days, so make sure you don't throw out any leftovers. It's excellent for use in other recipes or just to eat on its own.
You can also freeze this dish, but I recommend avoid doing so if possible. I find heavy dairy meals don't tend to reheat the best. However, feel free to give it a go.
If you want to see how to make this slow cooker creamed corn, then be sure to check out the video below. If you're just after the written recipe, then you can find it right below.
Slow Cooker Creamed Corn Recipe
Ingredients
700 g (1.5 lb) corn kernels, drained
250 g (8.8 oz) cream cheese, cubed
½ cup cream
¼ cup butter
1 tsp sugar
Instructions
In a slow cooker, add all the ingredients and stir lightly to combine.
Cook on low for 4-6 hours.
Season to taste.
Serve & Enjoy.
Recipe Tips
If you don't have cream, then you can swap it out for milk, but the result won't be as creamy and rich. If you want, you can use a combination of milk and cream.
Want to take this recipe to the next level? Then try adding some crispy bacon at the end of cooking. It will please anyone who loves bacon.
If you love things cheesy, then you can always add a bit more cheese to the dish. Something like a strong cheddar will work well.
The dairy in this dish should not split as it might in other dishes. Dairy tends to split when cooked for an extended amount of time, and it's an important slow cooker tip to keep in mind when adding dairy to your slow cooker food.
Note: I use a 5.5L (6 Quart) slow cooker for all the recipes that I have on this website unless specified. If you have a smaller or larger slow cooker, then you might need to adjust the ingredients.
Nutrition Information
Serving Size: 260g (9.2 oz)
Servings Per Recipe: 4
Calories Per Serving: 574
Amount Per Serving
Saturated Fat: 22.6g
Trans Fat: 0g
Total Carbohydrate: 54.4g
Dietary Fiber: 7.3g
Sugars: 10.5g
Cholesterol: 105mg
Sodium: 317mg
Protein: 13.8g
The information above is an estimate generated by an online nutrition calculator.
More Tasty Recipes
As I mentioned above, there are so many different dishes you can cook to go with this delicious side dish.
You could try the whole chicken as I mentioned above or something else. There are just so many amazing slow cooker dinner recipes.
Another recipe that I highly recommend trying is corn chowder. You will love it if you like corn. It's creamy, packed with vegetables, and the perfect comfort food. I really do highly recommend that you try it.
I hope that you enjoy this slow cooker creamed corn recipe. If you have some feedback, tips, or anything else that you would like to share, then please feel free to leave a comment below.