If you have never tried slow cooker creamy Chinese cabbage, now is the time as this dish will amaze you with how much flavor it has.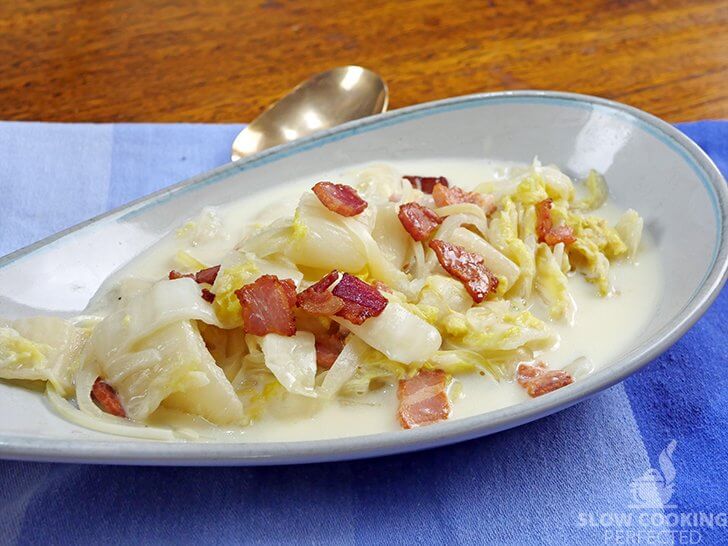 You will find that the sauce is deliciously creamy and packed with flavor. The cabbage cooks to be so tender and matches perfectly with the creamy sauce. Lastly, the little bits of crispy bacon help finish this dish.
There are multiple types of Chinese cabbage with the most popular being Napa (ps-tsai) cabbage, and Bok Choy. For this recipe, you will want to get your hands on some Napa cabbage, if possible.
Like a lot of slow cooker recipes, you can enjoy this dish as a full meal. Alternatively, this dish is fantastic as a side dish. Some dumplings, dim sums, or even dim sims go amazing with this delicious slow cooker recipe.
Traditionally this dish is stir-fried and not slow-cooked. One thing I love about the slow cooker version of this dish is that you can use the majority of the cabbage as the long cooking time will make even the stems tender.
Personalizing this Recipe
There are lots of little tweaks that you can do to this recipe to make it more to your liking. I like the recipe without any changes, but below are a couple of ideas on what you can do.
In addition to the bacon, you can add some sliced Chinese sausage (Lap Cheong) into the slow cooker. It will add a ton of flavor into the creamy sauce and will help please any meat lover.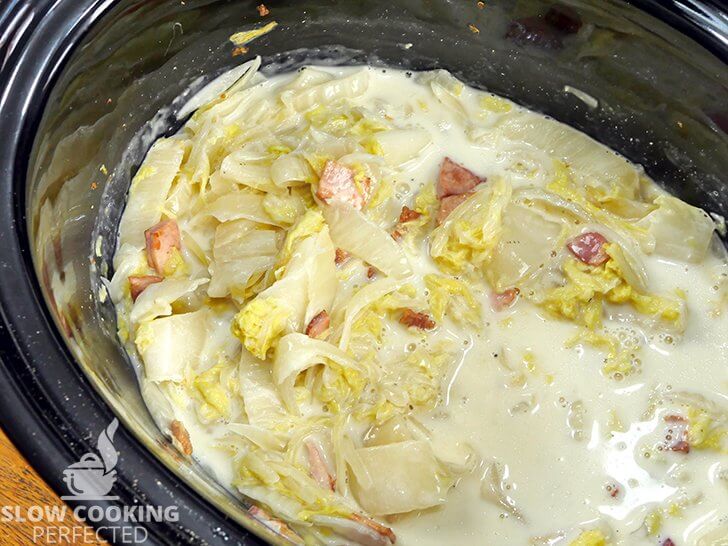 You can swap the evaporated milk for some coconut milk if you can't eat dairy products. The heavy cream will also need to be swapped for coconut cream. There is a slight chance the coconut milk will split, but the cornstarch mixture should help bring it back together.
A little bit of diced parsley and some lemon juice will help add even more flavor to this creamy cabbage. However, as I mentioned above, I like the recipe without any changes, so tinker at your own risk.
If you come across any changes that you absolutely love and want to share, then please don't hesitate to leave a comment below.
The Leftovers are Great
The leftovers of the creamy Chinese cabbage are worth keeping as they will heat the next day nicely. It's a great meal to have for lunch, either at home or at work. Just a quick zap in the microwave will leave you with a delicious hot meal.
Storing the leftovers in the fridge should make them last for roughly three days, maybe a bit longer. You can try freezing this dish, but I am not sure how well it will reheat since it's heavy dairy and it might split easily.
The video below will take you through all the steps on how to quickly prepare this dish and have it slow cooking, so it's ready when you need it. If you prefer a written recipe, then you can find that right under the video.
Slow Cooker Chinese Creamy Cabbage Recipe
Ingredients
1 bunch of Chinese cabbage, cut into 5cm (2 in) strips
1 onion, sliced
½ cup evaporated milk
2 chicken stock cubes, crushed
1 cup heavy cream
1 Tbsp cornstarch
100 g (3.5 oz) crispy bacon
Instructions
In a slow cooker, place the Chinese cabbage, onion, evaporated milk, and the crushed chicken stock cubes.
Cook on low for 8 hours.
Mix together the cornstarch with the 2 tablespoons of heavy cream. Mix into the slow cooker with the rest of the heavy cream.
Cook on high for 15 minutes or until thickened.
Season with salt and pepper.
Top with crispy bacon.
Serve & Enjoy.
Recipe Tips
You can easily swap the bacon for ham or any type of cold meat. For example, some shredded taco chicken will go well with the cabbage. However, I find bacon is the best.
Evaporated milk is essential if you don't want the liquid to split. With that said, once we add the cornstarch and cream, you will not notice if the liquid had split.
I made use of chicken stock, but a beef stock or vegetable stock will work just as well.
The cornstarch is important as it helps thicken the sauce, so it coats the cabbage nicely. You can leave this out of the recipe, but you will be left with a very soupy dish.
Note: I use a 5.5L (6 Quart) slow cooker for all the recipes that I have on this website unless specified. If you have a smaller or larger slow cooker, then you might need to adjust the ingredients.
Nutrition Information
Serving Size: 237g (8.4 oz)
Servings Per Recipe: 4
Calories Per Serving: 396
Saturated Fat: 15.3g
Trans Fat: 0g
Dietary Fiber: 2g
Sugars: 6g
Cholesterol: 65mg
Sodium: 654mg
Protein: 6g
The information above is an estimate generated by an online nutrition calculator.
More Slow Cooker Recipes
If you love Chinese inspired dishes, then you should also check out the lion's head meatballs. They're delicious meatballs that cook in a flavor-packed beef and soy broth. There is also a generous amount of cabbage that goes great with the oversized meatballs.
There is also plenty of creamy slow cooker dishes that you can do. For example, if you want something for dessert, then you should check out the creamy rice pudding. It's as good as it sounds.
There is nothing better than this slow cooker creamy cabbage on a cold night, so be sure to give it a try in winter. I hope that you enjoy this dish as much as I did. If you have any thoughts, tips, or anything else, then please don't hesitate to leave a comment below.