These beefy slow cooker lion's head meatballs are a must-try. This dish also features a delicious soy and beef broth that complements the huge beef meatballs.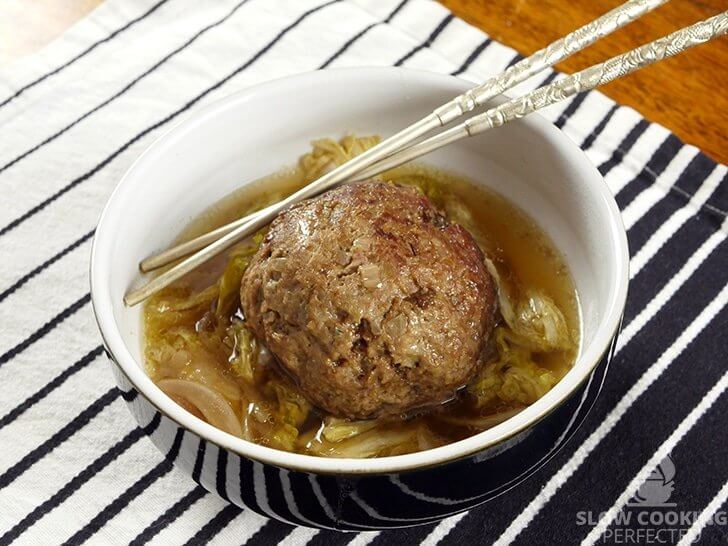 The meatballs are packed full of flavor thanks to all the ingredients that accompany the ground beef. The broth slowly infuses its flavors into the meatballs over the long cooking time. The result is a dish where each component compliments each other. It is certainly a family favorite at my house.
Lion's head meatballs got their name for looking similar to the head of the Chinese guardian lion. The dish originated in a couple of provinces in China, Yangzhou, and Zhenjiang. It is now a dish that is part of Shanghai cuisine.
You should be able to feed six people with this recipe. I assume each person will get one giant meatball, however, you may need more than that. You can easily double or triple the recipe if you need to feed more.
Leftover meatballs are great for lunch the next day. I find that they are great to put in a microwavable container with some of the cabbage and broth. This way, you can quickly heat them at work in a microwave.
Tweaking the Recipe
Pine nuts can be added into the meatball mixture for an extra bit of crunch and flavor.
You do not have to use ground beef for these slow cooker lion's head meatballs. People often make use of ground pork instead. You can also try using ground chicken if you want to be completely different.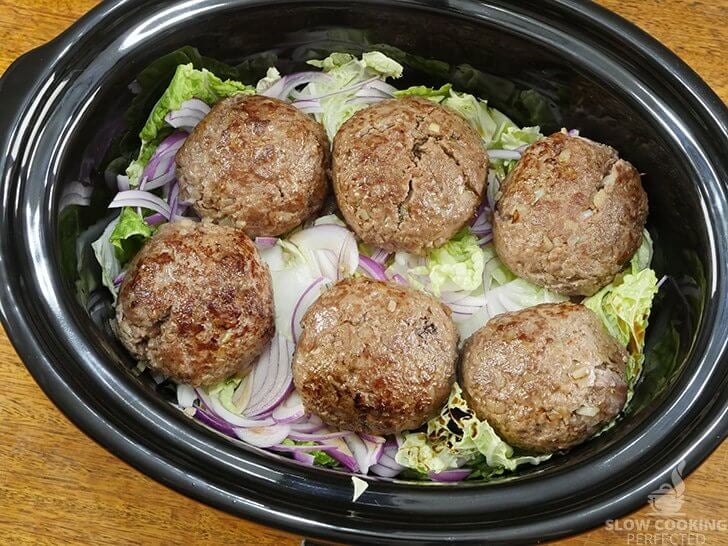 Mushrooms are a great addition to the broth mixture. Add these at the same time as the cabbage. You can use any type of mushrooms such as enoki or button mushrooms.
I like the broth to be runny, but if you want it thick, you can easily thicken it using some cornstarch. Near the end of cooking, mix one tablespoon of cornstarch with one tablespoon of water and pour it into the sauce. Lastly, cook on high for 15 minutes or until thickened.
Lion's Head Meatballs Serving Ideas
I love to have these meatballs with just the broth and cabbage. However, there are some side dishes that will work nicely with this dish.
Most Asian style noodles will work great with the flavors of this dish, so feel free to use your favorite. For example, I love udon noodles, but egg noodles will also work very nicely.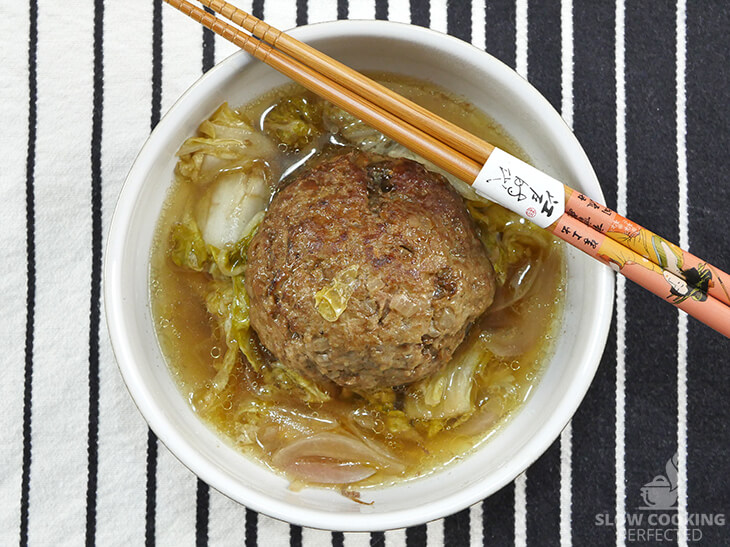 Rice is a side dish that will work very nicely with the flavors of this dish. I love to cook the rice in a rice cooker as it is super easy. Once the rice is ready, place a meatball on top of a scoop of rice and pour over the delicious broth and cabbage.
I have put together a video that takes you through the steps to making these hearty lion's head meatballs. If you prefer reading, then you can find the full written recipe underneath the video.
Slow Cooker Lions Head Meatballs Recipe
Ingredients
1 kg (2.2 lb) ground beef
2 shallots, finely diced
2 tsp garlic, crushed
2 tsp ginger, minced
2 Tbsp dry sherry
1 Tbsp sesame oil
2 Tbsp cornstarch
2 tsp salt
Sauce
500 g (1.1 lb) Chinese cabbage cut into large strips
1 red onion, sliced
250 ml (8.5 fl oz) beef stock
1 Tbsp soy sauce
Instructions
Firstly, in a bowl, combine the ground beef, shallots, garlic, ginger, sherry, sesame oil, cornstarch, and salt.
Form the meat mixture into large meatballs. Aim for them to be roughly the size of a tennis ball. I use a cup measure to get roughly the amount of mixture I need.
In a frying pan over high heat, add 2 tbsp oil. Brown all the meatballs. Once browned, put aside.
In a slow cooker, add the Chinese cabbage, red onion, beef stock, and soy sauce. Lastly, add the meatballs.
Cook for 8 hours on low.
Serve & Enjoy.
Recipe Tips
Make the meatballs smaller if you need them to cook faster. At their full size, there is roughly enough for six people or one each.
If you love the taste of soy and do not mind if the broth is a little salty, feel free to add another couple of tablespoons of soy sauce. It does add a bunch more flavor.
To cook this dish faster, turn the slow cooker to high and reduce the cooking time to four hours.
Note: I use a 5.5L (6 Quart) slow cooker for all the recipes that I have on this website unless specified. If you have a smaller or larger slow cooker, then you might need to adjust the ingredients.
Nutrition Information
Serving Size: 333g (11.7 oz)
Servings Per Recipe: 6
Calories Per Serving: 495
Amount Per Serving
Saturated Fat: 10.6g
Trans Fat: 1.3g
Dietary Fiber: 2g
Sugars: 4g
Cholesterol: 147mg
Sodium: 1145mg
Protein: 45g
The information above is an estimate generated by an online nutrition calculator.
More Slow Cooker Recipes
Below are some more slow cooker recipes that I highly recommend giving a try.
There are plenty of meatball dishes that you can make in the slow cooker. One of my favorites is the traditional meatballs with tomato sauce. They go great with some fresh pasta and some Parmesan cheese.
If you feel like a dish using beef, then the teriyaki beef is also an excellent dish. Unlike this dish, the origin of teriyaki is Japan. It is certainly yet another slow cooker recipe you need to try.
I absolutely love these slow cooker lion's head meatballs and hope that you do too. If you wish to leave some feedback, then feel free to leave a comment below.