These flavor-packed slow cooker Swedish meatballs are the perfect dinner dish. They're great on their own but best matched with some mashed potato and lingonberry jam.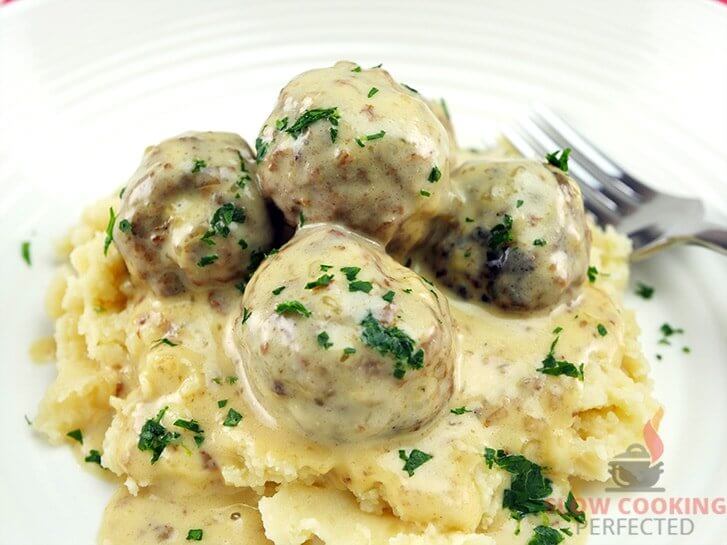 The pork and beef meatballs have two different spices, a bit of allspice and ground nutmeg. These meatballs cook in a delicious beef stock in which you add the cream at the end. The result is a creamy flavor-packed sauce with deliciously tender meatballs.
With side dishes, you should be able to feed between six to eight people without needing to make any adjustments to this recipe. I have a few serving suggestions right below.
What to Serve with Swedish Meatballs
To complete this dish, you should have it with some lingonberry jelly on the side. If you can't get your hands on any, then cranberry sauce works just as well. If you can't get either, then the meatballs are fine just on their own.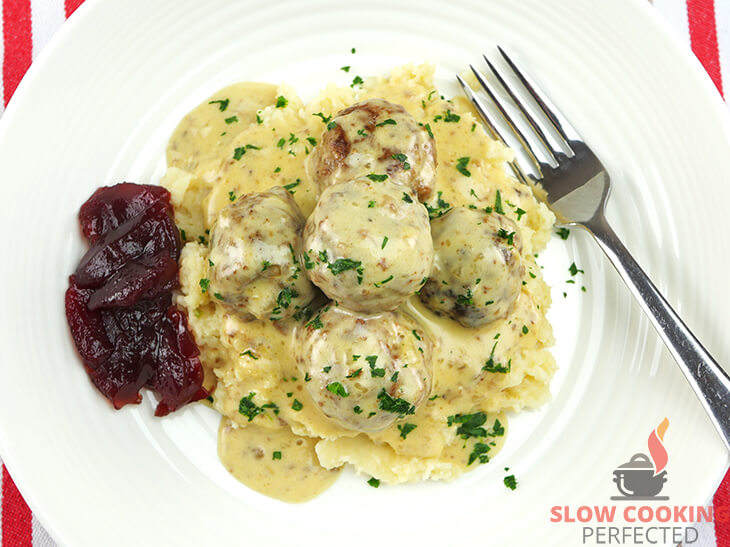 One cool thing you can do if you have multiple slow cookers is to have the meatballs cooking in one and some creamy mashed potatoes in the other. If you're not a fan of regular potatoes, then mashed sweet potato is also an option.
Using two slow cookers will mean at the end of cooking, you will have an entire meal ready for eating. Just keep in mind that even if you have the best slow cookers, the time and heat settings may vary if the brands are different.
Using Frozen Meatballs
If you don't have the time, then you can easily skip making the meatballs from scratch. Instead, just use some frozen meatballs, you're able to find frozen Swedish meatballs for sale at almost any good supermarket.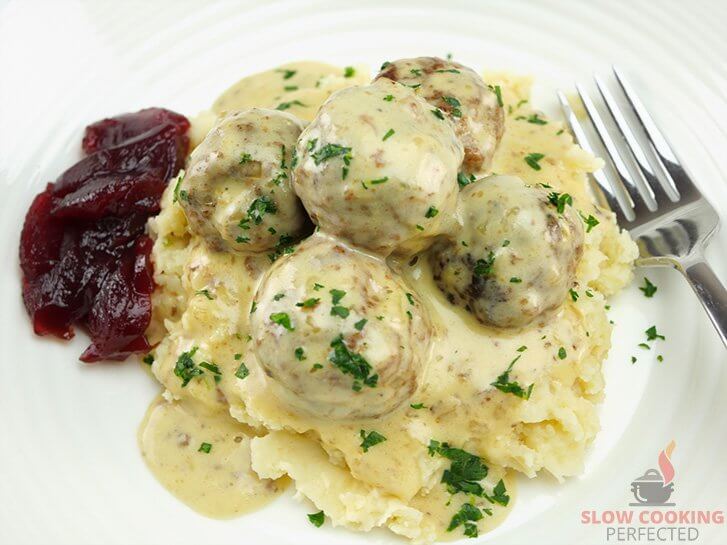 Leftovers are always great, so make sure you don't throw any of it out. The meatball and cream sauce will reheat quite nicely, so it's perfect for lunch the next day. It should last three to five days if stored correctly in the fridge. I'm unable to say how these will reheat if they are frozen.
If you want to see how to make these tasty Swedish meatballs in the slow cooker, then be sure to check out the video below. It's short and sweet, so it won't take up too much of your time. If you prefer to read, you can find the full written recipe right below the video.
Slow Cooker Swedish Meatballs Recipe
Ingredients
Meatballs
250 g (8.8 oz) ground pork
250 g (8.8 oz) ground beef
1 onion, finely diced
1 tsp garlic, crushed
1 cup breadcrumbs
1 egg
1/2 tsp allspice
1/4 tsp nutmeg, ground
1 tsp salt
Pinch of pepper
Sauce
2 cups beef stock
1 cup heavy cream
2 tsp Worcestershire sauce
To Thicken
2 Tbsp cornstarch
¼ cup heavy cream
Instructions
In a bowl, combine the ground meat, onion, garlic, breadcrumbs, egg, allspice, nutmeg, salt, and pepper.
Once mixed, form the mix into meatballs, I use roughly one tablespoon of the mix for each meatball.
In a pan over high heat, fry the meatballs, so they're lightly browned. Once done, put to the side.
In a slow cooker, add the beef stock, Worcestershire sauce, and the meatballs.
Cook on low for 8 hours.
Remove the meatballs and put them to the side.
Mix the cornstarch and 1/4 cup cream until it forms a paste.
Add the 1 cup cream and the cornstarch paste into the slow cooker. Gently mix, season lightly with salt and pepper.
Return the meatballs to the slow cooker.
Cover and cook on high for a further 15-30 minutes or until thickened.
Serve & Enjoy.
Recipe Tips
You're able to skip the browning of the slow cooker Swedish meatballs if you're running low on time. You will find the beef stock will end up with a lot more fat in it, but you should be able to skim this off.
If you only have one type of ground meat, then you can simply use that. For the best results, I recommend that you use a combination of pork and beef.
You can make the meatballs in bulk then freeze them down for later. This technique is great if you find yourself making this dish quite often.
The cornstarch mix is essential if you don't want your sauce to be super runny.
Heavy cream is also known as thickened cream in Australia or whipping cream in the UK.
To make this recipe gluten-free, make sure you use some gluten-free breadcrumbs and a gluten-free Worcestershire sauce.
Note: I use a 5.5L (6 Quart) slow cooker for all the recipes that I have on this website unless specified. If you have a smaller or larger slow cooker, then you might need to adjust the ingredients.
Nutrition Information
Serving Size: 285g (10.1 oz)
Servings Per Recipe: 6
Calories Per Serving: 431
Amount Per Serving
Saturated Fat: 11.6g
Trans Fat: 0.2g
Dietary Fiber: 1g
Sugars: 5g
Cholesterol: 213mg
Sodium: 925mg
Protein: 28g
The information above is an estimate generated by an online nutrition calculator.
More Slow Cooker Meatball Recipes
There are so many different types of meatball dishes that you can do in the slow cooker.
One of my favorite meatballs recipes, and is a bit different to this dish is the delicious sweet n sour meatballs. It's an Asian inspired dish that is packed with so much flavor you will be going back for seconds.
Another dish that I highly recommend making is meatballs and tomato pasta sauce. It's one of my earlier recipes and features some incredible flavors. I highly recommend giving it a try.
I hope that you enjoy these slow cooker Swedish meatballs, and they come out to be as great as they did for me. If you have some feedback, tips, or anything else, then feel free to leave a comment right below.