Back to Recipe
Print Recipe
Slow Cooker Swedish Meatballs Recipe
---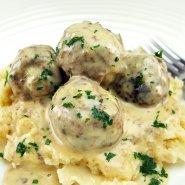 Prep time: 30 Minutes
Cook time: 8 Hours
Total time: 8 Hours & 30 Minutes
Serves: 6-8
Ingredients
Meatballs
250 g (8.8 oz) ground pork
250 g (8.8 oz) ground beef
1 onion, finely diced
1 tsp garlic, crushed
1 cup breadcrumbs
1 egg
1/2 tsp allspice
1/4 tsp nutmeg, ground
1 tsp salt
Pinch of pepper
Sauce
2 cups beef stock
1 cup heavy cream
2 tsp Worcestershire sauce
To Thicken
2 Tbsp cornstarch
¼ cup heavy cream
---
Instructions
In a bowl, combine the ground meat, onion, garlic, breadcrumbs, egg, allspice, nutmeg, salt, and pepper.
Once mixed, form the mix into meatballs, I use roughly one tablespoon of the mix for each meatball.
In a pan over high heat, fry the meatballs, so they're lightly browned. Once done, put to the side.
In a slow cooker, add the beef stock, Worcestershire sauce, and the meatballs.
Cook on low for 8 hours.
Remove the meatballs and put them to the side.
Mix the cornstarch and 1/4 cup cream until it forms a paste.
Add the 1 cup cream and the cornstarch paste into the slow cooker. Gently mix, season lightly with salt and pepper.
Return the meatballs to the slow cooker.
Cover and cook on high for a further 15-30 minutes or until thickened.
Serve & Enjoy.
---
Recipe Tips
You're able to skip the browning of the slow cooker Swedish meatballs if you're running low on time. You will find the beef stock will end up with a lot more fat in it, but you should be able to skim this off.
If you only have one type of ground meat, then you can simply use that. For the best results, I recommend that you use a combination of pork and beef.
You can make the meatballs in bulk then freeze them down for later. This technique is great if you find yourself making this dish quite often.
The cornstarch mix is essential if you don't want your sauce to be super runny.
Heavy cream is also known as thickened cream in Australia or whipping cream in the UK.
To make this recipe gluten-free, make sure you use some gluten-free breadcrumbs and a gluten-free Worcestershire sauce.
Did you make this recipe?
We want to see! Tag
@slowcookingperfected
on Instagram or use the hashtag
#slowcookingperfected
so we can find you!
---