These slow cooker BBQ meatballs are an absolute must-try. They're rich in flavor, delicious, juicy, and always a hit at parties.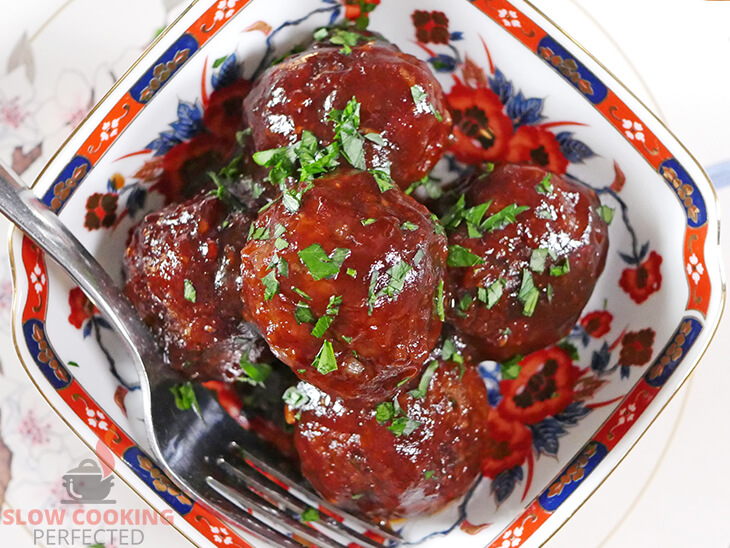 By the time this dish is ready to eat, the meatballs will be juicy and coated in a thick flavorsome sauce. You can eat these meatballs without any side dishes, but I recommend that you do.
A single batch of this recipe should feed roughly four people, but the recipe can easily be doubled if you need to feed more. There are also lots of side dishes that will work very nicely with this recipe.
To make this recipe super easy, you can use frozen meatballs instead of making them from scratch. If you decide to do this, you can skip to step four of the recipe instructions.
Serving these BBQ Meatballs
There are many ways that you can serve these meatballs, so below are a couple of my favorite ideas. If you have any combinations that you would like to share, then please don't hesitate to leave a comment at the bottom of this page.
The easiest side dish is some plain rice from out of a rice cooker. If you feel like something a little different, then you can also try making some creamy coconut rice.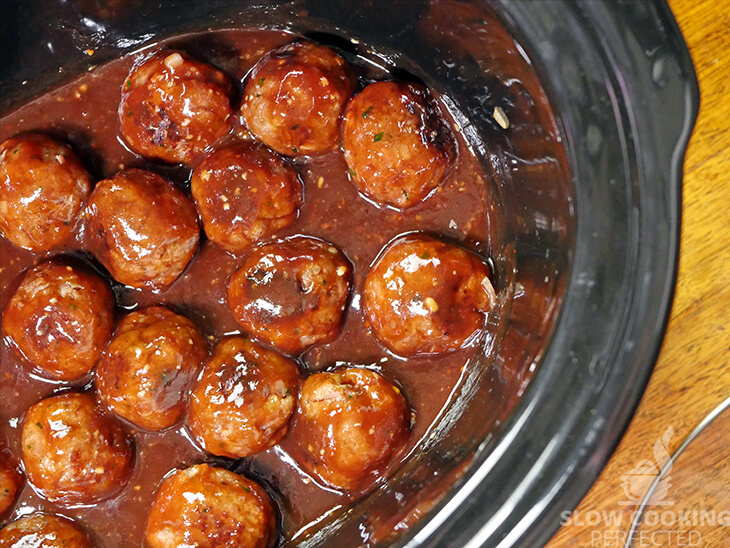 If you have multiple slow cookers, you can make mashed potatoes in one and the BBQ meatballs in the other. It's the perfect way to feed a crowd without having to spend ages in the kitchen.
A couple of alternatives to the accompaniments mentioned above is some polenta or pasta. Either of these will require a bit of extra time in the kitchen and will need to be done over the stove.
Tweaking the BBQ Sauce
There are lots of ways you can alter the BBQ sauce so that it is more to your liking. Below are just a few suggestions on what you can do.
Make sure you use your favorite store-bought BBQ sauce as this will drastically impact the flavor of the dish. Personally, I like Sweet Baby Ray's, but there is plenty of brands out there that are worth using. Also, a homemade BBQ Sauce is an excellent choice.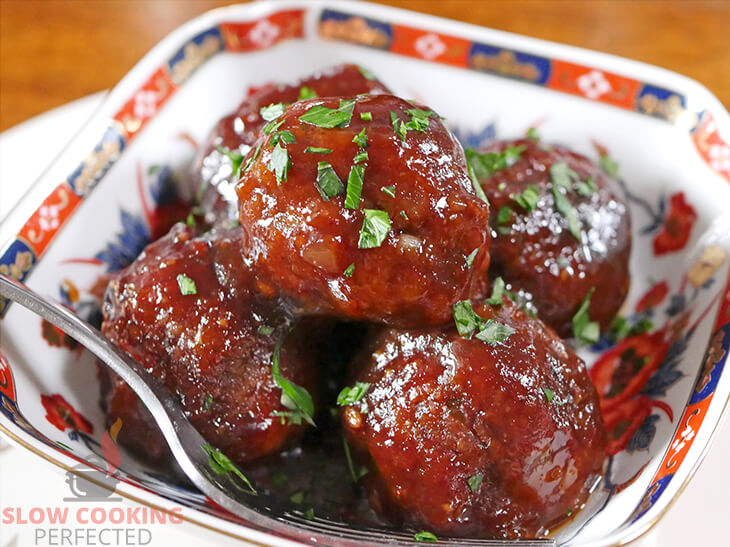 For some extra smokey flavor, you can try adding some liquid smoke into the sauce. Be very careful with how much you add as it can quickly overpower all the other flavors.
You can also try leaving the honey out or adding a little bit of chili into the sauce. There are hundreds of different combinations that you can do. If you have a tweak that you want to share, then be sure to share it with us in the comments section at the bottom of this page.
I have put together a video that will take you through all the steps to making some BBQ meatballs in the slow cooker, and you can find it right below. If you prefer to read, then a written recipe is immediately underneath the video.
Slow Cooker BBQ Meatballs Recipe
Ingredients
Meatballs
500 g (1.1 lb) ground beef
1 onion, finely diced
1 tsp garlic, crushed
180 g (6.3 oz) breadcrumbs
1 egg
1 Tbsp parsley, chopped
1 tsp salt
Pinch of pepper
Sauce
2 tsp garlic, crushed
500 ml (16.9 fl oz) BBQ Sauce
1 Tbsp honey
Instructions
In a bowl, combine the ground beef, onion,  garlic, breadcrumbs, egg, parsley, salt, and pepper.
Now form the beef mixture into meatballs, I use roughly two tablespoons for each meatball.
In a pan over high heat, fry the meatballs, so they're lightly browned. Once done, put to the side.
In the slow cooker, add the garlic, BBQ sauce, and honey. Stir to combine.
Next, add the meatballs and coat in the BBQ sauce.
Cook on low for 6 hours.
Serve & Enjoy.
Recipe Tips
To make this recipe gluten-free, simply make sure you use some gluten-free breadcrumbs and gluten-free BBQ sauce.
There are lots of changes that you can make to the sauce to make it more to your liking. I love the current lineup of ingredients, but feel free to tweak it.
You can swap the homemade meatballs for frozen meatballs instead. This substitution will make this recipe radically easier.
The ground beef can be swapped for a different meat such as ground chicken or pork.
A homemade BBQ sauce is an excellent alternative to the store-bought varieties.
Note: I use a 5.5L (6 Quart) slow cooker for all the recipes that I have on this website unless specified. If you have a smaller or larger slow cooker, then you might need to adjust the ingredients.
Nutrition Information
Serving Size: 276g (9.7 oz)
Servings Per Recipe: 4
Calories Per Serving: 559
Amount Per Serving
Saturated Fat: 10.3g
Trans Fat: 1.5g
Dietary Fiber: 2g
Sugars: 38g
Cholesterol: 96mg
Sodium: 1562mg
Protein: 17g
The information above is an estimate generated by an online nutrition calculator.
More Meatball Recipes
There are so many more meatball recipes that you can do in the slow cooker. Below are a couple of my favorites that I highly recommend you try.
One of my favorite recipes is the sweet and sour meatballs, and I highly recommend making it. It's the perfect replacement for takeaway and will easily feed quite a few people. I highly recommend giving it a try.
I also love to make some Swedish meatballs in the slow cooker as they cook to be juicy and loaded with flavor. The gravy is super easy to make and will be creamy and packed full of flavor. It's worth the time and effort it takes to make the dish.
I love these slow cooker BBQ meatballs, and I hope that you do too. If you have some feedback, tips, or anything else, then please don't hesitate to leave a comment below.