This slow cooker BBQ sauce is sweet, tangy, and incredibly delicious. It's the perfect condiment to get cooking in your slow cooker.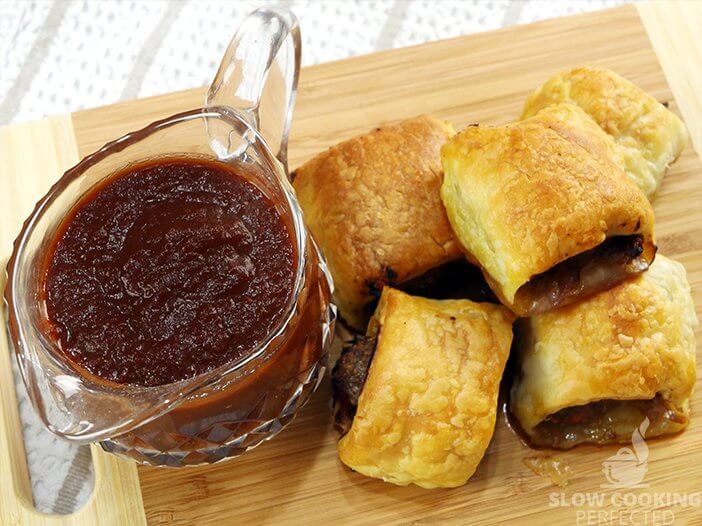 As I mention a lot, the slow cooker is ideal for making sauces and condiments as the long cooking time allows for flavors to intensify, creating that condiment everyone likes.
Making BBQ sauce from scratch is perfect, as you can control the ingredients and flavors. You can make it exactly how you like it, and you know all the ingredients that have gone into it.
A BBQ sauce is so versatile and will come in handy with so many different recipes. For example, it's excellent as a sauce on a pizza. It is also fantastic as a marinade on some chicken or beef. I love to mix it through some pulled pork.
Tweaking the BBQ Sauce Recipe
There are so many different tweaks that you can do for this BBQ sauce.
Adding liquid smoke to the mixture will create a new level of flavor. It's ideal if you love your sauce to have a bit of a smoky hint to it. Be careful not to add too much as it will ruin the taste of the sauce.
To turn this into a honey BBQ sauce, simply replace half of the brown sugar with honey. For a stronger honey flavor, you can replace all of the brown sugar.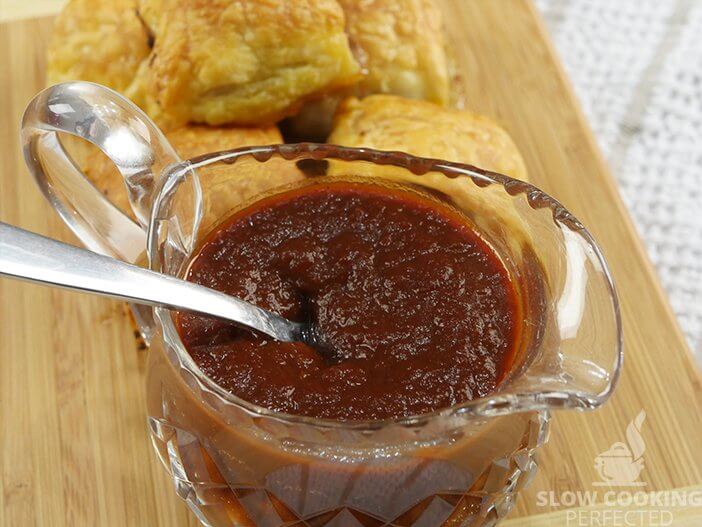 Reducing the quantity of sugar is a great way to add a bit of zest back to the BBQ sauce. I recommend reducing the brown sugar and treacle by roughly half to get the sauce to be less sweet.
I have listed a few more examples in the cooking tips further down the page that you should check out.
How Long will the BBQ Sauce Last
This slow cooker BBQ sauce will keep for a couple of weeks stored covered in the refrigerator. To have it keep for longer, you will need to look at sealing the jar correctly.
If you're going to store the BBQ sauce in a sealed jar, then you might want to double or triple the recipe, so you get more out of the one batch. I found this recipe made enough for a couple of weeks in our large household.
As with almost all our slow cooker recipes, you can find the full video right below. Alternatively, the written recipe is directly underneath the video.
Slow Cooker BBQ Sauce Recipe
Adblock removing the video? Support us by going ad-free or whitelist us in your ad-blocker.
Ingredients
1 onion, diced
1 tsp garlic, crushed
1 green apple, peeled and diced
1 Tbsp smoked paprika
½ tsp cloves, ground
1 Tbsp wholegrain mustard
2 Tbsp Worcestershire sauce
2 Tbsp tomato paste
½ cup brown sugar
½ cup apple cider vinegar
400 g (14.1 oz) diced tomatoes
2 Tbsp treacle
Instructions
Place all the ingredients into the slow cooker.
Cook on low for 8 hours.
Blend until the BBQ Sauce is relatively smooth.
Transfer to sterilized glass jars and seal appropriately.
Serve & Enjoy.
Recipe Tips
If you love a smoky flavor in your BBQ Sauce, then try adding a couple of drops of liquid smoke. This liquid will add a ton of flavor to the sauce.
You can also try swapping the brown sugar for honey instead, or you can do 50/50. This alteration will give you a honey BBQ sauce that is delicious.
To get a perfectly smooth BBQ sauce, you will need to push it through a sieve. Doing this will remove any lumps and leave you with a silky-smooth sauce.
The type of apple that you use should be a cooking apple such as granny smith. With that said, most variations of apple will still work fine.
Treacle can be replaced with regular molasses. However, do not use blackstrap molasses as it can be quite bitter.
You can reduce the sugar slightly if you prefer your BBQ sauce to be tangy rather than sweet.
Note: I use a 5.5L (6 Quart) slow cooker for all the recipes that I have on this website unless specified. If you have a smaller or larger slow cooker, then you might need to adjust the ingredients.
Nutrition Information
Serving Size: 26g (0.9 oz)
Servings Per Recipe: 40
Calories Per Serving: 21
Saturated Fat: 0g
Trans Fat: 0g
Dietary Fiber: 0g
Sugars: 4g
Cholesterol: 0mg
Sodium: 19mg
Protein: 0g
The information above is an estimate generated by an online nutrition calculator.
More Slow Cooker Recipes
There are many different recipes for the slow cooker, ranging from condiments like this one right through to delicious dinner dishes. I love how versatile the slow cooker can be.
This sauce is just one of the many that you can do in the slow cooker. If you're looking for more to try, then be sure to check out the tomato chutney, it's one of my favorites.
A chicken dish that I think you love is the honey BBQ chicken. You can even use this homemade sauce in the recipe rather than the store-bought variety.
I love this slow cooker BBQ sauce, and I hope that you will do too. If you have any feedback or variations, then be sure to leave a comment below.