This delicious slow cooker marinara sauce is super easy to make and is perfect if you're on a tight budget.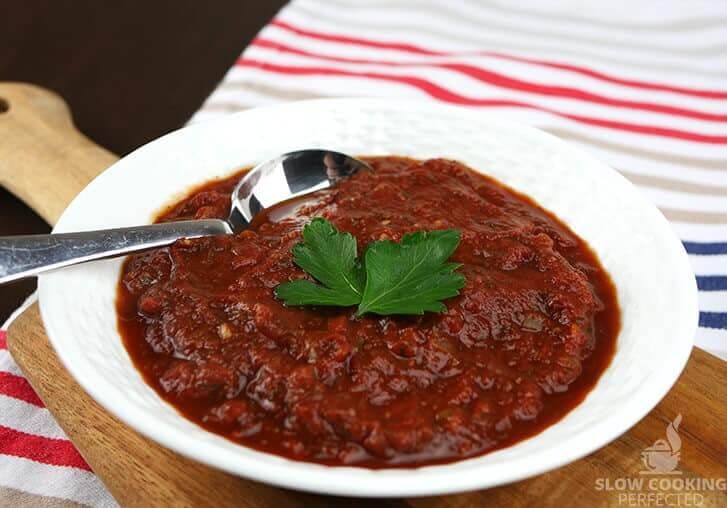 This sauce is deliciously rich and perfect on its own with some pasta. There is also a ton of other dishes that you can use this in such as a sauce for chicken parmesan, sauce for pizza, a sauce for beef meatballs and pasta, and so much more.
If you find yourself cooking a lot of dishes that require marinara sauce, then this recipe is ideal. You can prepare it at the start of the week and use it in different recipes throughout the rest of the week.
I love this recipe as it reduces the amount of jarred food that I need to rely upon, and as I found out, making a marinara sauce is surprisingly easy.
Tweaking the Recipe
There are so many different changes that you can make to a marina sauce. Below I go through just a couple of examples of what you can do to make this sauce more to your liking.
To make this as easy as possible, you're able to use canned crushed tomatoes. If you want to use fresh tomatoes, then make sure you peel the tomatoes first. Otherwise, you will end up with tomato skins throughout your sauce.
I like leaving the sauce slightly chunky, so I don't put it through the food processor. However, with that said, you can blitz the sauce if you would like it to be super smooth.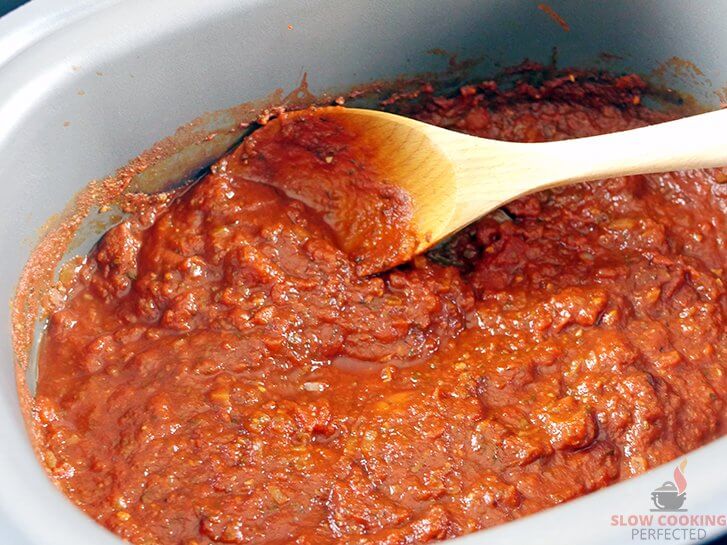 You're able to use either fresh or dried herbs in this recipe. The quantities I used are for dried herbs, so you may want to double the amount if you're using fresh herbs. I try to always use fresh, but sometimes it can be difficult to source the ingredients.
You can try adding some additional ingredients to the sauce. For example, Italian sausages, mushrooms, bell peppers, olives, and much more will work fantastically well in this sauce.
I'm always open to more suggestions, so be sure to drop a comment at the bottom of this page with your thoughts.
What to do with Marinara Sauce
You will end up with quite a bit of marinara sauce by the time you're done cooking this recipe. If you find yourself with way too much, then you can freeze some down for later. This frozen sauce comes in handy whenever you're cooking a dish that needs some homemade marinara sauce quickly.
There are so many dishes that you can use this marinara sauce in, including a ton of slow cooker pasta recipes. You can also place this sauce into a jar and keep for later. It will last for up to about a week, perfect if you're planning a week full of tomato-based meals.
If you want to see how to make a marinara sauce in the slow cooker, then be sure to check out the video below. It takes you through all the steps to making this delicious sauce. You can also find the full written recipe underneath the video.
Slow Cooker Marinara Sauce Recipe
Ingredients
1 onion, diced
2 tsp garlic, crushed
800 g (1.8 lb) tomatoes, crushed
170 g (6 oz) tomato paste
2 bay leaves
2 tsp parsley
2 tsp basil
1 tsp oregano
2 tsp brown sugar
1/2 Tbsp balsamic vinegar
Instructions
Add all the ingredients to a slow cooker.
Cook on low for 8-10 hours
Remove the bay leaves from the slow cooker.
Season to taste with salt and pepper.
Serve & Enjoy.
Recipe Tips
If you want a thin sauce, then make sure you use a blender to blitz it. You can use a handheld blender or a standalone. I find using a handheld blender much easier.
Some people love to add wine to their marinara sauce, but it's important to keep in mind that it might not cook as well in a slow cooker. You may find there is a bitter wine aftertaste to the sauce by the end of cooking. If you decide to add the wine, then leave the balsamic vinegar out of the sauce.
The sugar isn't needed, but it does help remove some of the bitterness from the tomatoes.
Using the balsamic vinegar helps add a bit more depth to the sauce. It can be left out if you don't have any or would prefer not to add it.
Note: I use a 5.5L (6 Quart) slow cooker for all the recipes that I have on this website unless specified. If you have a smaller or larger slow cooker, then you might need to adjust the ingredients.
Nutrition Information
Serving Size: 185g (6.5 oz)
Servings Per Recipe: 6
Calories Per Serving: 85
Saturated Fat: 0.1g
Trans Fat: 0g
Dietary Fiber: 4g
Sugars: 12g
Cholesterol: 0mg
Sodium: 474mg
Protein: 4g
The information above is an estimate generated by an online nutrition calculator.
More Delicious Recipes
If you are after more recipes for the slow cooker, then below are just a couple of my favorites that I think you will like.
The hearty beef ragu is a pasta dish that you need to try. It has a rich tomato sauce that's loaded with tender pulled beef. Certainly, a recipe that's worthy of your slow cooker.
For something a little creamier, I can highly recommend the chicken carbonara. It's loaded with tender bits of chicken, mushroom, and delicious bits of bacon.
I hope that you enjoy this slow cooker marinara sauce recipe. If you have any feedback, variations, tips, or anything else that you would like to say, then be sure to leave a comment below.