This belly-warming slow cooker chicken parmesan is a fantastic way to finish a busy day.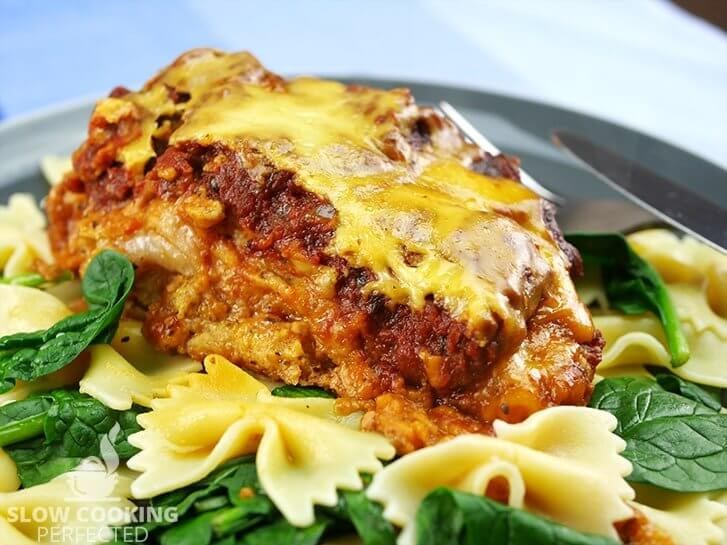 The chicken is crumbed with a delicious combination of breadcrumbs, basil, seasoning, and parmesan. It is then topped with a pasta sauce and a generous amount of cheese. It's the perfect dish if you need to feed quite a few heads.
It's important to keep in mind that cooking this dish in a slow cooker will result in it not being crispy. However, you will still have a flavor-packed meal that is so easy to get cooking early in the day.
What to Serve with Chicken Parmesan
If you're thinking of what sides you would like to have with this dish, then you will be happy to hear there is a surprising amount of recipes that you can do.
A side of chips and a green salad goes perfectly with this chicken parmesan. Even some slow-cooked baby potatoes go nicely on the side of this chicken dish.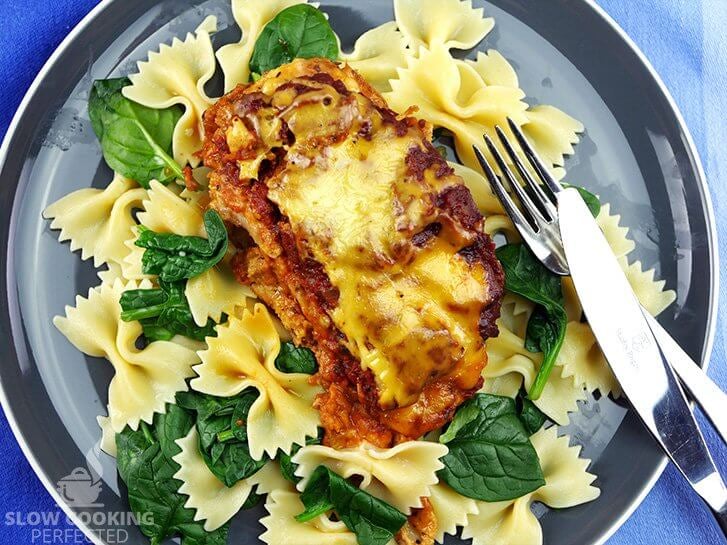 You can also serve the chicken on top of some freshly cooked pasta. In my photos, I served the chicken parmesan with some pasta, baby spinach, and a drizzle of olive oil. I can happily say that it was a delicious success.
The last of my suggestions is to serve it with some slow-cooked potato mash. You will need a second slow cooker, or you can make the mashed potato over the stove. Either method produces a delicious mash that matches perfectly with this delicious chicken parmesan.
If you have any suggestions on what to serve with this dish, then be sure to leave a comment.
Tweaking this Recipe
Getting this recipe right is pretty easy, so you should get a delicious meal, even with a few stuff-ups. Below are a couple of ideas on how you can tweak the recipe.
I use my homemade slow cooker marinara sauce in this recipe. It really adds a ton of flavor to the dish and is easy to alter if you want some more flavors. If you have the time, I highly recommend making some marinara sauce and keeping it frozen for whenever you need it.
To make this recipe a little easier, you can skip the step where you crumb the chicken. Add the chicken into the slow cooker and top with the sauce and cheese. Lastly, finish with the breadcrumbs.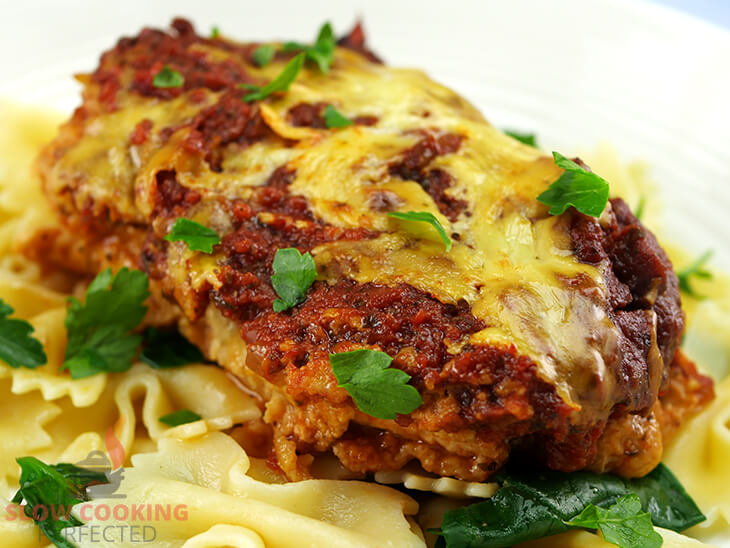 On the flip side, if you don't mind putting in a little bit more work, you can fry the crumbed chicken breasts so that they're nice and crispy on the outside. However, it will still go slightly soggy over the long cooking time.
You can try playing around with the cheese combination in this recipe. A combination of mozzarella, parmesan, and cheddar is super delicious, or you could try using blue cheese if you're feeling experimental.
If you love seeing how to do stuff, then be sure to check out the video below. The full written recipe for making this chicken parmesan in the slow cooker can also be found right below the video.
If you love the video, then be sure to subscribe to our YouTube channel.
Slow Cooker Chicken Parmesan Recipe
Ingredients
Chicken
4 chicken breasts
½ cup plain flour
½ tsp salt
¼ tsp pepper
2 eggs
1 cup breadcrumbs
1 tsp basil, chopped
¼ cup parmesan, shredded
Topping
500 g (1.1 lb) marinara sauce
1 cup cheddar cheese, shredded
¼ cup parmesan, shredded
Instructions
Firstly, in a bowl, add the flour, salt, and pepper.
Secondly, in a clean bowl, beat the two eggs.
In a new bowl, mix together the breadcrumbs, basil, and parmesan.
Coat the chicken in the flour, egg and then cover in breadcrumbs until completely coated. Repeat for all four chicken breasts.
Lightly grease the slow cooker with oil.
Place the chicken into the slow cooker and top with 1/2 cup cheddar cheese.
Next, top with the pasta sauce and finish with the rest of the cheddar cheese and parmesan.
Cook on low for 6-8 hours.
Serve & Enjoy.
Recipe Tips
There is no need to butterfly the chicken as they will be cooked all the way through by the end of cooking.
As I mentioned above, you can use any type of pasta sauce that you like. Personally, I like to use my homemade marinara sauce, but any store-bought jar sauce will work just as well.
If you don't like the possibility of soggy breadcrumbs, then simply don't coat the chicken. Once the chicken has finished cooking, top with some pan-fried breadcrumbs.
Feel free to experiment a little with the type of cheese you use. I like the mix of parmesan and cheddar, but something like mozzarella will also work.
Note: I use a 5.5L (6 Quart) slow cooker for all the recipes that I have on this website unless specified. If you have a smaller or larger slow cooker, then you might need to adjust the ingredients.
Nutrition Information
Serving Size: 412g (14.5 oz)
Servings Per Recipe: 6
Calories Per Serving: 703
Amount Per Serving
Saturated Fat: 12.9g
Trans Fat: 0.5g
Dietary Fiber: 3g
Sugars: 6g
Cholesterol: 451mg
Sodium: 1146mg
Protein: 62g
The information above is an estimate generated by an online nutrition calculator.
More Slow Cooker Chicken Recipes
If you don't feel like eating some chicken parmesan but want a slow cooker chicken dish, then there is a ton to pick from.
A delicious meal I highly recommend trying is the bacon and chicken carbonara. You will need to cook the pasta separately. However, the slow-cooked creamy carbonara sauce is so tasty it's worth cooking in the slow cooker.
The chicken cordon bleu is another cheesy chicken recipe that I love and highly recommend making. You will love the creamy sauce and cheesy breadcrumb topping.
I hope that you enjoy this slow cooker chicken parmesan and that you don't run into issues making it. If you have some feedback, tips, thoughts, or anything else that you would like to say, then please feel free to leave a comment below.