I absolutely love this slow cooker General Tso's chicken recipe. It is super easy to prepare and tastes absolutely amazing.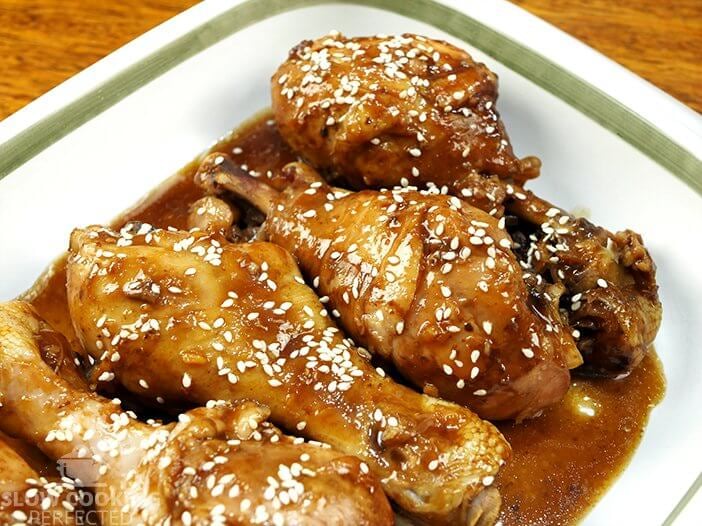 By the time the chicken is ready, it will have infused with all the delicious ingredients of the sauce and be very tender. The sauce consists of Chinese rice wine vinegar, soy sauce, Hoisin sauce, brown sugar, and a touch of Shaoxing wine.
There are many great slow cooker chicken recipes, but this one certainly ranks high. The delicious sauce and the tender chicken make this dish irresistible.
I typically get six serves out of this recipe whenever I make it. However, I do highly recommend that you make some extra food to go along with it. You can also easily double the recipe if required.
You can make these chicken drumsticks as a meal, but they are also great as a side dish. I also love making this dish as party food for whenever I have people over, they always go down a treat.
Serving Ideas for General Tso's Chicken
Marinated chicken by itself is not usually enough to feed a crowd, so I highly recommend cooking up some side dishes.
This chicken will work very nicely on a bed of steamed rice. I love to cook the rice in a rice cooker as it is super easy to get it perfect. You could also try making something like cauliflower rice if you wanted a healthier alternative to regular rice.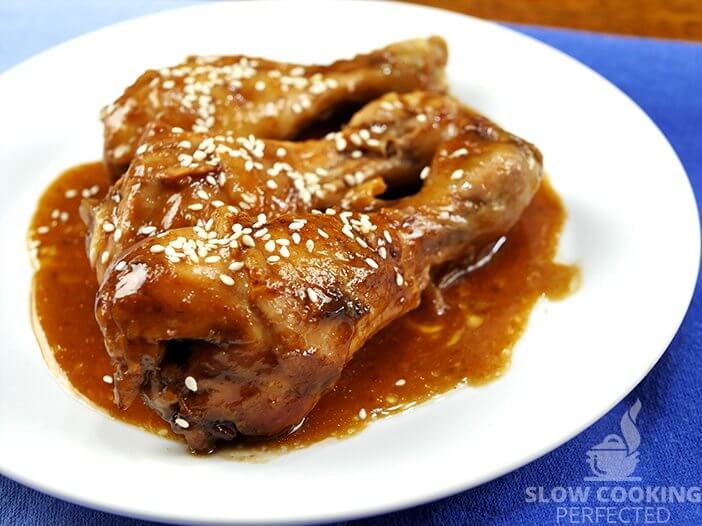 The baby potatoes will go great with this chicken dish and can be cooked in a slow cooker. Unfortunately, you will need multiple slow cookers to cook both dishes at the same time.
Another side dish that will work very nicely with the flavors of the chicken is mashed potatoes. Like the baby potatoes, you can cook these in bulk using a slow cooker. I highly recommend giving it a try. For something a little healthier, you can try making mashed cauliflower.
Storing the Leftovers
One of the best things about this chicken dish is that it is excellent the next day as leftovers. The leftovers should last for three days in the refrigerator or three months in the freezer.
You can shred the leftover chicken meat, and use it in sandwiches, pizza, pasta (like chicken ala king), and so much more. The marinade will add flavor, which may or may not conflict with the dish that you are using the chicken in.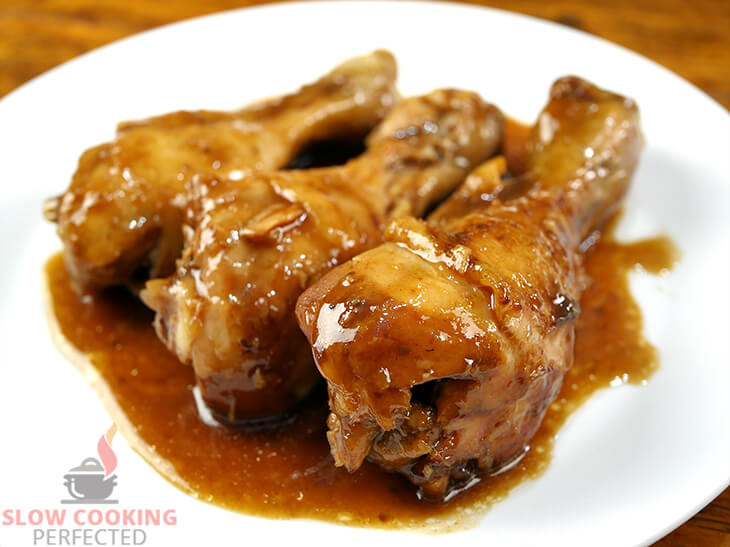 Videos are great for seeing how to make a recipe and for visual confirmation that the pictured dish is achievable. You can find the full video on how to make General Tso's chicken in the slow cooker right below.
Slow Cooker General Tso's Chicken Recipe
Ingredients
2 kg (4.4 lb) chicken drumsticks
Sauce
Thickener
2 Tbsp cornstarch
3 Tbps water
Instructions
Mix the garlic, ginger, Chinese rice wine vinegar, soy sauce, hoisin sauce, brown sugar, and Shaoxing wine in a jug.
Add the chicken drumsticks to the slow cooker and pour the marinade over the top.
Cook on low for 6 hours.
Remove the chicken from the slow cooker.
In a small bowl, combine the cornstarch with the water until it forms a paste.
Slowly mix in the cornstarch mixture with the marinade.
Return the chicken to the slow cooker and cook on high for 15 minutes or until thickened.
Optional: Baste the chicken with the sauce and place under a broiler to caramelize.
Serve & Enjoy.
Recipe Tips
Gluten-free variants are available for Hoisin sauce and soy sauce.
Placing the chicken under a broiler is a great way to get beautiful crispy skin. It is also perfect if you want to caramelize the sauce slightly.
Cornstarch is essential as it will thicken the General Tso's sauce. You can use a different thickener such as arrowroot, but whatever you do, make sure you thicken the sauce.
You can use any type of chicken for this dish. For example, chicken breast or thigh will work great. I recommend keeping the chicken cuts whole and not cutting them into little bits.
I recommend cooking this recipe for six hours, but it should be fine for a little longer if you are running late. There will be a point where the chicken will just fall off the bones. This will make it hard to get the chicken out in one piece.
Note: I use a 5.5L (6 Quart) slow cooker for all the recipes that I have on this website unless specified. If you have a smaller or larger slow cooker, then you might need to adjust the ingredients.
Nutrition Information
Serving Size: 395g (13.9 oz)
Servings Per Recipe: 6
Calories Per Serving: 616
Amount Per Serving
Saturated Fat: 8.2g
Trans Fat: 0.2g
Dietary Fiber: 0g
Sugars: 12g
Cholesterol: 307mg
Sodium: 1217mg
Protein: 62g
The information above is an estimate generated by an online nutrition calculator.
More Slow Cooker Recipes
There are plenty of other recipes that you should try, especially recipes that use chicken.
If you want to try a dish like this one, you should check out the honey soy chicken. It is absolutely delicious.
There are plenty of beef dishes that you can make if you feel like eating something other than chicken. Something like the beef brisket is worth giving a try. The rub on the beef is tasty and has a slight hint of heat to it.
I really hope that you enjoy this slow cooker General Tso's chicken dish as much as I did. If you have some feedback, then please do not hesitate to leave a comment below.