Slow cooker teriyaki chicken is yet another amazing dish that you can cook up in one of the best kitchen appliances you can get.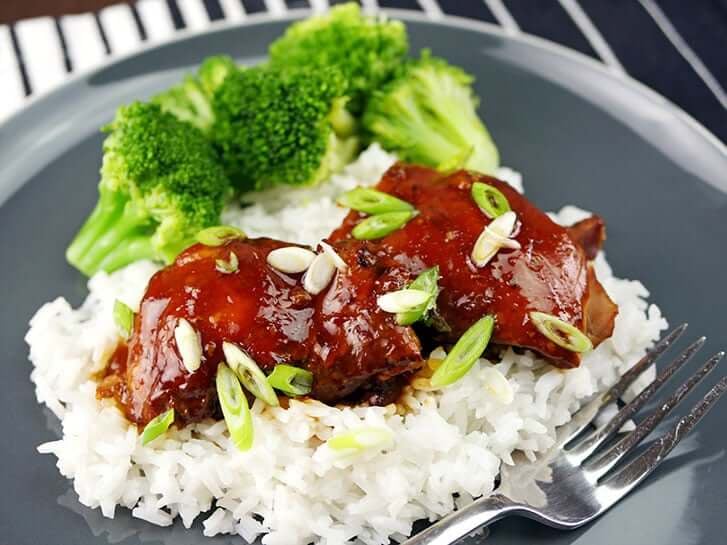 This slightly sweet dish is a favorite of so many people and a dish that even the kids will enjoy.
In this recipe, we make the teriyaki sauce from scratch as it's very easy, and you only need a few ingredients. However, if you have some store-bought sauce or would prefer to use it, then you can replace the sauce with your version.
What to Serve with Teriyaki Chicken
As you would imagine, the best accompaniment that goes great with this dish is, of course, some rice. You will need to do the rice in a rice cooker or over the stove.
There are, of course, so many different side dishes that will work with this recipe. For example, even just some noodles will go well the chicken.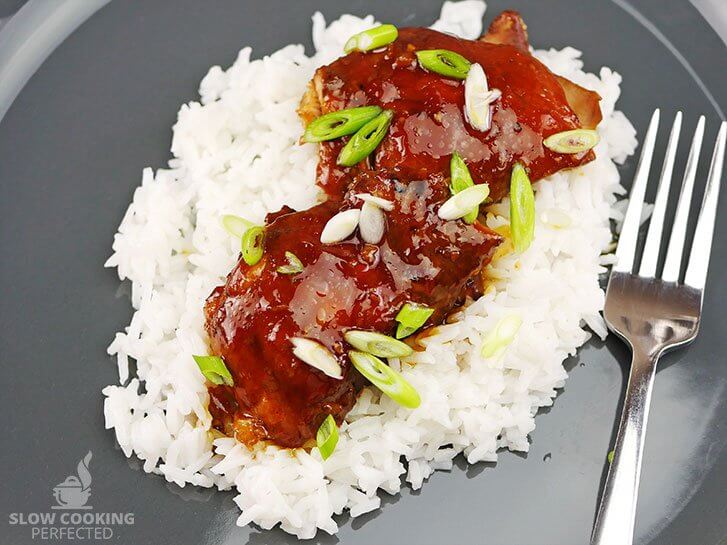 The chicken can also be used in a ton of other dishes such as chicken wraps, salads, sushi, nachos, jacket potatoes, and so much more. If you're using it for something like sushi, then you will want to allow it to cool first.
Lots more side dishes go great with teriyaki chicken, so if you have suggestions, please don't hesitate to leave a comment at the bottom of this page.
Tweaking the Recipe
There are lots of little changes that you can make to this recipe to make it more to your liking. I will quickly go through some of the things that you can do.
You can add lots of different vegetables into the slow cooker if you want more than just chicken. You can add vegetables such as broccoli, snap peas, bell peppers, baby corn, and so much more. Keep in mind these will take on a lot of the flavor of the sauce.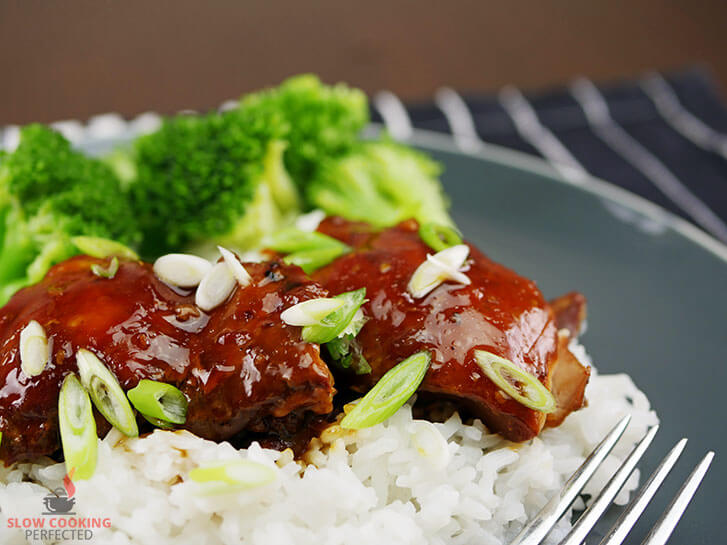 If you don't have any reduced-sodium soy sauce, you can use regular soy. You might need to water it down a bit, so the teriyaki sauce doesn't end up too salty.
Shredding the chicken is useful if you want the chicken to be covered entirely in the sauce. You can also use other cuts of chicken such as chicken breast.
Of course, there are lots more tweaks that you can do, but these are just a few suggestions. Be sure to share any of your tweaks in the comment section.
What to do with Leftovers
If you end up with leftovers, then be sure to shred the chicken and keep it in the sauce stored in the fridge. You can also freeze it if you don't think you will use it within a few days.
The shredded chicken makes for excellent sandwich meat for lunches the next day. I also love reheating it in the microwave and having it with some rice.
If you love to see how to prepare and cook meals, then be sure to check out the video I have prepared below. It will take you through all the steps on how to make teriyaki chicken in the slow cooker.
Slow Cooker Teriyaki Chicken Recipe
Ingredients
1 kg (2.2 lb) chicken thighs
1 tsp garlic, crushed
2 tsp ginger, crushed
½ cup honey
½ cup reduced-sodium soy sauce
¼ cup rice wine vinegar
¼ tsp black pepper
To thicken
2 Tbsp cornstarch
2 Tbsp water
Instructions
In the slow cooker, add the garlic, ginger, honey, soy sauce, rice wine vinegar, and the pepper.
Add the chicken and baste it with the sauce.
Cook on low for 6 hours.
Remove the chicken from the slow cooker and place it to the side.
In a separate bowl, mix the cornstarch with the water until it forms a smooth paste.
Pour the cornstarch mixture into the slow cooker and mix.
Return the chicken to the slow cooker and cook for 15 minutes.
Serve & Enjoy.
Recipe Tips
Depending on what you feel like, you can shred the chicken when you remove it from the slow cooker. This tweak will allow the sauce to completely cover the chicken, leaving you with much richer chicken teriyaki.
The honey can be swapped out for just plain white sugar. There shouldn't be a considerable amount of difference apart from subtle changes in flavor and sauce consistency.
If you want some vegetables to go with this, then just add them about an hour before the end. Just make sure they're not too chunky; otherwise, they might not cook all the way through.
A tasty garnish for this dish is some sesame seeds and sliced scallions.
If you prefer a runnier sauce, then merely leave the cornstarch and water mix out.
Note: I use a 5.5L (6 Quart) slow cooker for all the recipes that I have on this website unless specified. If you have a smaller or larger slow cooker, then you might need to adjust the ingredients.
Nutrition Information
Serving Size: 235g (8.3 oz)
Servings Per Recipe: 6
Calories Per Serving: 434
Saturated Fat: 3.4g
Trans Fat: 0g
Total Carbohydrate: 28.2g
Dietary Fiber: 0.4g
Sugars: 23.6g
Cholesterol: 148mg
Sodium: 853mg
Protein: 49.5g
The information above is an estimate generated by an online nutrition calculator.
More Slow Cooker Recipes
If teriyaki isn't your thing, then there are a ton of other different chicken recipes that you can do in the slow cooker.
The honey garlic chicken is one of my favorites and is super easy to make. Much like this dish, you can cook some extra vegetables in the slow cooker or separately.
If you love sweeter meals, then you will love orange chicken cooked in the slow cooker. As the name suggests, it is cooked in an orange marmalade sauce that is absolutely delicious. I highly recommend giving it a try.
I hope this slow cooker teriyaki chicken comes out to be as delicious as it did for me. If you have any tips, feedback, or anything else that you would like to say, then please feel free to leave a comment below.