It's so easy to make slow cooker jacket potatoes that you will find yourself cooking them all the time.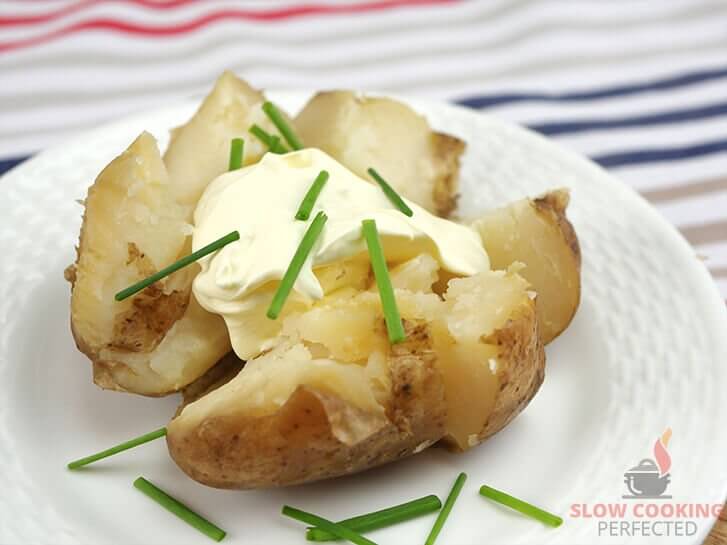 A jacket potato is essentially a baked potato where the intention is to get the skin nice and crisp but have the inside fluffy. You can easily get this effect by using a slow cooker or crock-pot.
This recipe is excellent if you want to have some perfectly cooked baked potatoes for dinner that you can get cooking early in the morning.
Usually, you serve the baked jacket potato with a filling and condiments. I had these potatoes with just some sour cream and chives. However, I do love them with some homemade chili and cheese over the top.
What Sides go with Jacket Potatoes
Jacket potatoes go so well with many different dishes and toppings. I will quickly go through a few meal ideas and some toppings you can have with the potatoes.
If you're looking to use the potatoes as a side dish, then they go great with some honey mustard chicken, roast beef, and so much more.
On the flip side, these potatoes are great as a meal when topped with some pulled pork, chili, or even some beef brisket.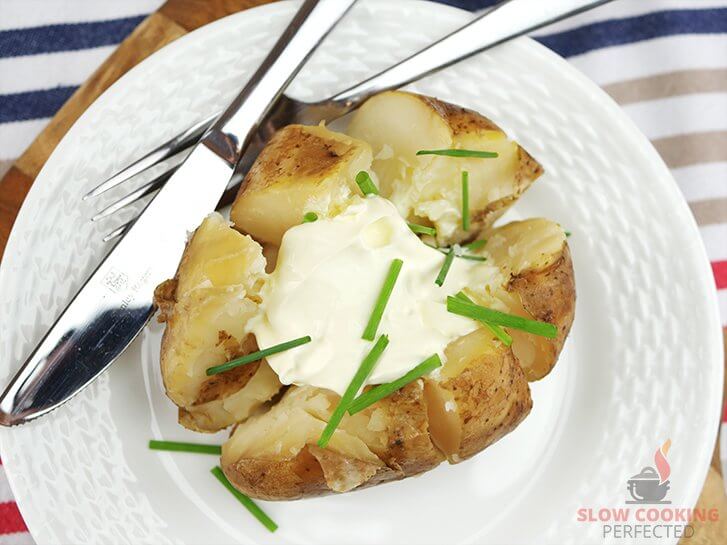 Homemade baked beans and cheese is also an excellent topping to have on these potatoes. Even better is that you can cook the beans in a slow cooker as well.
Any leftover curry is also great as a topping and makes for an effortless meal. I love doing this whenever I have some leftover slow cooker curry that needs using.
If you have any side dishes that you think goes great with some baked potatoes, then please don't be afraid to share. You can do this by leaving us a comment at the bottom of the page.
Leftover Baked Jacket Potatoes
You can keep the leftover potatoes in the fridge for a few days. If you're reheating these in the microwave make sure you remove the foil.
The leftovers are also great in other dishes where the potato is the main ingredient, something like a corn beef hash is the perfect dish for leftover potatoes.
I prepared a video below that shows you through the few steps for this super easy recipe. If you want a written recipe, then you can find it underneath the video.
Slow Cooker Jacket Potatoes Recipe
Ingredients
4 large potatoes, cleaned
1 Tbsp olive oil
Salt
Instructions
Prick the potatoes all over with a skewer or fork.
Lightly rub each potato with oil.
Lightly season the potatoes with salt.
Wrap each potato tightly in foil.
Cook on low for 8 hours.
Serve & Enjoy.
Recipe Tips
Once cooked, these jacket potatoes are super delicious with some butter over the top.
As mentioned above, these are great topped with chili or a similar dish. Alternatively, some sour cream and chives also work great.
Jacket potatoes don't work if you peel the potato so make sure you leave the peel on. You will want to clean the potatoes, so there isn't any dirt left on them.
You don't need to use oil, but it helps crisp the outside of the potatoes and adds a bit of flavor. If you want a ton of flavor then using something like duck fat will add so much more flavor. The only downside is duck fat is so much more expensive.
Note: I use a 5.5L (6 Quart) slow cooker for all the recipes that I have on this website unless specified. If you have a smaller or larger slow cooker, then you might need to adjust the ingredients.
Nutrition Information
Serving Size: 372g (13.1 oz)
Servings Per Recipe: 4
Calories Per Serving: 314
Amount Per Serving
Saturated Fat: 0.6g
Trans Fat: 0g
Dietary Fiber: 8g
Sugars: 3g
Cholesterol: 0mg
Sodium: 22mg
Protein: 7g
The information above is an estimate generated by an online nutrition calculator.
More Potato Recipes for the Slow Cooker
There is a surprising amount of potato dishes that you can do in the slow cooker.
If you end up loving these jacket potatoes, then you should undoubtedly take a look at the buttered baby potatoes. They're great as a side and so easy to quickly get into the slow cooker and cooking.
The cheesy potatoes are so good if you're looking for a tasty side or breakfast. Not the healthiest dish but it is good it's hard to stop eating.
For a delicious casserole, I highly recommend making a tater tot casserole in the slow cooker. It's packed with cheese, ground beef, bell pepper, bacon, and so much more. Again, it's not the healthiest, but it's certainly delicious.
This slow cooker jacket potatoes recipe is so easy, and I hope that your dish works out fine. If you have some feedback, tips, or anything else, then feel free to leave a comment right below.