These delicious slow cooker baked beans make for an amazing breakfast. You can eat these beans by themselves or with some bacon and eggs.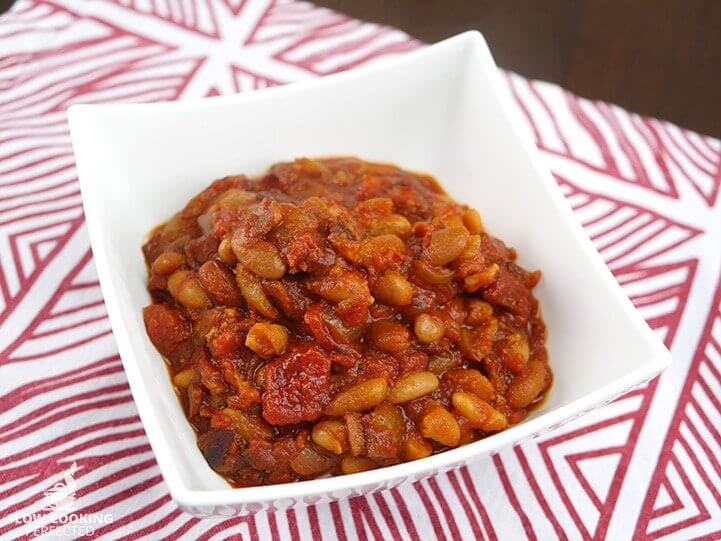 Despite the name, baked beans are often stewed rather than baked. They work best when cooked for extended periods, so they are great for a slow cooker. Slow cooking allows all the flavors to develop, so you end up with some great tasting beans that the entire family can enjoy.
A single batch of these delicious baked beans will feed about eight people. I recommend cooking some side dishes to go along with the beans. If you need to feed more people, then simply double or triple the recipe.
It is best to keep the leftovers as they will reheat the next day very nicely. They should last for about three to seven days before needing to be thrown out. You are also able to freeze the leftover beans so they will last a lot longer.
Perfecting the Recipe
You can use either dried or canned beans in this recipe. I used canned as this helps speeds things up as you do not need to soak the beans overnight. If you use canned beans, make sure you drain and rinse them before adding them to the slow cooker.
If you decide to use dried beans, there are a few extra steps that you will need to do. First, soak them overnight before draining. Secondly, boil them in clean water for fifteen minutes. After you have done these steps, you can use the beans.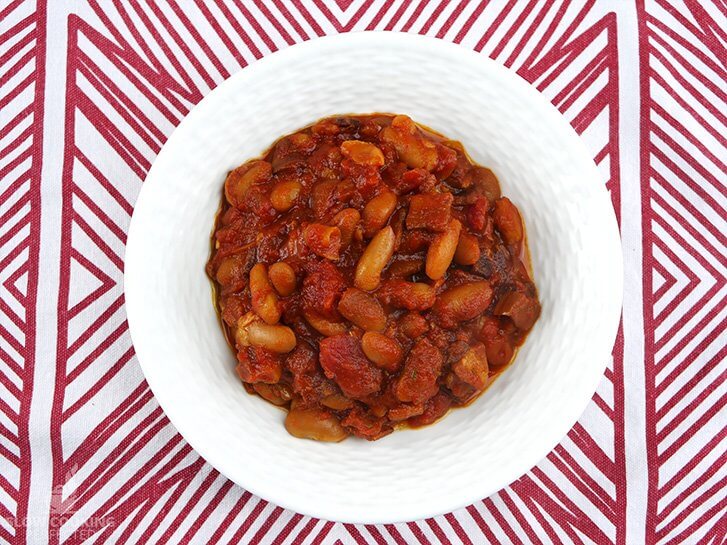 These baked beans will not taste like the type that you find at the supermarkets. Instead, they are incredibly tasty and has strong flavors of paprika, honey, and tomato. They are perfect if you are looking for something a bit different and completely homemade.
If you are looking for a quick video that shows how to make these delicious baked beans in the slow cooker, you can find one below. It will take you through all the steps to mastering this delightful recipe.
Slow Cooker Baked Beans Recipe
Ingredients
800 g (1.8 lb) navy beans or cannellini beans
500 g (1.1 lb) bacon, cubed
1 onion, chopped
2 tsp garlic, crushed
2 Tbsp honey
1 Tbsp brown sugar
1 Tbsp Worcestershire sauce
2 Tbsp tomato paste
800 g (1.8 lb) cans crushed tomatoes
1 tsp thyme
1 tsp rosemary
2 tsp paprika
2 bay leaves
Instructions
Firstly, in a frypan over high heat, fry the bacon until crispy.
Place all the ingredients into the slow cooker and mix together.
Cook on low for 8 hours.
Season to taste with salt and pepper.
Serve & Enjoy.
Recipe Tips
If you are using dried beans, soak them in water for about eight hours before draining. Next, boil them in freshwater over the stove for fifteen minutes.
The beans come out to have quite a bit of sweetness to them. If you are not a fan of your beans being sweet, then I recommend that you half the amount of sugar in this dish.
You can make these beans vegetarian by simply leaving out the bacon. You will lose a bit of flavor, but it is perfect for anyone on a vegetarian diet.
The honey can be replaced with molasses. Pick whatever sweetener you prefer the most.
Note: I use a 5.5L (6 Quart) slow cooker for all the recipes that I have on this website unless specified. If you have a smaller or larger slow cooker, then you might need to adjust the ingredients.
Nutrition Information
Serving Size: 291g (10.3 oz)
Servings Per Recipe: 8
Calories Per Serving: 330
Amount Per Serving
Saturated Fat: 0.2g
Trans Fat: 0g
Dietary Fiber: 5g
Sugars: 12g
Cholesterol: 0mg
Sodium: 436mg
Protein: 10g
The information above is an estimate generated by an online nutrition calculator.
More Slow Cooker Breakfast Recipes
There are so many different breakfast dishes that you can cook in a slow cooker. These recipes are perfect if you ever need to cook for a crowd.
A recipe that goes great with these beans is the tasty corned beef hash. They are a match made in heaven, but you might want to have a couple of slow cookers to cook the dishes at the same time. Alternatively, you can cook the beans a day before and reheat them.
Another breakfast dish that will go great with these beans is the scrambled eggs. It may sound strange, but using a slow cooker to cook scrambled eggs is perfect if you need to cook a huge batch.
I hope that these slow cooker baked beans turn out as great as they did for me. If you run into any trouble, then be sure to double-check the cooking tips for help. Alternatively, feel free to leave a comment below with any feedback, suggestions, or anything else.