Slow cooker scrambled eggs are yet another surprising breakfast dish you can do in the slow cooker. It is perfect if you do not have a working stove or oven.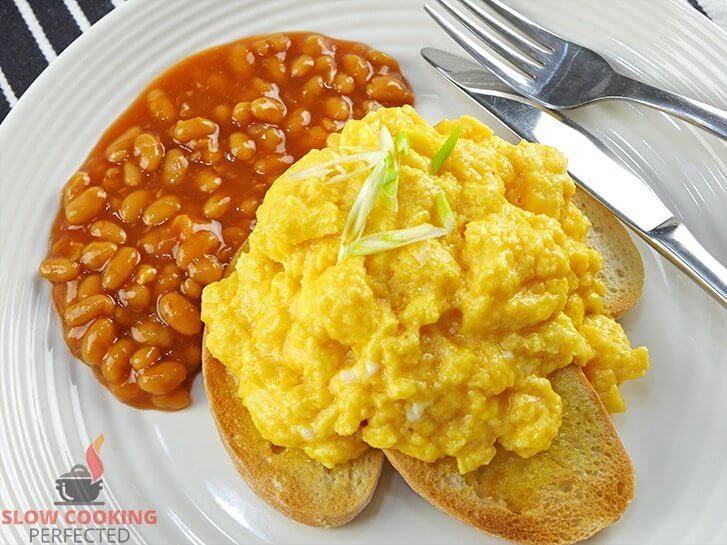 This method of cooking scrambled eggs is a great way to cook it in bulk. You can cook a lot of eggs in the slow cooker, but keep in mind the cooking time will increase, and you will need to stir it often. If you don't stir it often enough, then the egg might burn.
One of the best things you can do if you have multiple slow cookers is to have some homemade baked beans cooking in one while you have the scrambled eggs cooking in the other. Again, perfect if you need to feed quite a few people.
What to Serve with Scrambled Eggs
There are so many different side dishes that go great with eggs.
Personally, I love to have them with some delicious baked beans, sausages, and some hash browns. You could even try making something like a cheesy hash brown casserole.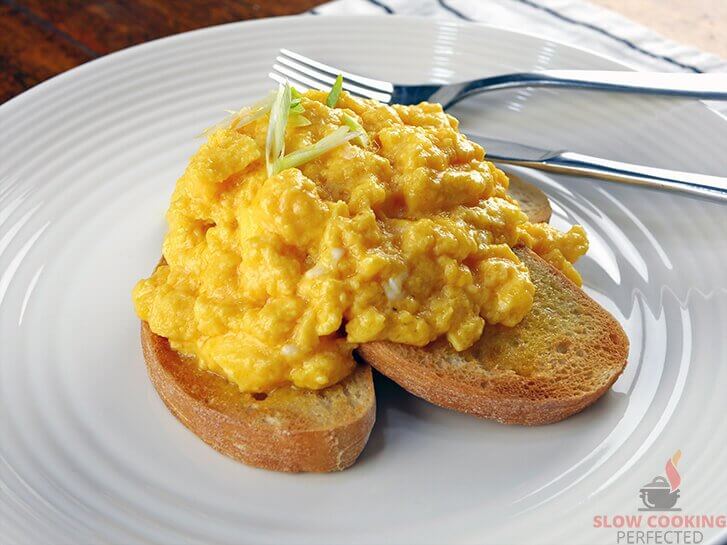 As I mentioned above, if you have multiple slow cookers, then I highly recommend making some homemade baked beans. They are absolutely delicious and the perfect side dish to scrambled eggs.
There are dozens more different combinations that you can have with this dish, so if you want to share one, be sure to leave us a comment at the bottom of this page.
Why use a Slow Cooker
Cooking scrambled eggs in a slow cooker does seem a bit strange, but there are a couple of reasons why you may want to do this.
The most obvious reason is if you do n0t have a cooktop available, then the slow cooker is the perfect alternative.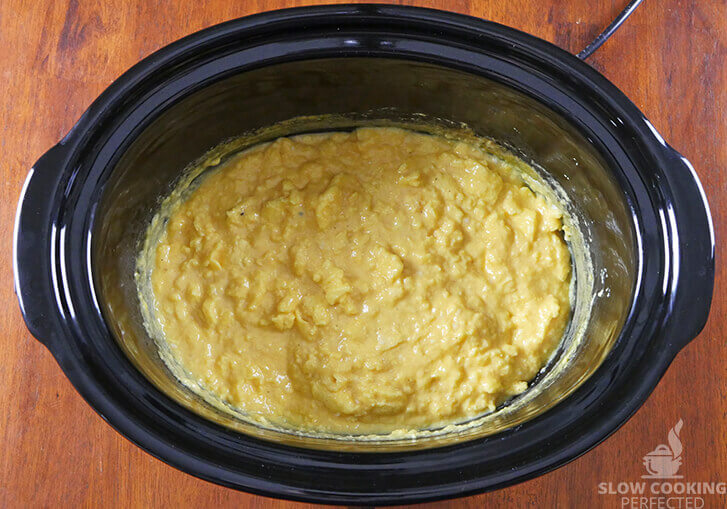 Another reason is if you need to cook in bulk, then the slow cooker is perfect. You can easily cook a large amount, but you will need to make sure you keep on stirring every now and then; otherwise, it will cook unevenly.
What to do with Leftovers
I would not use the leftovers of this dish as scrambled eggs do not taste that great reheated. It is just my personal preference, so if you like leftover eggs, then be sure to keep them.
Assuming you do decide to use the leftovers. You can use them in something like an egg sandwich, or a similar cold dish. If you reheat the eggs, they will likely turn rubbery as they will overcook.
If you are not convinced this recipe will work, then be sure to check out the video below. Right below the video is a great written recipe.
Slow Cooker Scrambled Eggs Recipe
Ingredients
12 eggs
1 & ½ cups heavy cream
Instructions
Lightly grease a slow cooker with butter.
Add the eggs and cream into the slow cooker and whisk until well combined.
Cook on high for 2-3 hours. Gently stir using a spatula every 30 minutes.
Once completely cooked, gently stir and season with salt & pepper.
Serve & enjoy
Recipe Tips
You can add cheese into the mixture if you like your scrambled eggs nice and cheesy. I recommend roughly two cups of shredded cheese.
Using a non-stick slow cooker is the best way to help reduce the amount of washing up you need to do. There is also always the option of using a slow cooker liner instead.
The size of the slow cooker and the amount of scrambled egg mixture you use will impact the time it takes for this dish to cook. Keep this in mind if you want to time your meal so that it is perfect for when you go to eat.
You can add all sorts of extras to your scrambled egg mix, and cheese is just one of them. You can also add extras such as spring onion, bell peppers, diced bacon, and so much more.
Avoid cooking in an aluminum or stainless steel slow cooker as it can turn the eggs green.
Note: I use a 5.5L (6 Quart) slow cooker for all the recipes that I have on this website unless specified. If you have a smaller or larger slow cooker, then you might need to adjust the ingredients.
Nutrition Information
Serving Size: 177g (6.2 oz)
Servings Per Recipe: 4
Calories Per Serving: 344
Amount Per Serving
Saturated Fat: 14.5g
Trans Fat: 0.1g
Dietary Fiber: 0g
Sugars: 2g
Cholesterol: 553mg
Sodium: 205mg
Protein: 18g
The information above is an estimate generated by an online nutrition calculator.
More Breakfast Recipes
There are quite a few different breakfast dishes you can do in the slow cooker.
If you do not feel like eating some scrambled eggs, then something like a French toast casserole might take your fancy. It is a great way to use up some old bread you might have lying around.
The breakfast pizza cooked in the slow cooker is certainly worth a try. It has delicious slices of ham, tomato, and a generous amount of egg and cheese.
These slow cooker scrambled eggs are delicious and a great way to feed a crowd for breakfast. If you have some feedback, then please do not hesitate to leave a comment below.