This tasty slow cooker breakfast pizza is the perfect way to start the day. You can prepare it the night before and get it cooking as soon as you wake up.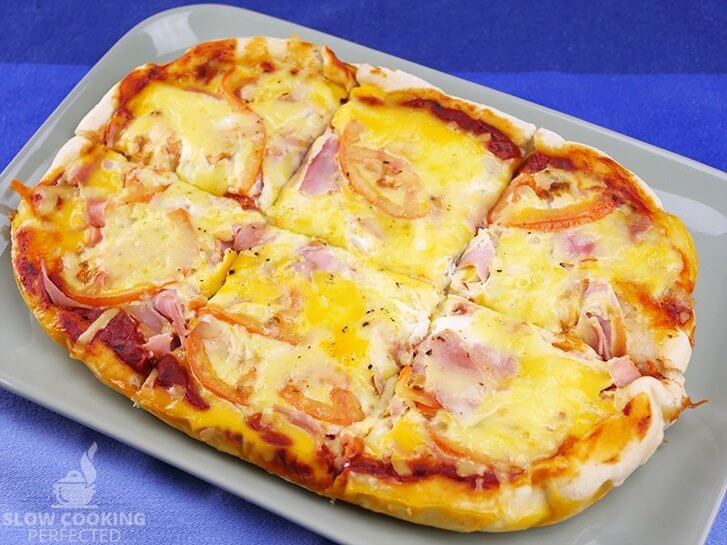 Making a pizza in a slow cooker might sound weird, but for someone who lacks a working oven, it is the perfect way to cook a pizza. It will take about two hours on low heat or about an hour on high heat.
This egg and ham breakfast topping is just one of the many pizza topping combinations that you can do for the slow cooker. A pepperoni pizza topping is one of my personal favorites, and I highly recommend trying it out if you have some spare time.
Breakfast Pizza Toppings
Even though I think the current recipe is absolutely delicious, I will go through some of the other toppings that you can do.
A bacon and cheese topping is an absolute must-try. It is somewhat similar to this recipe but use bacon instead of ham. Also, leave the tomato slices off of the pizza.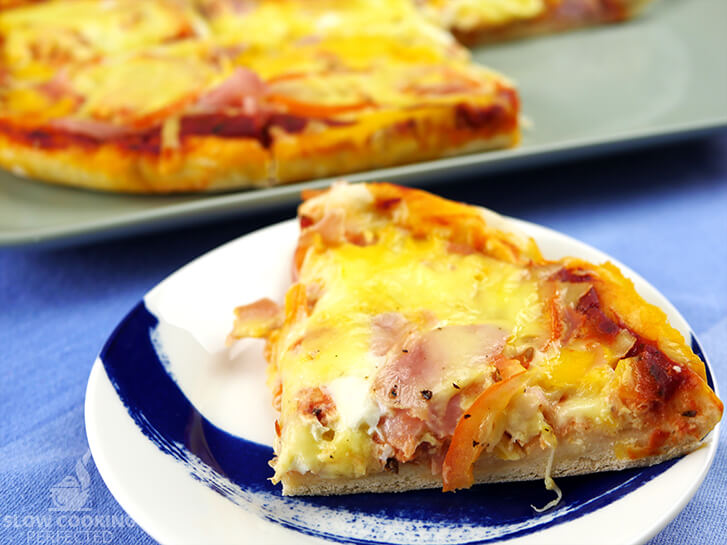 For something a little different, try frying some sliced tomatoes, onion, and bell peppers. Once nice and soft place onto the pizza and top generously with cheese. You can try adding some goats' cheese for a bit of different flavor.
A combination of some browned sausage mince, diced hash browns, and a good amount of cheese is absolutely delicious. Keep the normal pizza sauce as the base and add some egg into the topping.
That is all I have to suggest so if you have any other combinations that you want to share then be sure to leave us a comment towards the bottom of this page.
What to do with Leftover Pizza
Pizza is excellent both hot and cold, so if you end up with leftovers, make sure you keep them.
If you are reheating pizza, it usually heats best in an oven or toaster oven. If you do not have much of a choice, then a microwave will do just fine. Just keep in mind that microwaving the leftover pizza might make it go a bit soggy.
There are some crazy ideas around on what you can do with leftover pizza. So, if you are feeling very experimental, do a little search, and some of the ideas will surprise. Expect stuff like pizza fries, pizza lasagna and so much more.
The video below will take you through the steps to making this delicious breakfast pizza in a slow cooker. If you just love to read then be sure to check out the full written recipe underneath the video.
Slow Cooker Breakfast Pizza Recipe
Ingredients
300 g (10.6 oz) pizza dough
1/3 cup pizza sauce
75 g (2.6 oz) ham, sliced
1 tomato, sliced thinly
2 eggs, beaten
1 cup mozzarella cheese
Instructions
Firstly, roll out the pizza dough, so it is roughly the same size of the slow cooker.
Grease the slow cooker and line with baking paper.
Add the pizza dough to the slow cooker and spread so that it covers the entire bottom.
Spread the pizza base with the pizza sauce, then add the ham, tomato, egg, and the mozzarella cheese on top.
Cook on low for 2 hours or until the pizza crust is cooked.
Serve & Enjoy.
Recipe Tips
Bell pepper, cherry tomatoes, and baby spinach are just some of the great additions you can have with this pizza. Try not to add too many toppings as it may make the base go soggy.
You can make the pizza dough by hand, or you can buy some. You will find pizza dough in a tin for sale at some supermarkets, but this can heavily depend on where you are living.
Keep an eye on the pizza if you cook it on high as there is a small chance the crust will burn. You should only need to cook the pizza for an hour if the slow cooker is set to high.
Note: I use a 5.5L (6 Quart) slow cooker for all the recipes that I have on this website unless specified. If you have a smaller or larger slow cooker, then you might need to adjust the ingredients.
Nutrition Information
Serving Size: 168g (5.9 oz)
Servings Per Recipe: 4
Calories Per Serving: 431
Amount Per Serving
Saturated Fat: 5.1g
Trans Fat: 0g
Dietary Fiber: 3g
Sugars: 1g
Cholesterol: 115mg
Sodium: 495mg
Protein: 20g
The information above is an estimate generated by an online nutrition calculator.
More Delicious Recipes
Pizza in a slow cooker is just one of the many flavor-packed dishes that you are able to cook up in the slow cooker. If you want a pizza styled dish but not an actual pizza, then be sure to check out the slow cooker pepperoni pizza casserole.
If you are feeling like Italian inspired food, then something like osso bucco is certainly worth making. The result is incredibly tender meat that just melts in your mouth. The sauce is also rich and very flavorsome.
I hope that this slow cooker breakfast pizza cooked to be as great as it did for me. If you have a topping variation, tips, feedback or anything else then be sure to leave a comment right below.