This slow cooker pizza casserole is a great dinner dish for feeding a family. Both kids and adults will love this tasty pizza dish.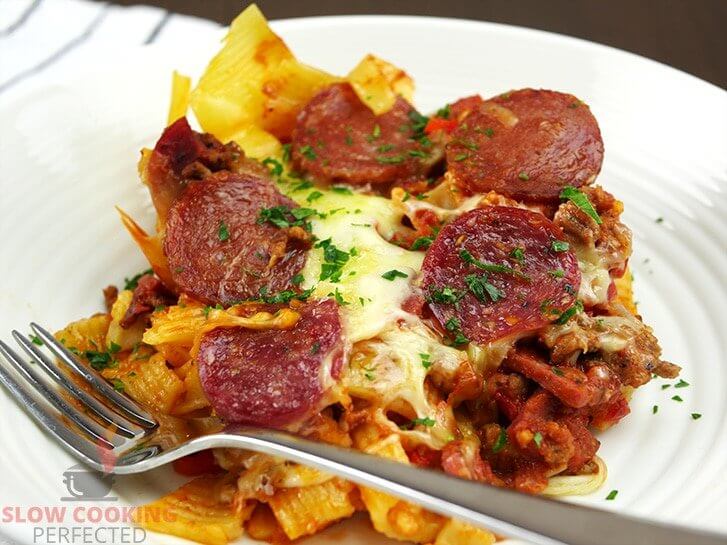 The pizza sauce we make for this casserole cooks to be packed full of flavor. Once the sauce is layered with the pasta and cheese it is slow-cooked for several hours. You will be amazed at just how good this tastes once it is ready.
You should be able to feed roughly six people from a single batch of this casserole. I recommend doubling or tripling the recipe if you need to feed more. Alternatively, you can make some extra side dishes to go with it.
I love to keep the leftovers of this dish as they are great for lunch the next day. Just make sure you keep them stored in the fridge or freezer until needed. It will last a few days if you are storing it in the refrigerator.
Perfecting the Recipe
Typically cooking pasta in the slow cooker for a long time tends to make it go to mush and not be very pleasant, but surprisingly this came out so good. I recommend trying to use a higher quality pasta, so you get the best results possible.
If you love your vegetables, then do not hesitate to add a few more to this dish. Carrot and mushrooms are two great vegetables that work great in a pizza casserole.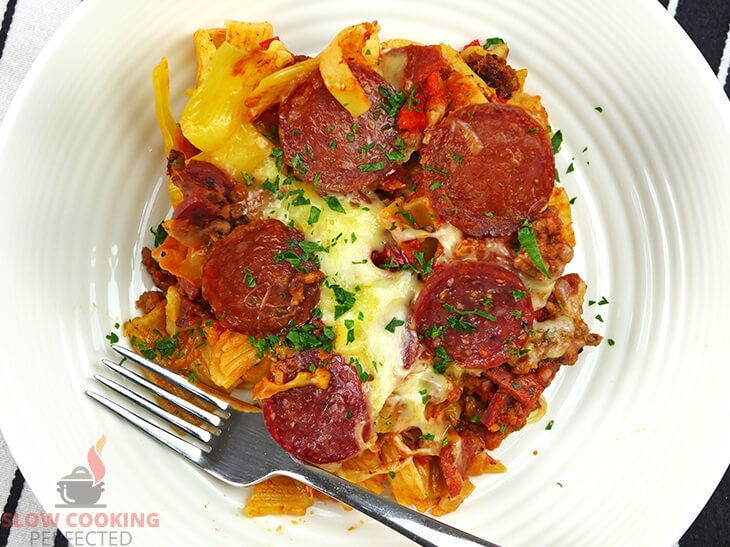 You are able to swap the ground beef for some sliced Italian sausages or something similar. Alternatively, ground pork or chicken will also work great.
Slow cooking can take a long time, so it can be off-putting. If you need an easy pizza casserole fast, then you can always do this in the oven instead. It just comes down to how you are feeling and how much time you have.
Pizza Casserole Serving Ideas
Personally, I do not need side dishes to go with this casserole as it is more than enough on its own. However, if you are looking for some recipes, below are a couple of ideas.
Much like every pasta dish, this casserole goes great with some freshly baked garlic bread. I recommend making it at home, but the store-bought stuff is also pretty good.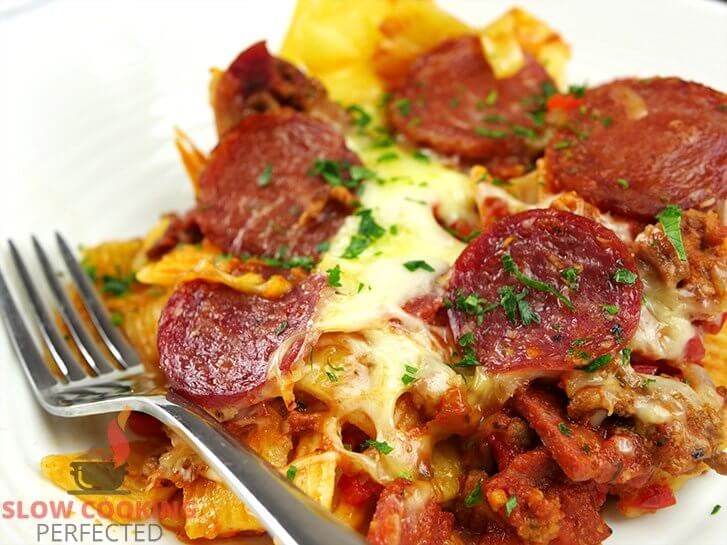 For something on the healthy side, you can make a delicious green salad. I love to do a combination of lettuce, cucumber, cherry tomatoes, red onion, and avocado. It is basic, but still certainly delicious.
If you love seeing food being made, then be sure to check out the video below. It takes you through all the steps to making this delicious pizza casserole in the slow cooker.
Slow Cooker Pizza Casserole Recipe
Ingredients
500 g (1.1 lb) rigatoni pasta, cooked and drained
1 onion, diced
500 g (1.1 lb) ground beef
100 g (3.5 oz) pepperoni, chopped
800 g (1.8 lb) pizza sauce
1 red bell pepper, diced
4 cups mozzarella cheese, shredded
Instructions
In a fry pan, cook the onion, ground beef, and pepperoni until browned. Drain off any excess fluid. Lastly, mix in the pizza sauce, diced bell pepper, and put to the side.
Next, in a slow cooker, add a little bit of meat sauce to the bottom and then layer in the following order. Pasta, pizza sauce, cheese, and repeat until you run out of the meat sauce. Finish off with some mozzarella on top.
Cook on low for 6 hours.
Serve & Enjoy.
Recipe Tips
You can skip browning the ground beef, but it will add quite a bit more greasy fluid to the dish. I always recommend browning the ground beef before adding it to the slow cooker, but it is not compulsory.
To have this casserole ready faster, turn the slow cooker to high and reduce the cooking time to three hours.
Note: I use a 5.5L (6 Quart) slow cooker for all the recipes that I have on this website unless specified. If you have a smaller or larger slow cooker, then you might need to adjust the ingredients.
Nutrition Information
Serving Size: 323g (11.4 oz)
Servings Per Recipe: 4
Calories Per Serving: 492
Amount Per Serving
Saturated Fat: 9.7g
Trans Fat: 1.3g
Dietary Fiber: 7g
Sugars: 6g
Cholesterol: 72mg
Sodium: 1030mg
Protein: 34g
The information above is an estimate generated by an online nutrition calculator.
More Slow Cooker Casseroles
There are plenty of casserole dishes that you can do in the slow cooker. In fact, there are so many you can even buy a special casserole slow cooker.
I highly recommend trying the tasty sausage casserole. It is essentially sausages and vegetables cooked in a delicious gravy. It is relatively simple, but always a huge hit whenever I make it.
Another casserole that I reckon you will love is the creamy chicken and bacon casserole. As the name suggests, it is a creamy sauce loaded with chicken, bacon, potatoes, and carrots. It tastes as good as it sounds.
If you like this slow cooker pizza casserole, please let me know, I love to hear feedback both good and bad. If there is also anything else you would like to say, please leave a comment right below.