These slow cooker chicken fajitas are the perfect way to finish off a busy day. They are incredibly easy to prepare and have ready for when you sit down for dinner.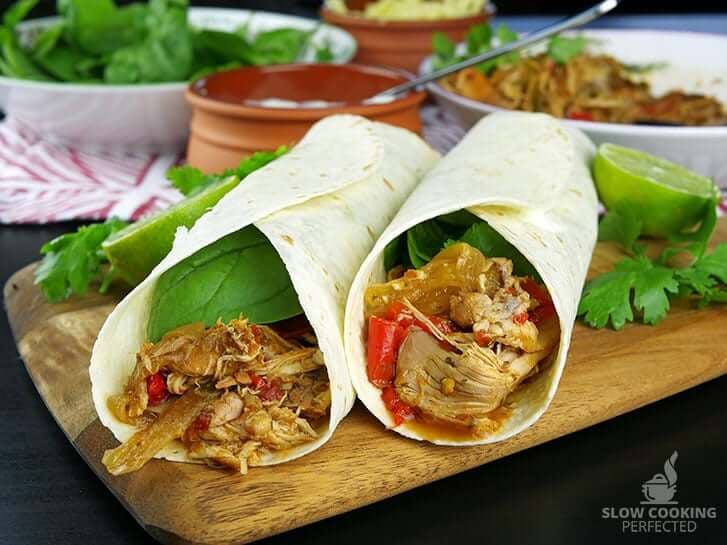 Cooking fajitas in the slow cooker is far from the traditional style of cooking this dish. Usually, you will fry or grill the meat along with some vegetables. Instead, we will be slow cooking the ingredients for a long time. The result is still an incredible flavor-packed chicken and vegetable mixture.
This dish is packed full of flavor and is fantastic for when you need to feed a crowd. Without any adjustments, this dish should feed six people. You can easily bulk out the chicken mixture as much as you want. Just make sure your slow cooker is big enough to fit all the ingredients.
You can also use this slow-cooked chicken fajita mix in different dishes. For example, this mix will go great as a topping on nachos or even as a topping on pizza.
Assembling your Fajitas
The extras that you put in the tortillas is up to you. You do not need to add any additional ingredients and instead have just the fajita chicken mixture.
Personally, I love having my fajitas with some baby spinach, sour cream, and shredded cheese. It is an incredibly tasty filling that I highly recommend that you try.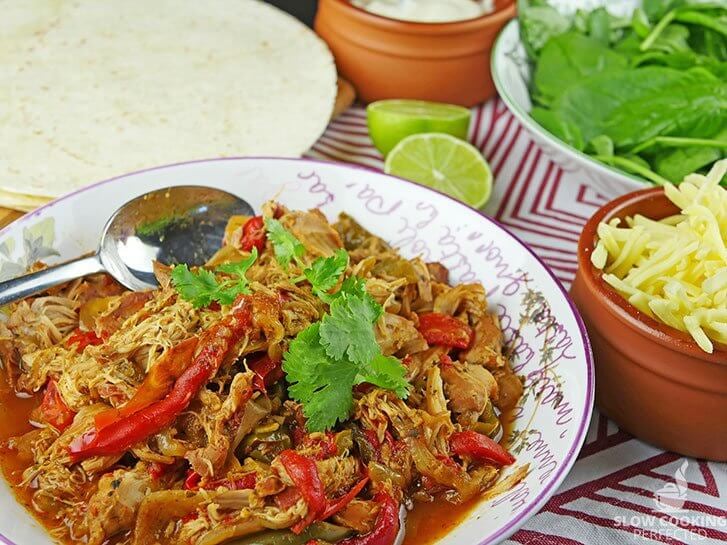 There are a ton of combinations that you can do. For example, the following ingredients will work nicely with this fajita chicken mixture; guacamole, tomato salsa, shredded cheese, sour cream, hot sauce, and so much more.
If you have a certain combination that you would love to share, then do not hesitate to leave a comment at the bottom of this page.
Perfecting the Recipe
One thing that you need to be aware of is this dish will produce a fair bit of liquid. When you serve the fajita chicken filling, make sure you drain some of the excess liquid. Otherwise, your tortilla might become a bit soggy.
You can use any type of salsa in this recipe. I prefer a spicier salsa, but keep in mind that the fajita spice mix will add a bit of heat to the dish.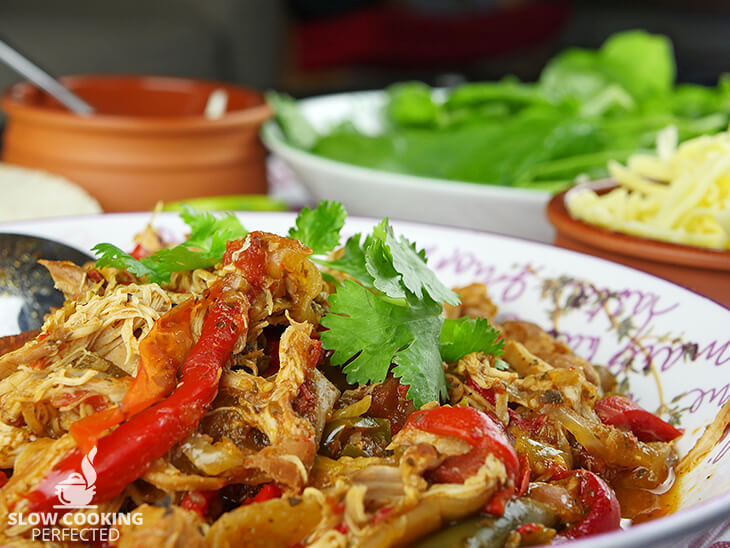 You can easily swap the chicken thigh for chicken breast. Both types of meat will work perfectly in this dish. I always tend to lean towards using chicken thigh as it is unlikely to overcook easily.
If you want to see how to make these chicken fajitas in the slow cooker, then be sure to check out the video below. The video goes through all the steps to making the filling, but the assembling of the tortilla is entirely up to you.
Slow Cooker Chicken Fajitas Recipe
Ingredients
1 onion, sliced
2 tsp garlic, crushed
2 bell peppers, sliced
500 g (1.1 lb) chicken thighs
½ cup salsa
1 lime, juiced
30 g (1.1 oz) packet Fajita mix
Extras
Baby spinach
Sour cream
Shredded cheese
Tortillas
Instructions
In a slow cooker, add the chicken thighs and sprinkle half the fajita mix on top.
Add the onion, garlic, bell peppers, salsa, lime juice, and the rest of the fajita mix.
Cook on low for 6 hours.
Shred the chicken and then mix it with the rest of the ingredients.
Serve & Enjoy.
Recipe Tips
Much like taco seasoning, you can also make a fajita mix right at home.
You do not have to use fresh lime juice. If you are using juice from out of a bottle, you will need about two tablespoons.
If you are running low on time, you can switch the slow cooker to high and halve the cooking time.
Note: I use a 5.5L (6 Quart) slow cooker for all the recipes that I have on this website unless specified. If you have a smaller or larger slow cooker, then you might need to adjust the ingredients.
Nutrition Information
Serving Size: 135g (4.8 oz)
Servings Per Recipe: 6
Calories Per Serving: 192
Amount Per Serving
Saturated Fat: 1.7g
Trans Fat: 0g
Dietary Fiber: 1.6g
Sugars: 3.8g
Cholesterol: 74mg
Sodium: 239mg
Protein: 25.2g
The information above is an estimate generated by an online nutrition calculator.
More Slow Cooker Chicken Recipes
If you do not feel like making fajitas, then there are many other dishes that you can cook in the slow cooker. If you are keen on some chicken dishes, then there are a ton of other slow cooker chicken recipes that you should check out. Below are a couple of my favorites.
The chicken taco mixture is another slow cooker recipe that I reckon you will like. It features delicious shredded chicken that has been slowly cooked in a taco seasoning mixture. I highly recommend giving it a try.
I have to recommend giving the layered chicken enchiladas a try. The enchilada stack has delicious layers of cheese, salsa, chicken, and bell peppers. It is as delicious as it sounds.
I hope you enjoy these slow cooker chicken fajitas and that you do not run into any problems. If you have some variations, feedback, or anything else, then please feel free to leave me a comment below.