The slow cooker is perfect for cooking a delicious beef fajitas mixture for your next meal.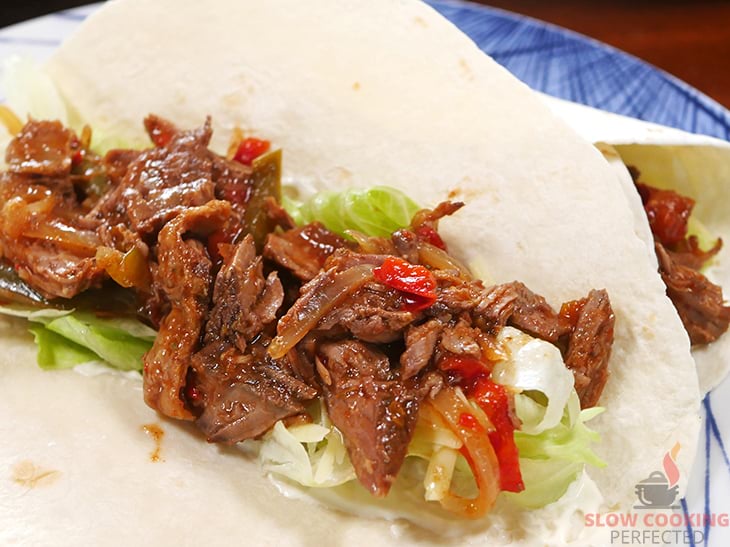 The steak fajita mixture is loaded with flavor thanks to the onion, garlic, bell peppers, salsa, and fajita seasoning. I highly recommend serving it inside a wheat or corn tortilla. It goes great with some lettuce, sour cream, and cheese.
Obviously, this recipe is far from the traditional version of this dish. Traditionally a fajita is grilled rather than slow-cooked. It is often served with condiments such as refried beans, sour cream, guacamole, and much more.
You can also make this recipe with chicken instead of beef. Pick the meat that you like the most as both versions are absolutely delicious. Personally, I prefer the beef version.
I find that this recipe will make enough steak fajita filling to feed at least four people. If you need to feed more, then I highly recommend that you double or triple the recipe.
Achieving the Best Fajita Mixture
After cooking, you may find that the fajita mixture has a fair bit of liquid. I recommend serving the mixture using a slotted spoon so you can easily drain off any excess fluid. Alternatively, you can thicken the mixture using a cornstarch mixture.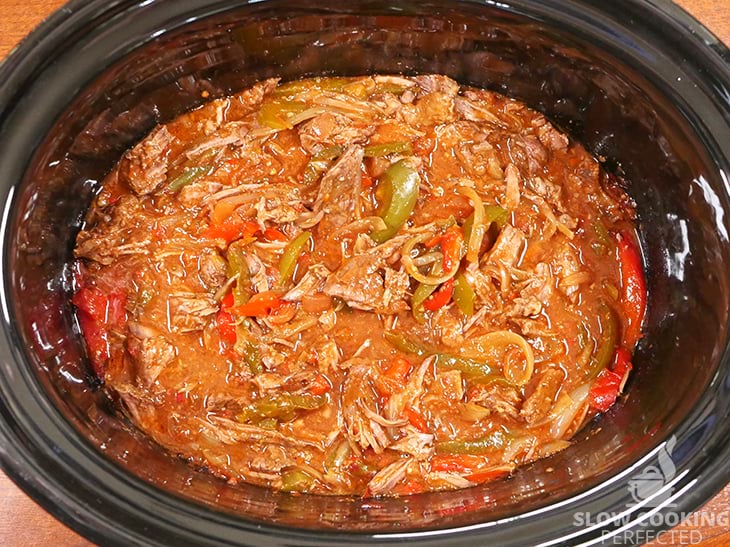 I recommend using a tough cut of meat for the best results. Something like chuck, flank, round, blade, or brisket will work great for this recipe. There is no need to buy an expensive piece of meat, so save your money and pick something cheap.
You can try tweaking the vegetables that we use in the recipe, but I recommend sticking with our selection. The traditional fajita mixture typically includes both onions and peppers. However, you can experiment by adding mushrooms, more tomatoes, or even sliced carrots.
What to Include with Your Beef Fajitas
There are loads of different condiments that will work perfectly with this steak fajita mixture. Below are a couple of ideas on what you can do.
Firstly, you will need to pick between wheat and corn tortillas. Corn tortillas are considered more authentic but tend to be smaller and more course than wheat. Wheat tortillas can be quite large and tend to be softer. Both are excellent choices, so pick whatever you like the most.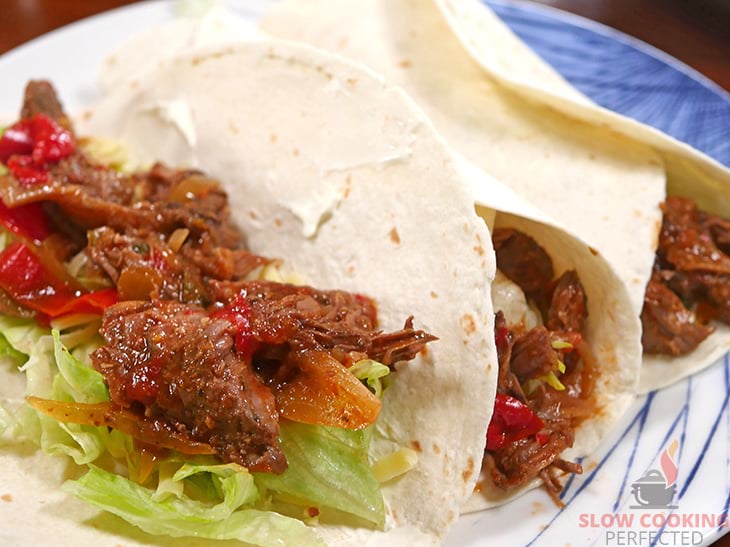 The number of condiments that work great in fajitas is overwhelming. A few that work great include guacamole, diced tomatoes, sour cream, refried beans, salsa, and so many more. I also love to add some cheese in with the rest of the ingredients.
Fajitas can be a bit messy, so do not be embarrassed if you make a bit of a mess while you eat. It is part of the fun of eating this delicious meal.
The recipe below will take you through all the steps of making beef fajitas in the slow cooker. Be sure to let us know what you think about this delicious meal.
Slow Cooker Beef Fajitas Recipe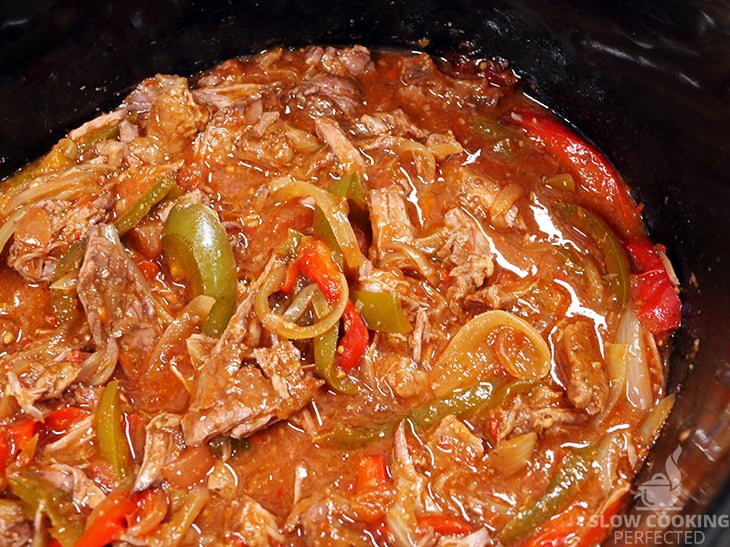 Ingredients
1 onion, sliced
2 tsp garlic, crushed
750 g (1.7 lb) chuck beef
30 g (1.1 oz) Fajita seasoning
200 ml (6.8 fl oz) salsa
1 red bell pepper, sliced
1 green bell pepper, sliced
1 lime, juiced
Extras
Lettuce
Sour cream
Shredded cheddar cheese
Tortillas
Instructions
Add the onion and garlic to the slow cooker.
Next, add the beef and coat in the fajita spice mixture.
Pour the salsa, bell peppers, and lime over the top of the meat.
Cook on low for 8 hours.
Remove the steak and shred it. Return it to the slow cooker.
Serve & Enjoy.
Recipe Tips
You can make fajita seasoning at home with just a few simple ingredients. Homemade is perfect if you do not have any packet seasoning.
Bottled lime juice is a great alternative to fresh lime. Simply use two tablespoons of lime juice if you do not have fresh juice.
Switch the slow cooker to the high setting to reduce the cooking time by half. Three to four hours should be long enough.
You can dice the meat before adding it to the slow cooker. If you do this, you will not need to shred the meat, and it will cook faster.
The nutritional information below does not include any extras that you might have with the beef fajita mix. The tortillas, lettuce, sour cream, and cheese will need to be added to the values below.
Note: I use a 5.5L (6 Quart) slow cooker for all the recipes that I have on this website unless specified. If you have a smaller or larger slow cooker, then you might need to adjust the ingredients.
Nutrition Information
Serving Size: 372g (13.1 oz)
Servings Per Recipe: 4
Calories Per Serving: 334
Amount Per Serving
Saturated Fat: 4g
Trans Fat: 0g
Dietary Fiber: 4g
Sugars: 7g
Cholesterol: 113mg
Sodium: 1032mg
Protein: 43g
The information above is an estimate generated by an online nutrition calculator.
More Mexican Inspired Recipes
If you love Mexican food, you will probably like the recipes below. Let us know if you have any of your own favorites that you want to share.
I have got to recommend our twist on the traditional beef enchilada. In our slow cooker version, we stack the beef enchiladas so they cook better in the slow cooker or crockpot. The result is a delicious meal that the entire family will enjoy.
The salsa chicken recipe is one of my personal favorites. It features deliciously tender chicken slow cooked in salsa and topped with loads of cheese. I highly recommend giving it a try.
I hope that you love this slow-cooked beef fajitas mixture as much as I do. If you have any feedback, then please do not hesitate to leave a comment below.