This slow cooker beef tacos recipe will produce some of the tastiest shredded beef ever. It's the perfect beef mixture for your next taco.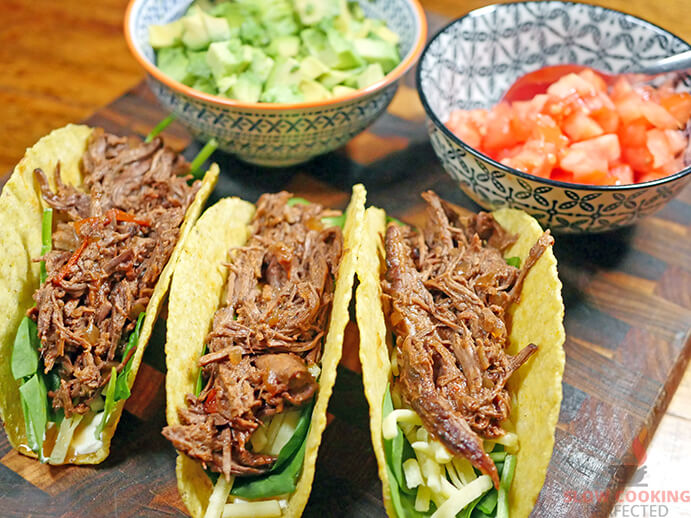 The taco is a huge part of Mexican cuisine and is now very popular right across the world. A classic taco is a tortilla rolled around a filling. You should be able to eat a taco without the use of utensils so be careful about overfilling your tortilla.
If you love tacos, then this recipe will delight you. It's one I continuously return to whenever I want something easy and tasty.
Feed a Crowd
I love making a big pot of shredded beef for tacos as it can easily feed a crowd. A single batch of this recipe will feed roughly eight people, but you can easily double the recipe.
You can turn the slow cooker to keep warm if you want to keep the meat hot but not have it overcook. It's a great way to keep your taco meats hot if you have a taco bar set up for your gathering, party, or event.
Taco Assembly & Ingredient Combinations
When it comes to assembling your taco, there are plenty of ingredients that will go great with this beef taco mixture. For example, I love having this mix with some refried beans, baby spinach, cheese, guacamole, and a dollop of sour cream.
I would love to hear your favorite combination of ingredients, so be sure to let me know in the comments below.
You don't have to use this beef taco mixture for actual tacos. It is also great in other Mexican dishes such as burritos, nachos, enchiladas, quesadillas, and so much more. It's also great on pizza as well.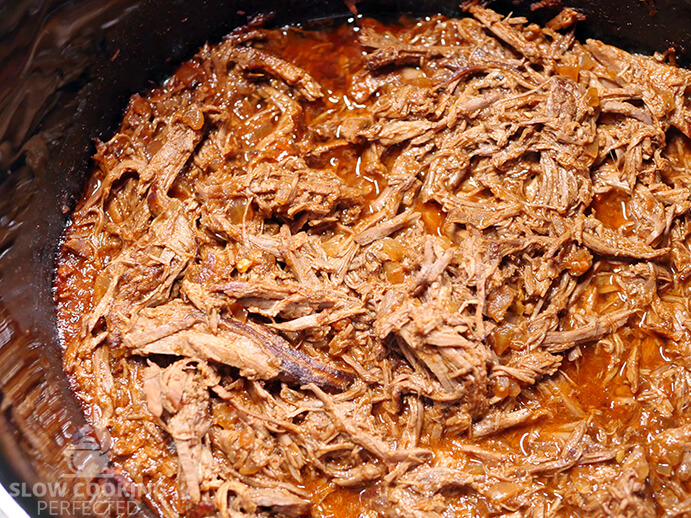 Taco Beef Leftovers
This shredded beef mixture should last in the fridge for a few days before needing to be used. Reheat the mixture either over the stove or in the microwave. You can also freeze the mixture if you don't think you will be using it anytime soon.
You can also make a chicken taco meat mixture in the slow cooker. I highly recommend checking it out if you don't feel like eating beef.
Learn how to make this delicious slow cooker beef taco mix in the video I prepared below. Alternatively, you can check out the full written recipe right underneath the video.
Slow Cooker Beef Tacos Recipe
Adblock removing the video? Support us by going ad-free or whitelist us in your ad-blocker.
Ingredients
1 kg (2.2 lb) chuck beef
1 onion, diced
1 Tbsp garlic
1 tsp chili powder
2 tsp cumin
1 tsp smoked paprika
1 tsp ground coriander
1 tsp oregano, dried
2 Tbsp tomato paste
1 chili, sliced
1 cup beef stock
2 tsp lime juice
Instructions
In a frypan over high heat, quickly brown all sides of the beef.
Once browned, put to the side.
In a slow cooker, add the onion, garlic, chili powder, cumin, smoked paprika, ground coriander, oregano, tomato paste, chili, and beef stock. Stir to combine.
Add the beef and baste it with the liquid.
Cook on low for 8 hours.
Remove the beef from slow cooker and shred using two forks.
Return the beef to the slow cooker and add the lime juice.
Season to taste with salt and pepper.
Cook on high for 15 minutes or until the beef mixture is hot.
Assemble the tacos to your liking.
Serve & Enjoy.
Recipe Tips
To make this recipe super easy you can replace all the spices with a packet of taco seasoning instead. Alternatively, you can make taco seasoning at home.
If you need to feed a hungry crowd, then simply double or triple this recipe. You may need to cut the beef into several pieces.
The lime can be left out of the recipe if you don't have any or would rather not add it.
You can replace the beef stock for a tomato salsa instead. It will be a very different mixture but even tastier.
The browning of the beef is entirely optional and can be skipped if you're low on time or don't feel like making more dishes to wash up. This dish will still be delicious either way.
Note: I use a 5.5L (6 Quart) slow cooker for all the recipes that I have on this website unless specified. If you have a smaller or larger slow cooker, then you might need to adjust the ingredients.
Nutrition Information
Serving Size: 178g (6.3 oz)
Servings Per Recipe: 8
Calories Per Serving: 188
Saturated Fat: 2.1g
Trans Fat: 0.4g
Dietary Fiber: 1g
Sugars: 1g
Cholesterol: 93mg
Sodium: 287mg
Protein: 27g
The information above is an estimate generated by an online nutrition calculator.
Other Recipes to Try
There are plenty more Mexican inspired recipes that you can do in a slow cooker. One of my favorites that I highly recommend trying is the salsa chicken recipe. You only need four ingredients, and it's absolutely delicious.
Another recipe that is worth making is the chicken fajitas. It's a recipe that I love to go back to when I just want a classic Mexican dish that has lots of vegetables.
I hope that you love making slow cooker beef tacos as much as I do. If you have any feedback, tips or anything else regarding this recipe, then be sure to leave us a comment below.