If you're prepping for a party, then you need to try these slow cooker chicken tacos. You only need three simple ingredients, and they're super easy to make.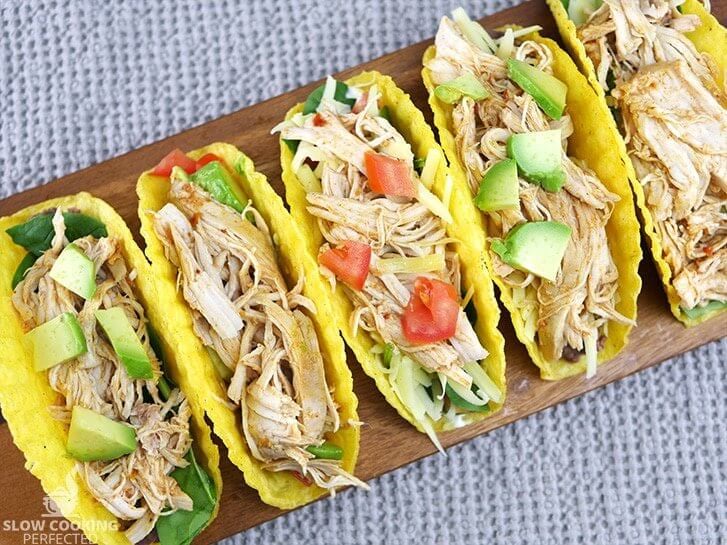 Tacos are a delicious Mexican dish that is enjoyed all across the world. They're incredibly simple and are a great street food as you can quickly eat it without using any utensils.
The traditional taco is a tortilla wrapped around some fillings. The fillings are usually chosen by yourself, so they're great if you love to be picky about what you eat.
How to make Chicken Tacos
The process of making chicken tacos is super easy. I will go through the few easy steps on how you can make some tacos.
Firstly, you will need a tortilla, and it can be a soft tortilla or a hard shell (as shown in the photos). In this tortilla, you will need to fill it with a variety of different ingredients.
Typically you will have meat such as shredded beef or chicken. On top of the meat, you can have a range of vegetables and even some cheese. It's completely up to you.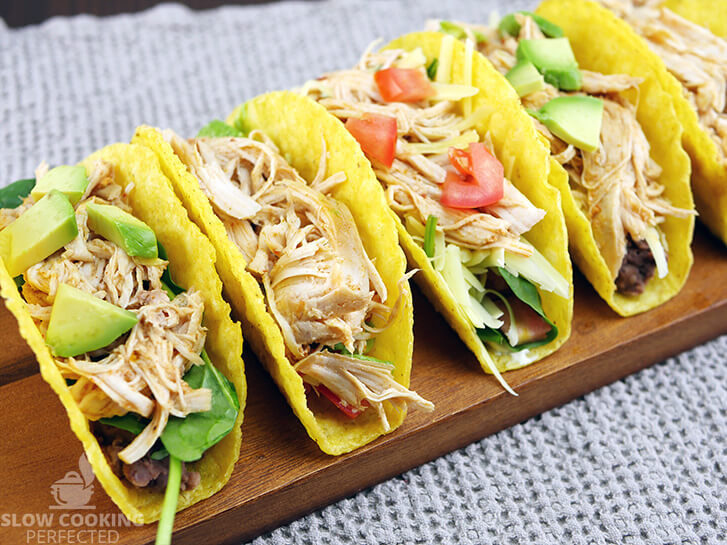 A good taco always goes great with some refried beans that you can also cook up in the slow cooker. However, there are plenty of other great ingredients that you can have instead.
For an incredibly tasty taco, I recommend having shredded taco chicken, refried beans, spinach, cheese, and of course some salsa. Diced avocado or guacamole is also an excellent ingredient to include in your taco.
One thing you will need to be careful of is overfilling the taco. If you overload, then the fillings might fall out as you go to eat it. It will make eating the taco very difficult, and you will probably make a mess.
If you have a combination of ingredients for a taco that works amazingly well, then be sure to let us know by leaving a comment towards the bottom of this page.
Feed a Crowd
One of the best things about making chicken tacos in the slow cooker is that you can feed a lot of people.
Switch the slow cooker to keep warm, and you will be able to keep your chicken nice and warm. It will give people plenty of time to assemble their tacos ready for the lovely hot chicken.
A standard batch of this recipe will only feed roughly four people, but it can easily be doubled or tripled. You could even make some taco beef meat in another slow cooker. Perfect if you want a bit of variety.
Storing the Shredded Chicken
Freezing the shredded chicken taco meat in serving-sized packets is perfect if you don't need to eat this all at once.
You can simply reheat the packets in the microwave and have taco meat whenever you feel like it. I don't recommend defrosting any food in the slow cooker.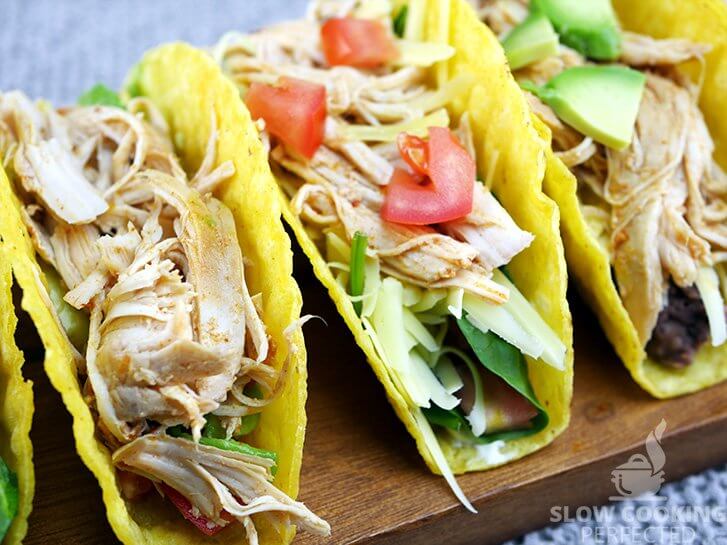 You're also able to store this chicken mix in the fridge for up to about three days. It is also a pretty good filling for sandwiches or even tasty chicken wraps. Perfect if you want something tasty to eat for lunch the next day.
If you want to see how to make this extremely simple slow cooker chicken taco meat, then check out the video below. It's very short so that it won't chew up too much of your time. Alternatively, you can find the full written recipe right underneath the video.
Slow Cooker Chicken Tacos Recipe
Ingredients
3 Tbsp taco seasoning
1 cup chicken stock
500 g (1.1 lb) chicken breasts
Instructions
Add the chicken breasts to the slow cooker and coat in the taco seasoning. Pour in the chicken stock.
Cook on low for 6-8 hours.
Using two forks, shred the chicken.
Return the chicken to the slow cooker to keep warm.
Serve & Enjoy.
Recipe Tips
If you don't have any taco seasoning, then you can make the seasoning at home using a blend of spices and herbs. It's surprisingly easy to make and perfect if you don't have any around.
You can easily double or even triple this recipe if you find that you need to feed more people.
This chicken mix can go in more than just tacos. You are able to use it in enchiladas, burritos, nachos and so much more.
Chicken stock can be replaced with salsa instead. This replacement will give you a much richer tasting chicken taco mix. It just depends on what you feel like having.
The cut of chicken that you use is entirely up to you. I prefer chicken breasts as it tends to pull apart better than the chicken thigh.
Note: I use a 5.5L (6 Quart) slow cooker for all the recipes that I have on this website unless specified. If you have a smaller or larger slow cooker, then you might need to adjust the ingredients.
Nutrition Information
Serving Size: 192g (6.8 oz)
Servings Per Recipe: 4
Calories Per Serving: 245
Saturated Fat: 3.4g
Trans Fat: 0.1g
Dietary Fiber: 1g
Sugars: 1g
Cholesterol: 80mg
Sodium: 745mg
Protein: 28g
The information above is an estimate generated by an online nutrition calculator.
Other Chicken Recipes to Try
If you like this dish, then you're probably going to like the chicken fajitas that you can also cook up in the slow cooker. They're incredibly tasty and super easy to make.
Another Mexican inspired recipe that you might like is the salsa chicken. It's a delicious chicken dish that features chicken thigh slow cooked in some salsa and finished off with cheese. It's super easy and very delicious.
If you have any variations, tips or something else that you would like to add to this slow cooker chicken tacos recipe, then be sure to leave a comment right below. I love to hear what you have to say about the recipe.