Layered slow cooker chicken enchiladas are not only tasty but also surprisingly easy to make.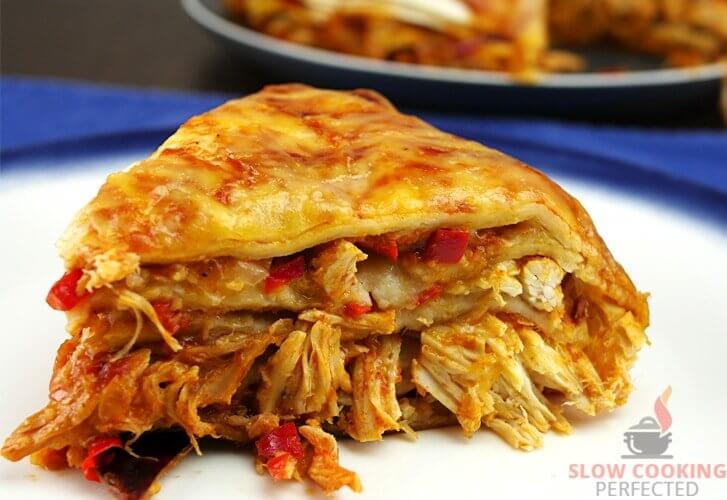 This dish will have delicious layers of shredded chicken, bell pepper, and onion. The chicken mixture is coated in a generous amount of enchilada sauce, taco seasoning, and cheddar cheese. The result is an enchilada stack that will have you going back for seconds.
To get the best results for enchiladas in the slow cooker, we will need to make a stack rather than the traditional roll. The stacking method will help ensure that it cooks evenly and can be easily removed from the slow cooker and eaten.
A single batch of this recipe should feed roughly four to six people, but this varies on how hungry people are. You can feed more people by making some side dishes or doubling the recipe. If you double the recipe, you might need another slow cooker.
Adjusting the Recipe
You may want to make some changes to the recipe, so feel free to do so. Below are a couple of suggestions on slight alterations that you can make to this delicious chicken recipe.
In this recipe, I use shredded leftover roast chicken, but you can use raw chicken. However, I highly recommend that you cook the chicken and either shred or dice it. Raw chicken may add too much liquid to the dish and make your layered chicken enchiladas go soggy.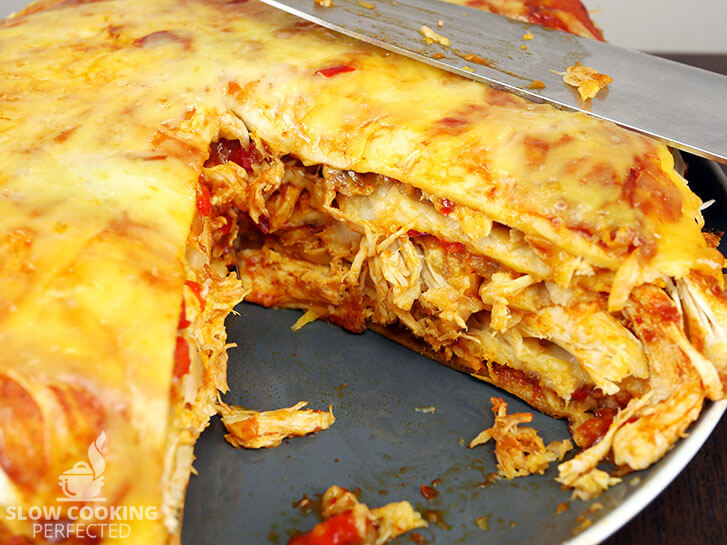 I am happy with the current quantities of the ingredients in this recipe, but there are several tweaks that you can make to the filling mixture. For example, if you love cheese, then feel free to add even more. You can also try a mixture of cheese, such as half cheddar and half mozzarella.
For even more flavor, you can try doubling the taco seasoning, but be careful as it can be quite salty and overpowering. Making taco seasoning from scratch is an excellent way of controlling the flavors and the amount of salt in the mixture.
You can try adding some guacamole or refried beans to each of the layers rather than having it as a condiment. Adding these ingredients will add a ton of more flavor to the enchiladas.
What to Serve with Chicken Enchiladas
There are a ton of side dishes that you can serve alongside this dish.
Mexican styled condiments such as guacamole, salsa, refried beans, or sour cream will all work very well as an accompaniment to this dish.
A classic side dish that is highly recommended by lots of people is some Mexican style rice. A simple Mexican rice recipe involves cooking some rice with onion, garlic, tomato paste, and some chicken stock. Sounds easy, and there are lots of recipes around for it.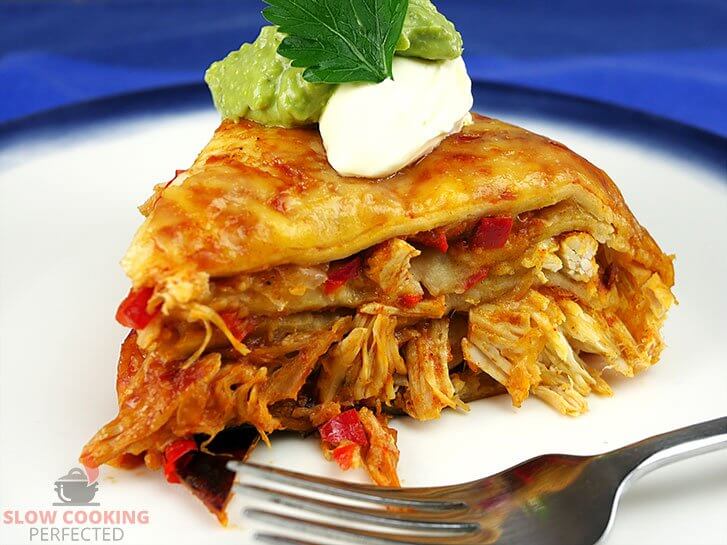 Some nice potato wedges will also make for an excellent side dish. Even better if you serve it with some sour cream and guacamole. Alternatively, you could try doing some cheesy potatoes in the slow cooker.
Lots more accompaniments go great with chicken enchiladas, so if you have any good ideas, then be sure to let us know by leaving a comment at the bottom of this page.
Keep the Leftovers
The leftovers are certainly worth keeping as they heat nicely in the microwave or oven. Make sure you keep any leftovers in the fridge or freezer.
If you store the leftovers in the fridge, they should last for roughly three days. In the freezer, the leftovers should last for up to six months, maybe longer.
This dish is pretty straightforward to make, as you can see by watching the video below. If you want an actual written recipe on how to make chicken enchiladas in the slow cooker, then you can find one right underneath the video.
Slow Cooker Chicken Enchiladas Recipe
Ingredients
500 g (1.1 lb) shredded chicken
1 red onion, diced
1 red bell pepper, sliced
1 packet 30g taco seasoning
375 g (13.2 oz) enchilada sauce
10 corn tortillas
4 cups cheddar cheese, shredded
Instructions
Lightly spray a slow cooker with oil. Add about 2 Tbsp of enchilada sauce with 1 Tbsp water to the bottom of the slow cooker.
Add 2 tortillas on top of the sauce.
Now layer as followed: ~125g (4.5 oz) shredded chicken, 1/4 red onion, 1/4 red bell pepper, ~2 tsp of taco seasoning, ~ 2 Tbsp enchilada sauce, 1 cup cheese, 2 tortillas, and repeat until you run out of chicken or tortillas.
Finish with 2 tortillas on the top and finish with any remaining enchilada sauce and cheese. You should get 3-4 layers in total, depending on the slow cooker size.
Cook on low for 4-6 hours.
Allow to stand for 5 minutes before serving.
Serve & Enjoy.
Recipe Tips
Feel free to add more cheese if you absolutely love it. The more cheese, the better!
If you do not have a round slow cooker, then you can tear the tortillas so that they will layer properly.
Do not forget that you can make taco seasoning at home with just some regular household spices and herbs. The best thing is that you can alter the ingredients to suit your taste buds better.
You can use just one tortilla per layer, but I have found using two really helps reduce the chicken enchilada stack from becoming soggy.
Wheat tortillas work just as well as corn tortillas, so feel to use the one that you like best.
Note: I use a 5.5L (6 Quart) slow cooker for all the recipes that I have on this website unless specified. If you have a smaller or larger slow cooker, then you might need to adjust the ingredients.
Nutrition Information
Serving Size: 300g (10.6 oz)
Servings Per Recipe: 6
Calories Per Serving: 544
Saturated Fat: 16.7g
Trans Fat: 0.9g
Dietary Fiber: 4g
Sugars: 5g
Cholesterol: 149mg
Sodium: 1007mg
Protein: 36g
The information above is an estimate generated by an online nutrition calculator.
More Slow Cooker Recipes
Below are a couple of my favorite Mexican inspired slow cooker recipes that you should give a try.
Chicken is my personal favorite, but you can make this with different types of meats and other ingredients. If you want something that is a little different, then be sure to give the beef enchiladas a try. It is just as tasty as this dish but requires a few extra steps.
The salsa chicken is a fantastic dish that features chicken slow-cooked in some salsa and topped with a generous amount of cheese. It is a super simple dish but one I can highly recommend.
I hope that you love these layered slow cooker chicken enchiladas as much as I did. If you have some of your own thoughts on it, then be sure to let me know by leaving a comment below.